Diploma in a health and social care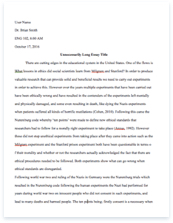 The whole doc is available only for registered users
A limited time offer! Get a custom sample essay written according to your requirements urgent 3h delivery guaranteed
Order Now
Due to the varying range of ability and disability in ASD the needs of individuals and their families are rather diverse. In the early stages parent/s of individuals with ASD will need lots information and guidance from professionals including an, accurate diagnoses as this paves the way to the right levels of support. The support and understanding from partners/extended families and friend's is also important as in many cases the lack of knowledge/acceptance may keep people away and isolate families. However as time moves on some will be better equipped to support and in some sense cope/manage their children. My own experiences have shown me that this is managed differently by families and has little to do with culture or class and much to do with the ability to nurture and having lots of patience. As individuals with ASD grow and develop a natural need to ensure that they are socially included and not hidden away from society will come about and this poses a particular challenge as the general public, despite some change in attitude still have a long way to go. It is a known fact that individuals with ASD are often viewed simply as, badly behaved and having poor parenting.
For the individuals with ASD the early stages of development require varying levels of support based on the severity of their ASD, however support may need to continue throughout their lives. This may be provided in varying forms such as Respite and Short breaks services, like those provided by my Local authority for example or in the form of sitting services, outreach workers and adult services etc. From early childhood the educational needs for children with ASD will vary and individuals will need a statement of special Educational Need (SEN), to receive maximum support in school, particularly speech and language therapy and social skills programmes. The importance and need of good schools cannot be underestimated as estimates suggest one in five individuals with ASD have been excluded and most leave school with no formal qualifications.
Following on from this is the rights of individuals with ASD and access to further adult education or employment as well as the possibility of independent living or supportive living. For some this will mean wanting to start a family their own. It cannot be ignored that for some individuals with more severe ASD independent living and employment may not be possible and parents / cares will need to consider the possibility of becoming full time carers beyond schooling and teen years. For some this will mean a change in employment conditions or having to giving up employment all together.
The transition from children services to adult services may came as a shock for some as they will discover that the level of support offered by social services and the level of available facilities for adult individuals with ASD may to take a significant drop. I can think of many examples where the transition process have let individuals and their families down, forcing families to make decisions that they had not planned for. In my opinion the transition process (in LBWF) needs to be reviewed, as I feel that the needs of most individuals with ASD turning 18 are no different than they were before their 18th birthday, yet their needs are met at different standards whilst they still present as young people.
Related Topics