Difference Between Mental Health And Mental Illness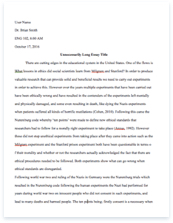 The whole doc is available only for registered users
A limited time offer! Get a custom sample essay written according to your requirements urgent 3h delivery guaranteed
Order Now
First, we must make sure we know the difference between mental health and mental illness. I see a lot of times people us them to mean the same thing when they don't. When we talk about mental health, we're talking about our mental well-being: our emotions, our thoughts and feelings, our ability to solve problems and overcome difficulties, our social connections, and our understanding of the world around us. It also helps determine how we handle stress, relate to others, and make choices. Mental health is important at every stage of life, from childhood and adolescence through adulthood. If we don't take care of our mental health, then it will lead to mental illness. Mental Illness is an illness that affects the way people think, feel, behave, or interact with others. There are many different mental illnesses, and they have different symptoms that impact peoples' lives in different ways. We must realize if
In the black community as long as I can remember turning to counselors and psychologists for assistance was a sign of weakness. If you believe in God, you turn to God tell him all about it and he will heal and direct you. Whatever problems you are facing you barely talk about them to society because you don't want to get your business in the streets. The more information that is being spread through the nation about mental health is causing attitudes to change about mental health, addiction, and emotional well-being, particularly in the level of open discussion surrounding these topics, more people are turning to counselors and psychologists for assistance. Everyone has mental health issues just some know how to deal with them better than others. I myself have had my share with mental health especially after I began to have children.
Some may say it was postpartum but still till this day I face challenges and my baby is 6 but overcome them by talking or writing in a journal. Many people hide behind their issues instead of talking about it and not feeling bad. Me I talk about it and encourage other to discuss their problems also. So many times, we may feel like harming someone, we may be in a rage, or just having awful thoughts about someone or even ourselves. We go and tell someone how we really feel. They look at us as though we are crazy but, we are being honest and a human being. It is okay to have these thoughts but never okay to react on them. One of the most important elements in battling your mindset and mitigating negative feelings and beliefs is to simply replace those thoughts and ideas with positive ones. Remember whatever you think about, you bring about. So, focus on what it is that you desire in life, create a plan to accomplish it, and work that plan every day as if your life depends on it. Therefore, it is very important to talk to someone and do whatever it will take to help you release the frustration or burden that is upon you without harming yourself or anyone else.
There was one night I had a dream I was in a black hole and the only people could save me was my children. This is when I realized I was in a depressed stage and if i didn't admit it the depression could have caused me everything. My children began to get affected by my actions as well as my husband. We began to experience problems we hadn't before because of my unawareness of what was going on. I thought everything was fine until my best friend asked me the question. Do you think you could possibly be depressed? My response was absolutely not as I laughed out loud. I went to school for nursing at one point in my life. We had mental illness class and after I denied my issues the nursing knowledge began to unfold in my mind that was tucked away. There is nothing greater than knowing you are NOT alone when it comes to mental health and how affects you daily. Knowing that there is support out here in the WE LEAD community makes me feel like there is LIGHT in that black tunnel a lot of us find ourselves in from time to time.
Related Topics