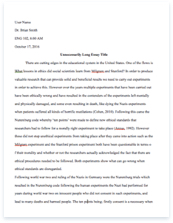 The whole doc is available only for registered users
A limited time offer! Get a custom sample essay written according to your requirements urgent 3h delivery guaranteed
Order Now
Strengths as a Salesman Dick Spencer has had an interesting career. He began as a salesman at Tri-American Corporation and quickly worked his way up the corporate ladder to management level. He experienced many achievements and also many roadblocks during that time. This case analysis will examine some of the contributing factors to his successes and failures as well as provide recommendations on how he could have been more successful as a manager. Dick Spencer experienced great success very early in his sales career. His outgoing, likable personality could have factored into that success. High levels of openness to experience are associated with curiosity and a willingness to entertain new ideas and experiences (Barrick & Mount, 1991).
Those with high levels of openness to experience and motivation will be more likely to utilize their abilities to obtain initial career success than those with low levels of motivation (Rode, Arthaud-Day, Mooney, Near, & Baldwin, 2008). These characteristics helped Dick achieve great things in the beginning of his career. Dick was a force to be reckoned with in the sales department yet his peers still regarded him as a regular guy. Highly outgoing people tend to be warm, positive, and sociable, with a high energy level and therefore tend to be comfortable interacting with others (Costa & McRae, 1992). Studies have shown that conscientiousness, openness to experience, extroversion, and emotional stability are positively associated with career success and satisfaction (Rode et al., 2008). The same can be said of characteristics necessary in a career in sales. Dick's peers attributed his rise in sales volume to his good looks, charm, sales ability, business knowledge, and schmoozing skills on the golf course.
Fall 2012 MGT 585 Dick began his career with Tri-American Corporation at the age of twenty two, just after finishing his Master's degree. Research has shown that salesmen under the age of twenty five are in the honeymoon stage of their careers. During this stage they exhibit a high level of enthusiasm for their jobs as well as positive attitudes and a desire to succeed (Apostolidis, 1980). This is in direct contrast to salesman ages forty six and older. This group shows less aptitude towards development and career advancement. They are less creative in their jobs and less likely to learn new skills (Apostolidis, 1980). Dick was definitely in the honeymoon stage of his career, because succeed is what he did. In his first year as a salesman, he landed a large account that made him infamous among the other salesmen. He continued to set a fast sales pace even into his second year and gained himself a reputation with upper management.
When asked for a transfer out of sales, the president of the company was hesitant to move him, recognizing his superior sales ability. Not only was age a factor of Dick's success in business, but mental ability is one of the strongest predictors of job performance (Hunter & Hunter, 1984). Dick was a well-educated man, receiving his MBA from a reputable university, which shows an aptitude for high mental ability. Research has shown that mental ability can predict career success through its effects on job performance (Judge, Higgins, Thoresen, & Barrick, 1999). This is especially true during the beginning of one's career. During the initial employment phase the learning curve is steep with learning new job specific processes and procedures. People with a higher capacity for learning are at an advantage (Kraut, Pedigo, McKenna, & Dunnette, 1989). Dick took that advantage and continued full force to his second year as a salesman with Tri-American. His abilities surpassed those of his peers and set difficult goals for them.
Fall 2012 MGT 585 Dick Spencer was also good at networking. Networking can be described as discussing work challenges, exchanging information, joining professional associations, volunteering for organizational task forces, and engaging in community initiatives (McCallum, 2008). The primary purpose of networking is to develop and maintain relationships and to provide work and career assistance (Forrett & Dougherty, 2004). Dick networked with the president of TriAmerican during company conferences and maintained a friendly camaraderie. Studies show that salesmen ages twenty six thru thirty five are anxious for advancement and maintain a good level of communication with their higher echelons (Apostolidis, 1980). Relationship networks play a pivotal role in the career outcomes of managers and professionals (Higgings, 2000). Researchers have found networking to be associated with individual access to information, resources, and career sponsorship (Brass & Burkhardt, 1992).
Dick Spencer used his networking connections for career advancement after three years as a salesman. He requested a transfer out of the sales department and was granted a position in production. In addition to his sales ability, Dick's support system could have played an integral role in his sales success. Researchers have linked interpersonal comfort with business success (Allen, Day, & Lentz, 2005). Evidence suggests that relationship closeness has an effect on a person's ability to develop relationships (Hanoch, 2001). According to Hanoch (2001), "when people know that someone is there for them, the relationship becomes a resource from which they draw strength and enjoyment" (p. 3). This is evident in Dick Spencer's case. During the first years of his sales career he was happily married and successful in his career. However after several years of traveling for work, his marriage suffered and he began to doubt his future as a salesman.
Fall 2012 MGT 585 Failures as a Manager One of the first things that could have contributed to Dick Spencer's failure as a manager was his location. He was married with a family and had to uproot his life to move to London when he was promoted to assistant plant manager. This was a cultural shock for both him and his family. He was having trouble adjusting to cultural differences and being accepted at work and his family was having difficulties being accepted into the community. These reservations are common for many American managers who move to different countries for work. One study showed that the most important issue managers face when working in different countries is the interpersonal conflict stemming from cultural differences (Jassawalla, Truglia, & Garvey, 2004). Dick encountered many conflicts because of cultural differences.
He was used to the fast paced philosophy of American business and found himself having to tiptoe around his British superiors. Scholars have found that an inability to adapt to new behaviors and interpersonal interactions can cause some managers to reject their new culture and leave their job before they have completed their assignment (Sanchez, Spector, & Cooper, 2000). Dick experienced this exact thing when he was reassigned to a new plant in Birmingham. He left his London assignment with mixed fillings as he had not completed many of the tasks he was assigned because he had never fully embraced his new culture and learned how to work with his coworkers. This is a big problem in cultural differences where managers try to resolve problems with coworkers from different cultures (Morris et al., 1998). Cross-cultural differences can also be blamed for some of Dick's problems at the Modrow plant. He had requested a transfer back to the United States and was instead appointed as plant manager in Canada where he was once again thrown into a different culture and expected to adapt. Scholars have blamed a lot of managers' problems in cross cultural situations
Fall 2012 MGT 585 on their firms' lack of pre departure training (Sanchez et al., 2000). It did not seem that Dick was given any sort of cultural training which may have been able to help him better adapt to his host countries. Although Dick Spencer was a successful business man, he was a self-proclaimed slacker when it came to accounting measures and human relations. According to Richmond, Wagner, and McCroskey (1983), "Two of the major concerns of most organizations in contemporary society are productivity and employee satisfaction. In profit-making organizations, productivity is directly related to achievement of the primary goal of the organization – increasing the profit margin" (p. 27). Dick focused on that primary goal by implementing many cost cutting procedures without regard to productivity or employee satisfaction.
This is demonstrated in the siding department incident. Dick had become so single focused on cost cutting that he jumped at the opportunity to implement a new procedure, ignoring the concerns of his foreman, the expert on the subject at hand. His authoritative attitude backfired when the foreman of the siding department outwardly disobeyed him costing the company productivity and surely bringing down employee satisfaction. The behavior by his foreman can be explained by Thau, Bennett, Mitchell and Marrs (2008) as the social exchange theory "where poor treatment by one's supervisor indicates an imbalance that subordinates seek to rectify by engaging in negative behaviors themselves" (p. 1). This move on Dick's part also hurt his reputation with his workers. Dick remembers this situation as the most baffling and humiliating one he had ever experienced. In addition to humiliating him, it also affected his reputation as a manager. While Dick roamed the halls listening for insider information, yet attempting to seem social, his employees suspected him of wrong-doings and slowly began to lose respect for him as a manager. According to Steger, Manners, and Zimmerer (1982), "The successful manager has
Fall 2012 MGT 585 always led his or her subordinates, to a great extent, by examining and responding appropriately to their behaviors" (p. 22). Dick did not respond appropriately to situations that happened in his plant. He gathered as much information as he could during his strolls but had a policy of not commenting or discussing matters on the floor. His subordinates began to question his motives for doing this. They spent time planning for his visits and analyzing them afterwards.
Recommendations I think that Dick Spencer's biggest hurdle as a manager was his poor communication skills and human relations skills in regards to cross-cultural differences. He never really embraced the cultural change and played both sides of the fence by being too timid to implement practices in his first assignment and being too authoritative in Modrow. Researchers found that one of the three most important ingredients to being an effective manager in an international role is the knack to control with a non-authoritarian style (Franzee, 1998). He also kept his subordinates completely in the dark which caused them to question his motives and regard him as untrustworthy. Studies have found that employees enjoy working in a place where they enjoy the people they work with and trust the people they work for (Mishra, 2007). Mishra (2007) also states that if management does not communicate to their employees a sense of supportiveness, caring, honesty, and a willingness to listen the employees will end up trusting management less. She argues that organizations should take care of their employees, build trust with them through positive communication, and demonstrate respect for them. If Dick had taken his own advice and brushed up on his human relations skills, he could have been a more successful manager.
References:
Fall 2012 MGT 585 References Allen, T. D., Day, R., & Lentz, E. (2005). The role of interpersonal comfort in mentoring relationships. Journal of Career Development, 31, 155–169. Apostolidis, P. (1980). Looking at the age of
salespersons. Academy of Marketing Science Journal, 8(4), 322. Barrick, M. R., & Mount, M. K. (1991). The big five personality dimensions and job performance: A meta-analysis. Personnel Psychology, 44, 1–25. Brass, D. J., & Burkhardt, M. (1992). Centrality and power in organizations. Networks and organizations, 191-215. Costa, P. T., & McCrae, R. R. (1992). NEO-PI/NEO-FFI professional manual. Odessa, FL: Psychological Assessment Resources. Forrett, M. L., & Dougherty, T. W. (2004). Networking behaviors and career outcomes: Differences for men and women? Journal of Organizational Behavior, 25(3), 419-437. Frazee, V. (1998). What does it take to be a successful international manager? Workforce, 3(1), 9. Hanoch, F. (2001). Relational dimensions in career development. Journal of Vocational Behavior, 59(1), 1–16. Higgins, M. (2000). The more, the merrier? Multiple development relationships and work satisfaction. Journal of Management Development, 19(4), 277-296. Hunter, J. E., & Hunter, R. F. (1984). Validity and utility of alternative predictors of job performance. Psychological Bulletin, 96, 72–98. Jassawalla, A., Truglia, C., & Garvey, J. (2004). Cross-cultural conflict and expatriate manager adjustment: An exploratory study. Management Decision, 42(7), 837-849.
Fall 2012 MGT 585 Judge, T. A., Higgins, C. A., Thoresen, C. J., & Barrick, M. R. (1999). The big five personality traits, general mental ability, and career success across the life span. Personnel Psychology, 52, 621–652. Kraut, A. I., Pedigo, P. R., McKenna, D. D., & Dunnette, M. D. (1989). The role of the manager: What's really important in different management jobs. Academy of Management Executive, 3, 286–293. McCallum, S. Y. (2008). An examination of internal and external networking behaviors and their relationship to career success and work attitudes. (Doctoral dissertation). Retrieved from ProQuest Dissertations and Theses. (304834916) Mishra, K. E. (2007). Internal communication: Building trust, commitment, and a positive reputation through relationship management with employees. (Doctoral dissertation). Retrieved from ProQuest Dissertations and Theses. (3257559) Morris, M. W., Williams, K. Y., Leung, K., Larrick, R., Mendoza, M. T., Bhatnagar, D., Li, J., Konda, M., Luo, J., & Hu, J. (1998). Conflict management style: Accounting for crossnational differences. Journal of International Business Studies, 29(4), 729-748. Richmond, V. P., Wagner, J.
P., & McCroskey, J. C. (1983). The impact of perceptions of leadership style, use of power, and conflict management style on organizational outcomes. Communication Quarterly, 31(1), 27-36. Rode, J. C., Arthaud-Day, M., Mooney, C. H., Near, J. P., & Baldwin, T. T. (2008). Ability and personality predictors of salary, perceived job success, and perceived career success in the initial career stage. International Journal of Selection and Assessment, 16(3), 292-299. Sanchez, J. L., Spector, P. E., & Cooper, C. L. (2000). Adapting to a boundaryless world: A developmental expatriate model. The Academy of Managerial Executive, 14(2), 96-106.
Fall 2012 MGT 585 Steger, J. A., Manners, G. E., & Zimmerer, T. W. (1982). Following the leader: How to link management style to subordinate personalities. Management Review, 10, 22-51. Thau, S., Bennett, R. J., Mitchell, S., & Marrs, M. (2008). How management style moderates the relationship between abusive supervision and workplace deviance: An uncertainty management theory perspective. Organizational Behavior and Human Decision Processes, 1, 115.
Related Topics