Cornelius Vanderbilt Robber Baron or Captain of Industry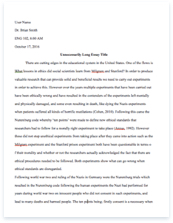 The whole doc is available only for registered users
Pages: 3
Word count: 626
Category: Industry
A limited time offer! Get a custom sample essay written according to your requirements urgent 3h delivery guaranteed
Order Now
The 1800's was the beginning of something new for America, It was the rise of American industry. Cornelius Vanderbilt had a huge role in American industry. Vanderbilt was responsible for developing much of the the transportation system in the middle and later part of the 19th century in the North East part of the United States. He was responsible for both boats and trains. I think Cornelius Vanderbilt has made a huge impact on the American Industry because of what he has accomplished in his life like taking over the train industry. Even though he was a very ruthless and determined man he was also a very hardworking and succesful man, I believe Vanderbilts life shows the true story of rags to riches.
Cornelius Vanderbilt was born on May 27, 1794 on Staten Island. He belonged to a very poor family and his father earned his living by providing low level transportation services. He entered buiseness at the age of 16 in 1810. He was paid $100 by his mother to clear and plant 8 acres of land. He use the $100 to buy a small vessel and used it to carry frieght and passengers between Manhattan and Staten Island. He quickly got the reputation to be reliable and fearless and he took that reputation with him when he entered the train industry. By the 1840's Vanderbilt had about .3100 steamships and he had become the biggest employer in the United States. Vanderbilt did not only compete with his rival with his low prices but also with comfort, size, speed, luxury and elegance in the steamship passenger transportation industry. In the 1860's Vanderbilt became aware that the big growth in the future for the transportation industry was not by way of water but by way of rail. He became interested is railroad transportation, which was then still in its infancy. Instead of building new railroads, he took the easier route by buying exsisting rail roads. In 1867 he also acquired the Central Railroad and merged it with the other railroads he already owned. He eventually merged all his initial acquisitions into what became known as the NYC Railroad. Cornelius Vanderbilt died in 1877, at the age of 82, at that time Cornelius Vanderbilt was the wealthiest man in the United States.
I believe that Cornelius Vanderbilt was a Captain of American Industry but some believe he was a robber baron. A robber baron refers to a feudal lord, usually in Germany, who charged huge tolls for those shipping goods through their lands. During the American Industrial Revolution, the term was used to describe a person who made enormous amounts of money in buisness. It was an insulting term implying that a person used unfair business practices and showed little sensitivity to the common worker. It is certainly the case that early workers in factories suffered inhumane treatment, and worked in horrible conditions. My opinion is that Vanderbilt has none of these attributes.
People think that Vanderbilt was a robber baron because during the Civil War he sold the U.S. Navy unseaworthy vessels at expensive prices. The vessels were in such bad condition that they sank before leaving the port. At least two of his ships sank in the open sea taking their entire crews down with them. Some people think he is a robber baron because after the Civil War he used lawyers and hired guns to steal land from settlers and Indians to build his railroads on. I think Vanderbilt was not a robber baron I just think he took business serious and was very ruthless in business he worked for what he wanted and obtained and people would have gotten jealous of Vanderbilt because of his success in life.
Related Topics