Continuing Academic Success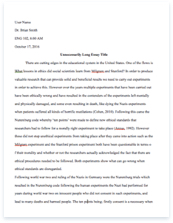 The whole doc is available only for registered users
Pages: 5
Word count: 1208
Category: Goals
A limited time offer! Get a custom sample essay written according to your requirements urgent 3h delivery guaranteed
Order Now
"Continuing Education Success", personally I never even thought about this nor about setting educational goals for myself, like obtaining a bachelors in criminal justice to achieve a good paying job. In this class I learned how important it is to make my education a priority so I do not get sidetracked by other things that are also important in my life.
Setting educational goals for my academic success is a very important part of education because you have more motivation. Goals can motivate you every day by reminding your mind that you have some sort of a contract with yourself that you have to meet. Goals help us keep focused on what we need to do in order to make this goals a reality. Planning the steps to meet long term or short term will help you organize the steps you will take to reach your goals. Learning to use your time more productively will help you accomplish the steps that are necessary in your day to accomplish your goal when setting time frames. It does not matter if your goals are long term or short term goals, you will get to them. Setting this goals will help me move forward with my educational success in many more ways we learn with time.
My educational long term goal is to get my bachelors in criminal justice at any cost. I have set high standards and nothing can get in my way to achieve my goal. I am ready to be a full time student and mother of three kids that need to see more family members getting an education. As soon as I am done with this I will seek my career goal which is to have a better paying job and a fun place to call work. I really want a job that I will enjoy not think I hate Mondays. Another thing that will help me advance in my education is writing. Writing is the key to success, we need to know how to write because this is what school is all about. Sometimes I have a difficult time writing essays like the one I am currently writing but practice makes perfect. I am sure that I will use everything I learned in this class to write better papers. To me it might seem difficult but it is easier than what I think, it is just a matter of implementing everything I learned in this class.
Critical thinking is something I don't do very often, sometimes I just judge from looking or listening to what I see or hear but this is something I will learn with time. To learn critical thinking I will follow the steps that are required because critical thinking is something we have to learn because we are not born critical thinking. One is identifying what we are talking about. Then we have to gather information about the theme that we are talking about. The next step is to look for evidence and consider alternatives or other people points of view. Sometimes we do not want to accept what other peoples opinion is about something and that is wrong because we might learn from them. Finally we choose the best possible alternative after we have gone thru all this. Using critical thinking will allow you to make better decisions not only in the work place but also in our day to day lives. Maybe one day you will have to make a life changing decision in your job.
The resources that I think will help me to be more successful in my education are the online library, the writing center and the syllabus. The online library is very convenient to me because I do not have to go out and look for a library if I do not have time. Sometimes having three kids does not give me time to go out and look for a library. The writing center is one of my favorites because it offers many resources like the plagiarism site and proofreading your paper before submitting. Sometimes a second set of eyes is better than one and you may have a second opinion about your papers. Finally I think that having a syllabus in order is great because I can make time frames for assignments due and be informed of what is next. Other schools do not offer a clear syllabus or change it two or three times a semester and this throws you off. There are so many things I like about the University of Phoenix and this is why I enrolled.
This class was the best thing that has happened to me in a very long time, Pete Medina I want to thank you for really caring for your students. This class not only taught me how to but it gave me a lot of confidence in myself. I feel very motivated since I started my education class and I can write so many things I learned but to me the best part of this class is when you start talking to us with such great enthusiasm. I have never met a professor that really cared and that really enjoyed his job so I will make sure to find a job that I like and enjoy. Your class picked me up as a person and made me want to make more goals for myself.
After this class, continuing academic success makes more sense to me because I understand that in order to be successful academically I have to have goals to meet and a career to pursue. After taking this class I am sure I will make time to meet my goals day by day. I will also try to implement critical thinking in my life. Schools also need more professors that really care about your education to advance academically.
References
Continuing Academic Success
In order to be successful academically there are some things we need to know, goal setting is one of them and maybe not a lot of us know how to meet educational goals without getting side tracked by other things that are going on in our life. I had no idea how much I needed to think about how I would help myself continuing my academic success until this general education class I had to take opened my mind to new ideas.
Setting educational goals is an important part of your academic success, this will help us stay on track on what our educational goal is. A goal will not let me sidetrack if I keep repeating to myself what my goal is. Educational goals will also assist me in planning a good strategy to make my goals move forward and become a reality not just thoughts. I may write down my goal and follow the steps towards reaching it by reading it daily. My educational goal is to finish my criminal justice bachelor in 3 years and no more than that. I am also looking forward to an academic success goal which is getting a job that I enjoy and that pays me a lot more than what they pay me right now.
In the universities wedsite offers you the writing process
Related Topics