Constant Personal Development Is the Key to Hugh Self-Esteem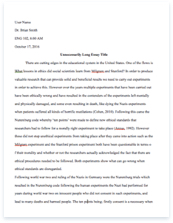 The whole doc is available only for registered users
A limited time offer! Get a custom sample essay written according to your requirements urgent 3h delivery guaranteed
Order Now
In everyday life, we commit habitual acts that have been taught to us at a young age; manners, brushing our teeth, and drinking water are just some of the unconscious acts we carry out daily. Academically, it is important to develop skills that enhance the capability of successfully carrying out an educational career. The understanding and usage of foundational college readiness skills, like openness, curiosity, persistence, and engagement in writing and reading skills are critical and improves adaptiveness to many situations beyond text.
The analytical skill of openness, defined as the act of considering a new way of thinking, is necessary for academic progress. After reflecting on my past experiences, I realized openness is used in a variety of different settings for educational purposes. For example, in the numerous history courses I have been in, it is very important to be able to adapt your mindset to understand documents from different time frames. There are many instances where statements, vocabulary, and opinions are not considered "politically correct" in this day and age. However, to understand and make connections with historical texts, openness is a critical skill to acquire to be able to further your thinking beyond text. We also composed a series of debates in these history classes, revolving around issues from different centuries. The ability to gather information and express different points of view was necessary to come out successful within the debate. These skills were fostered and developed by encouragement to be open with one another. According to the Writing Program Administration, it is important that writers "Match the capacities of different environments to varying rhetorical situations." A foundational skill of openness prepares writers to adapt to different academic environments.
Persistence, the ability to keep interest in one topic, and curiosity, the desire to know more, come hand in hand for me. Government and American Politics is an academic example that comes to mind when persistence and curiosity are mentioned. Government was not the most difficult class I have endured, but it was not a breeze to learn all the little things about politics and governmental policies. However, with a genuine need to learn more, it was easy to persist through the challenges of the course. Exploring further into the class led to academic success and ease when it came to test taking. There were several instances where projects were held overtime, and to continue an interest in the topic was difficult. But with desire, it was easy to persist and learn more, rather than settle for less and lose interest. As shown through the Framework for Success in Secondary Writing, it is important to communicate findings in class with others outside of class. I demonstrated this without knowing, I continuously come home from classes explaining what I learned, conversating and teaching others what I have learned, has brought forth more information than what was originally learned, a skill later found to be referred to as curiosity.
There is always room for improvement with all the skills mentioned, but something I personally need to work on is engagement. Engagement is a very purposeful skill to have, as it conveys a genuine interest as well as builds trust between the author and audience. In all aspects of life, academically and daily it is important to understand empathy. Without engagement, it is difficult to understand the empathy trying to be displayed in a piece of writing. With this, I believe openness and engagement are somewhat related. However, I need to find out how I can do both while keeping an open mind and understanding the text in the way it is intended to be. If you're not engaged, there is no room for improvement or curiosity, there is no desire to keep learning. I have experienced this is many of my past English classes, where I usually was unengaged. With no engagement, there was no curiosity, no reading in-between the lines, determining meaning of texts. This made it hard for me to succeed in these classes, due to blatantly reading and writing with diving deeper than the readings. As told in the Framework for Academic Success in Postsecondary Writing, developing rhetorical knowledge is key to comprehending texts and understanding audiences, purposes, and contexts. It was difficult the develop this rhetorical knowledge in learning and practicing key concepts like audience, purpose, context, and genre for different types of texts. This is listed as something needed to have working framework of success. Staying engaged is something I need to continue to improve in my academic career.
The understanding and usage of different habits of mind improves the need to learn in different academic areas, as shown through my successes and developments. The importance of openness, curiosity, and persistence have helped me through many areas both academically and in my daily life, but lack of engagement is something that will continue to be developed to help maintain a stable academic standing, and further my education as a college student, as it is needed in many educational and professional settings. As for improving, I plan to do this by taking time on assignments, thoroughly reading and writing material, and finding the meaning of different texts and assignments beyond what is said.
Related Topics