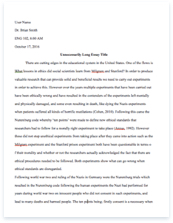 The whole doc is available only for registered users
Pages: 2
Word count: 398
Category: Conflict
A limited time offer! Get a custom sample essay written according to your requirements urgent 3h delivery guaranteed
Order Now
In every day life we deal with conflict, if not with ourselves, then with others. Conflict doesn't have to mean that it's bad; it's simply states that we have different viewpoints about certain things. Conflict can come about in any situation, but most conflicts occur between couples, and even the people at your work.
In relationships, conflicts will arise more than a person may want it to. A cold shoulder here, a silent treatment there, is just some of the things a person will receive during a fight. Confronting a person is difficult, especially for me because I have a difficulty with accepting fault. In a relationship, a person has to learn to give in. Avoiding one another can never help a situation. Couples must learn how to confront one another and determine their problem. Even though there's a problem most couples will say there isn't so they don't have to face the music. While talking with the partner, one shouldn't attack the other person with accusation and learn to listen to one another with open mind and open heart. The couple should also feel free to ask one another why the person felt the way they did and what brought up the situations. Once all is out in the open, the couple should resolve their problem and work out a compromise that would please both sides.
A work area is also a place of conflict. One may not like a person's performance and the fact they have to cover them to finish the job. This would cause tension between the two workers because they'll be in each others faces if they don't resolve their problem. When faced with a problem like this, both parties have to listen, because they both may gain valuable insights on what they're doing right and wrong. It also helps to confront the individual, rather than going to a higher rank first. The person should state his point of view in the matter, but not force it upon him or her. Both should agree that each of them had a valid point and learn to resolve their problem through a compromise.
Conflicts will always be around as long as a person has to deal with other people. Sooner or later, people have to face their problems, so might as well confront them before they blow out of proportion.
Related Topics