Confectionery Marketing Strategy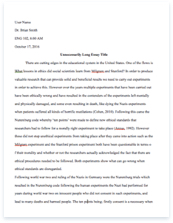 The whole doc is available only for registered users
A limited time offer! Get a custom sample essay written according to your requirements urgent 3h delivery guaranteed
Order Now
1. Introduction
1.1 Scope of the report
This report covers the implementation of the Altoids marketing plan which relates to 4 mint products entering the Australian market place.
1.2 Limitations of the report
This report has been hindered by insufficient data collection regarding competitors in the market place.
The marketing team found that there were also limitations in the availability of secondary data relating specifically to the mint market.
2. Organisational Profile
2.1. The International of Wrigley in US
Wm. Wrigley Jr. Company is a recognized leader in confections with a wide range of product offerings including gum, mints, hard and chewy candies, lollipops, and chocolate. The company has operations in more than 40 countries and distributes its world-famous brands in more than 180 countries. Wrigley is headquartered in Chicago. (Wrigley Company Profile).
Wrigley has been delighting consumers with fun, innovative, high-quality products for over 100 years. Wrigley has evolved and expanded with an eye to the future and a steady focus on the consumer. Altoids product is developed by Smith Kendon, the founder of Smith & Co. as an exceptionally strong lozenge, originally marketed to relieve intestinal discomfort. Altoids products were sold first in Europe in 1780 and it was introduced and developed in America market since 1918 (Wrigley Company Profile).
2.2. Wrigley in Australia
1. Wrigley has owned its subsidiary in Australia which dominates approximately 9 per cent of the total market share in Australian confectionary market. Wrigley has decided to increase its current market share by introducing Altoids. Distributed and promotion is through retailers in Australian widespread market as similar other confectionary product range (Wrigley Company Profile).
3. Situational Analysis
3.1 Business Environment
Australia has a stable business environment, below is a pest analysis which gives an overall perspective of factors to be considered when entering the market:
3.2 Market and Industry Trends
Many consumers are switching to mints and medicated confectionary with health benefits and a stronger taste. Consumers perceive products as a healthy way of enjoying confectionary products. (Euromonitor, 2008)
The unit prices for mints continued to increase during 2008 due to higher production costs and the launch of new flavours. New products and variations on existing ranges suite a variety of consumer preferences. (Euromonitor 2008)
Mints have increased considerably over the last five years, the value of sales of mints has increased by 46% from $120 million AUD to $172 million AUD (Appendix 1&2).
Seconary data forecasts that the mint market will further follow this trend in the next 5 years, figures from Euromonitor indicate an increase of 9% in volume of mints and an increase of 18% in value of mints by 2013 (See Appendix 3&4).
3.3 Competitors
Competitors in the mints confectionery industry include:
* Nestle: The XXX mint and drop zones are the mint products available * Masterfoods brands include Starbucks and Skittles
* Lifesavers vast range of flavours from mint to sweet
3.4 Wrigley's products
The Wrigleys portfolio includes brands such as Lifesavers, Eclipse, Extra, Orbit, Hubba Bubba, Juicy Fruit and of course Altoids.
3.5 Differentiation Strategy
The key points of difference with Altoids is the unique advertising, packaging and alternative retail availability, this allow the company to gain a foothold and be competitive in the market through alternative retail outlets and targeted advertising.
4. Organisational Resources and Capabilities
4.1 SWOT analysis:
The SWOT analysis assesses Altoids strengths, weaknesses, opportunities and threats.
Strength| Weakness| Opportunity| Threats|
* Proven marketing strategy which has been successful in USA cities * Altoids is able to capitalize on Wrigleys distribution networks and relationships with retail stores * Unique style vintage tin and quirky advertising make strong market entry impact * Many years of experience in US and UK markets * Available through new retail outlets increasing availability to new target market| * Little brand awareness of Altoids in Australia * Little brand recognition in major cities * Change in the dynamics of relationships with new retailers in cinemas and coffee shops * Expansion chain of distribution, more expansive as it is outside the realm of existing networks * Lack of innovation outside core product| * Mints are increasingly being perceived as a healthy confectionary alternative * Positioning the brand into the market in new retail outlets appeals to new consumers * Growth trend in the mint market forecasted to increase of 9% by 2013 (See appendix 4) * Australia and USA free trade agreement ensure future * High profit margin and low import costs increase price competition in market due to Australian dollar appreciation against US dollar| * Australian's mint eaters loyalty to a specific, preferred brand. * Entry of competitors established product in a tin. * Exchange rate fluctuations potentially effect importation from the USA * Economic crisis and change in political stability, may effect imports through tax|
5. Marketing Objectives
5.1 Financial objectives
Financial objectives have been developed according to a two phase plan:
Phase I:
The company's brand will be positioned at the higher price, higher quality end of the confectionery – mint category. The company will aim initially to sell 500.000 tins or 4% of the market, with a lost in the first year not exceeding 1.3 million during the first year. The second year will aim for 700.000 tins or 6% of the market, with a planned profit of $2.2 millions.
During this initial phase four Altoids mints flavors will be introduced through traditional and non traditional distribution channels:
The product will be distributed in their main outlets in business districts of Melbourne, Adelaide and Sydney.
Phase II:
The company intends to win 10% mint market share and 3% of the overall confectionary market. Through this, a realized after-tax return on investment of 12 percent is expected. To achieve this return, market expenditure will be increased and is aimed at reflecting improved sales across the board.
Price will initially be set at a high level to reflect a high quality brand perception. Over time this will decrease to expand the market and meet competition pricing. The total promotion budget will be boosted each year about 20 percent.
5.2 Non-financial objectives
Key non-financial objectives are aimed at establishing a high level of brand awareness. Altoids marketing campaign will establish the product range as a different kind of mint, the Curiously strong tagline will allow the product to gain new market share and to position itself in the consumer's mind as much more than a mint.
Awareness levels within the target market will be monitored through sales reports and through the use of ad hoc customer experience surveys in different retail outlets.
If the expected brand awareness is achieved, Altoids line of products will be extended by introducing other Altoids successful products including Altoids Strips, Altoids Sour Candy and Altoids Chocolate covered mints.
5.3 Market Entry Strategy
Altoids Market entry strategy will be done through direct exporting. Due to Altoids ownership by Wrigley, a company already established in Australia, the product will be sent from the manufacturing factories located in Tennessee, USA and shipped to the Docks in Melbourne from where they will be transported by truck to the wholesalers from Wrigley warehouses located in Melbourne, Sydney and Adelaide and in turn distributed to the retail outlets.
An Altoids division will be established as a subsidiary company within Wrigley and will utilize existing channels of distribution for other Wrigley products. The Altoids Marketing strategy and campaigns will be established independently.
Altoids entry strategy will be a straight extension which means that the product will be introduced in the market without any changes. Extensive market research and the success of Altoids marketing campaigns in USA cities with very similar characteristics to those of the host country Australia, has reinforced the election of the use of standardization when entering the Australian markets. Standardization will also guarantee purchases by expatriates and travelers. All efforts will be spent in the marketing process, to recreate the success achieved first in Seattle through quirky advertising campaigns.
6. Segmentation, targeting and Positioning
6.1 Segmentation and targeting
In segmenting consumer markets, geographic, demographic, and psychographic variables apply related to consumer characteristics as well as behavioral variables related to consumer responses. (Kotler,2006).
For Altoids the demographic variable was analyzed and men between 20 and 30 working full time were identified as the primary target market. Subsequently, the psychological variables were considered to gain additional insight into the consumer's disposition and goals. The information achieved is essential for the development of the brand positioning strategy.
The segment criteria identified the following target market:
6.2 Positioning
Altoids Marketing strategy will be based on "differentiation" from other mints, achieving the desired positioning in the consumer's mind is crucial to accomplish the proposed objectives.
To establish Altoids positioning strategy, consumer's perceptions on competitor brands were determined. Main competitor's benefits identified were mouth refreshment, social interaction and confidence, which represent valuable but interchangeable attributes. Altoids presents itself as a very different alternative because aside from offering all the basic mints benefits it represents a unique product with distinctive personality for people wanting a stronger kind of mint.
The product position itself as a Quirky, irreverent, and opinionated brand. This is achieved through advertisements that position the products in the consumers mind as a dissimilar type of mint. The mints will be perceived as not suited for everybody, just for those strong enough to resist it. This point of difference is aimed at building brand awareness which develops into brand loyalty. Advertising mediums include:
* Billboards play an essential role in capturing young, sophisticated consumers in urban areas * Cardboard insulation sleeves in Starbucks associate Altoids with largest coffee company in the world * Previews and availability in cinemas give Altoids exposure to movies aimed at males between the age of 20-30 in urban areas
Altoids Unique Selling proposition (USP) is represented in Altoids Brand message "curiously strong mint" which will be reinforced with curiously edgy advertising so that the marketing and communication features are in alignment with the brand.
The Altoids package a metal tin is designed to further communicate the brand's differentiation factor as well: Mints so strong they come in a metal box. The uniqueness factor of the product will be enforced through Visual media in film previews for films targeted at the 30-30 year old males in urban cinemas. These advertisements are designed to be eye-catching and with the intention of separating Altoids from other mints. See appendix –8
Considering that the Altoids target market tends to be young and active, implementing outdoor media is essential. For this purpose Billboards will play a major role where the message from the traditional Altoids tin can be represent in a bigger way achieving the quirky mystique Altoids looks to portray, through the use of simple, intriguing messages accomplishing enough exposure without losing the unique cult-ish following.
6.3 Critical Success Factors
Critical Success factors are those skills and resources (internal capabilities) that exert the most leverage on positional advantage and future performance. (Reed, 2006 pp. 183)
Altoids critical success factors (CSF) are identified as:
Strength of brand name: Altoids it's already a recognized brand synonymous with mints that have a distinctive, strong personality and taste. This gives a competitive advantage as it differentiates the product.
Wrigleys power in industry: Utilizing existing distribution channels and successfully tapping into alternative distribution channels will give Altoids positional advantage.
Utilizing manufacturing facilities in the USA: Gives Altoids economies of scale in production, the majority of competitors produce mints specifically adapted to the Australian market.
Key factors by which success will be measure will be:
* Profitable sales of products.
* Proven brand recognition.
* Increased market share.
* Return on investment.
7. Marketing Mix Strategies
7.1. Product
There are four general ranges products of Altoids Mints introduced by Wrigley Company which is Altoids Smalls Peppermint, Altoids Smalls WinterGreen, Altoids Smalls Cinnamon and Altoids Crème de Menthe (See Appendix5).
We have identified the packaging as a part of the product as it is used after the mints have been consumed and adds intrinsic value to the product. The package is constructed of strong, premium quality tin that conveys the sophistication of the product to the adult consumer. The Altoids brand is embossed directly onto the can, reminiscent of antique packaging styles.
The package is created to fit conveniently inside the consumers hand, pocket or handbag. The strong taste of the mint and the tagline 'curiously strong mints' are synonymous with the robust packaging.
7.2. Price
Market Penetration pricing strategy will be adopted by Wrigley to introduce and develop Altoids Mints in Australia market. The market skimming strategy will be used to launch Altoids into the market at a higher price, this will appeal to sophisticated mint users in the early stages and communicate the image of a superior product.
COST-BASED PRICING
PRODUCT COST PRICE VALUE CUSTOMERS Altoids $1.00 $2.50 Premium $3.70 RRP
The price of Altoids product has been set as premium price point, the cost based pricing has factored in the transportation expenses, exchange rate, and cost of production and advertising costs. The price of Altoids has been set as above the costs and based on the profitable sales margin.
7.3. Place
The direct distribution system has been selected to distribute Altoids product to the whole market in Australia. Wrigley uses the existing distribution system to promote and distribute Altoids goods to all retailers.
The distribution location of Altoids goods will be distributed to all areas in Australia such as traditional retailers like 7-ll convenience shops, Safeway, Coles, 24 hours convenience shops. New distribution methods will be used to ensure Altoids are available in Gloria Jeans, Starbucks and Hoyts cinemas.
DISTRIBUTION CHANNEL OF ALTOIDS
Manufacturer (US) Importing – Wrigley Australia
Exporter – Wrigley(US)
Consumers Retailer in Australia Wholesale – Wrigleys in Australia
7.4. Promotion
In a mature market like confectionery, consumer interest needs to be constantly stimulated through strong merchandising, marketing and media strategies. Advertising and promotional campaigns are also vital to the long-term success of brand images as well as to sales growth. (Confectionery Manufacturers of Australasia, 2006)
Initial introduction and development of the Altoids goods to the Australian market involve several marketing communications channels including advertising and promotion. Several advertising tools are used such as internal billboard which will be placed in high traffic areas with frequent pedestrians and car visibility. Quirky advertisements will be viewed before major movies in urban cinemas. Altoids will also advertise through Starbucks with the use of cardboard insulation sleeves, this is a method currently used in Seattle and the contract is already in place with the Starbucks franchise. The Altoids product samples will be promoted to all consumers through point of sale promotion and merchandising activities such as in supermarkets, shopping malls, train stations, and coffee shops.
The promotional strategies 'edgy tone' is aimed at targeting urban, culturally aware, sophisticated consumers. The key is to appeal to consumers in an edgy yet non intrusive way, we aim for the consumer to feel as though they discovered Altoids, this leads to viral or word of mouth promotion. The packaging is also a major promotional factor, "If it didn't come in that metal box it probably wouldn't sell so well," said Carl Sibilski, a consumer products analyst at Morningstar Inc. in Chicago.
8. Budget
The four years budget of introducing Altoids products to market reflects the costs of market entry mode and marketing mix strategies. This budget plan shows that the first year revenue estimated 1,000,000 tins of Altoids will be sold with $2.50 each. Therefore, the total revenues for the first year which is $2,500,000 and the total revenues will be increased 10% per year as expected.
The budget sheet shows more details and full information about total revenues, total cots of sales and total gross profit. (See Appendix 7)
8. 1 Market Capabilities
Altoids is in a strong position in terms of its marketing support system which has been developed and innovated in the USA. The existing experience and success of Wrigley in other key areas further enhances this advantage. The marketing model from the USA will be adapted to the Australian market by selecting marketing material that is appealing to the local consumers. National promotions, point of sale promotions, merchandise and advertising mediums are drawn from successful campaigns in Seattle. Supply of the product, stock levels in store, public relations, product development, adaptation of product and marketing campaigns are coordinated by Wrigleys.
9. Implementation
In order to anticipate potential constraints to this plan, the complete marketing plan has been broken down by responsibility. The table in Appendix: 7 outlines what is to be completed, by whom and when.
10. Evaluation and Control
Constant monitoring and control of the firm's marketing activities help Altoids respond effectively to unexpected events that may divert from the original plan (Lueke, 2006) It is imperative to monitor the effectiveness of the Altoids marketing campaign and adapt the successful USA model to the Australian environment. Monitoring is important as it will effectively track our critical success factors, build an awareness of our competitor's strategy, measure the campaign spends in relation to returns for all phases in implementation and give us a quantifiable perspective in setting future strategies.
11. Conclusion
This marketing plan concludes a planned successful entrance of Altoids to the Australian marketplace. The targeted demographic of 20-30 year olds in Australian cities share similar characteristics to the target market in successful USA cities like Seattle. Furthermore, the target market in Australia have high disposable income, this as well as the projected significant growth in the mint industry. These factors as well as the implementation of the marketing strategy developed throughout this report ensure that the established objectives are achieved. .
References
Websites
1. About Qualitative Research, Dobney, viewed 22 March 2009, http://www.dobney.com/Research/qualitative_recipebook.htm 2. Australia Income& Expenditure 2008, Euromonitor International, viewed 20 March 2009, http://www.portal.euromonitor.com/passport/radGeographyTree.asp 3. Country Sector Briefing 2008, Euromonitor International, viewed 25 March 2009, http://www.portal.euromonitor.com/passport/magazine.aspx 4. Consumer Industry Profile 2006, Confectionery Manufacturers of Australasia, viewed 21 March 2009, http://www.candy.net.au/cma2006/extranet/uploads/files/Consumer/Industry_Profile.pdf 5. Wrigley Brand Information 2008, Wrigley Limited, viewed 19 March 2009, http://www.wrigley.com/brands/altoids.do
Books
1. AaKer et al., (2005) Marketing Research: the Pacific Rim edition.
2. Craig and Douglas (2005) International marketing research.
3. Kotler, Philip (2006). Marketing Management. 12th ed. New Jersey: Prentice Hall.
4. Malhotra et al., (2004) Essentials and Marketing Research.
5. Reed, Peter (2006). Strategic marketing planning. 2nd ed. South Melbourne: Thomson Learning.
Related Topics