Concussions in Sports: Tackling the Issue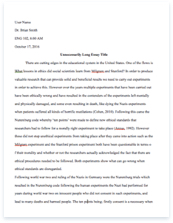 The whole doc is available only for registered users
A limited time offer! Get a custom sample essay written according to your requirements urgent 3h delivery guaranteed
Order Now
It happens every game, a player gets hit very hard and is injured in some sort of way. In the current days of football, concussions are the most common and most dangerous injury there is and should be given more attention to protect players and athletes. Whether it's short term or long term, concussions can cause serious damage to athletes brains and in serious cases put them in the hospital. While NFL players shake off concussions as not being that bad, they need to be taken very seriously as children across the country look up to these professional players as role models. Fan morale is also declined when their favorite players get injured and cannot play because of these injuries. Awareness needs to be raised so we can put a stop to these dangerous concussions. The main reason concussions are so dangerous is the health risks associated with them. Although the big deal in the media is made for NFL players, this issue goes through all levels of football. Jeff Victoroff, author of the article "Diagnosis and Treatment of Sports-Related Traumatic Brain Injury.", says that "there are about 100,000 college players, 1.3 million high school players, and 3.5 million youth players."
This shows that there is a very large amount of athletes playing football with the risk of getting head injuries very high. Victoroff elaborates by saying that "between 1.6 million and 3.8 million sports-related concussions occur each year." The severity of these injuries range from headaches for a few weeks, to being placed in a wheelchair like former Duquesne University football player Preston Plevretes has. He suffered a traumatic brain injury stemming from a concussion and now has altered speech, jerky steps, and a dark tunnel vision. These are just some of the serious side effects these injuries can have on an athlete over time. Along with the health risks, concussions can cause a moral decline among the very loyal fans of the NFL. If one of a fans favorite players is injured, this fan will not want to watch the game anymore and feel as if the injury to their favorite player is the fault of the league not doing its job to protect the players. This extends beyond the current NFL players, as many retirees have been seriously effected over time by injuries and are not being taken care of by the NFL Players Association.
The training staffs endure very high pressure to allow these players to return to action, as a very large percentage of players will say "I'm fine" and want to go back onto the field to finish playing the game they were already apart of. While fans want to see their players back in action, the training staffs really need to limit their players from getting injured more and make it as safe as possible for these players. For the players, getting concussions can caused strained relations and make them be even more aggressive the next time they're out on the field. If a players teammate gets hit really hard and is injured, there is almost a sure fire that will be set off inside of them to go out and revenge their own players injury on the other team.
This only causes more injuries and will make players have bad intentions when they go out and play the game. If players aren't out to hurt each other and just to play for the fun of the game, the game will be more enjoyed by players and fans alike. Concussions are very serious in football and should have more done including research and rule making to protect athletes. The health risks associated with these injuries are very dangerous, and could put an athlete in the hospital and effect them in the long run. There is almost a strain on fans who want to watch football for the love of the game and on the players who are trying their hardest to put on a good show and win the games for their loyal fans. Concussions will never be expedited from football, but there is a lot that can be done to help limit them and not risks players health and morale.
Related Topics