Compare and Contrast Nazism and Fascism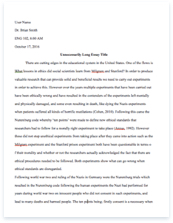 The whole doc is available only for registered users
A limited time offer! Get a custom sample essay written according to your requirements urgent 3h delivery guaranteed
Order Now
In the period between the First and the Second World War, there were rises of Totalitarianism in the world and Nazism in Germany and Fascism in Italy were the most important forms of totalitarianism which directly led to the outbreak of Second World War. These two political systems had some common feasters and also some differences.
There were many similarities between these two parties. Firstly, Nazism and Fascism both adopted a one-party dictatorship. In both countries, all other political parties except themselves were illegal. The Nazi Party and Fascist Party had absolute control over all aspects of life in Germany and Italy at that time respectively. Also, all economic activities were under state control and people must strictly obey the parties' rule that strikes were not allowed. Secondly, the both parties did not tolerate any opposition. They both suppressed the opposition. Secret police forces, for example the SA and SS of Nazism and the Blackshirts of Fascism, were set up to arrest opponents, the opponents were then imprisoned, murdered or sent to the concentration camps.
Thirdly, the both parties were anti-communism and anti-democratic. The Nazis and Fascists believed that communism would destroy the unity of society and weaken the state, and the Nazis blamed the communists for Germany's defeat in WWI. The both parties did not believe in parliamentary rule that the cabinets and universal suffrage were abolished under their rule. Finally, these two parties both adopted an expansionist and aggressive foreign policy. The Nazis believed that Germany had to expand in order to win Lebensraum; and the Fascist believed that wars would bring them glory. The Nazis and Fascists both believed in war and territorial expansion.
However, there were some differences between Nazism and Fascism. Firstly, they had different attitudes towards race. The Nazis believed that the Germans, who belonged to the Aryan race, were superior to all other races while the Jews were the most inferior. Under Nazi control, they killed a huge amount of Jews and there were about six million of Jews being killed during the WWII. Comparing with Nazism, Fascism did not have any ideas of racial superiority and there was no persecution of other races. Secondly, the two parties had some differences in economic policy. The corporate state was not fully developed in Nazi Germany but it was fully developed in Fascist Italy. The corporate state was based on the idea that the state was like one complete body and all limbs and organs should work for the benefit of the whole and there should be no opposition or disobedience. Finally, they had different attitude towards position of the peasants. The German peasants were well-treated by the Nazis but the Fascists had little faith in the peasants.
As a conclusion, the Nazi Party and the Fascist Party had a lot of similarities among themselves, and due to their similarities, they were allied with each other to form the Axis Power in the Second World War later on.
Related Topics