Comparative Analysis of SFBT and C/RT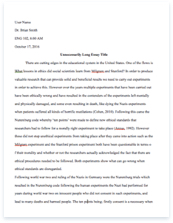 The whole doc is available only for registered users
Pages: 13
Word count: 3109
Category: Therapy
A limited time offer! Get a custom sample essay written according to your requirements urgent 3h delivery guaranteed
Order Now
Introduction/abstract
In this paper I will compare the essential features of Solution Focused Brief Therapy (SFBT) and Choice/Reality Therapy (CRT) in counseling and psychotherapy.
Description
Solution Focused Brief Therapy (SFBT)
Description SFBT
Solution-focused therapy is a form of brief therapy that builds upon individuals' strengths by helping them evoke and construct solutions to their problems. It has been refined over the years and applied in a number of settings and a variety of problems (Duncan Eds.). This is based on the premise that the person who undergoes counseling or psychotherapy has innate capability to overcome his/her problem or difficulty. In such situation, the counselee plays the active role and it is more of a client-centered therapy or counseling.
History
SFBT has evolved over the past thirty years, a process which was developed by Steve de Shazer and Insoo Kim Berg at the Mental Research Institute in Milwaukee, Wisconsin. The approach was developed through observing Insoo Kim Berg during a family counseling session.  During the counseling session Berg noticed that some questions appeared to be more useful than others. From this findings, Steve de Shazer and Insoo Kim Berg continued to ask these types of questions and the approach was further improved. SFBT takes the approach of the persons' being the expert in their own life. The person is capable of seeing himself/herself through the crisis and will ultimately find self direction.
Philosophical Underpinnings
Essentially, SFBT is a strength based approach that builds on the person's resources. The person is considered to be the expert in his/her own life and the worker/counselor/nurse works alongside the person to explore and discover their preferred direction in life. Once the person makes a decision and makes a choice on what he is supposed to do, then he overcomes his problem and sees self-direction. This is the remarkable and unique characteristic of SFBT that differentiates it from the other approaches in counseling and psychotherapy. There is the belief that change is constant, which would suggest that the complaints the client brought in are unlikely to persist (deShazer, 1985). SFBT counseling works by not focusing on the past or present, rather it focuses on the future. The important thing is not what happens in the past or the present, but what the person does to face the future.
Theory of change
SFBT dose not focus on the past or present, rather it focuses on the future and on hope and achievement, rather than problems and their causes. Essentially, it develops a solution to a problem by finding the resources to accomplish the solution. A central aspect of solution-focused therapy is the active exploration of the person's strengths and resources, and accepting them. It is not driven by diagnostic formulations or problem exploration.  The average duration of solution-focused therapy is five (to eight) forty-five minute sessions. If there is no demonstrable improvement after three sessions, it is unlikely that this therapy will prove effective for the person. The time between sessions is typically extended as the person makes progress so that a five-session course of treatment takes place over several months. It should also be noted that there are reports of effective single-session successes. However, these typically involve individuals who are concentrated to a problem and can be assisted to see a clear way out through the exploration of a desired future. Furthermore, they may already have solved their problem, but do not realize it. The role of the therapist in SFBT entails four therapeutic tasks.
Role of therapist
The first session entails four therapeutic tasks described as follows:  The counselee is made to rate his achievements from zero to ten. The different problems are given various solutions to choose from. The choices are then rated from zero to ten. A zero mark indicates that non of the person's goals have been achieved; a ten indicates that all of the person's goals have been achieved. The rating scale determines the progress of the counselee during the different sessions in response to the therapist's opening question "Which is better?" The therapist makes a verbal commendation of the person's report of progress.
SFBT encourages the client to formulate his/her own goals for therapy. It is the therapist's job to guide the client toward those goals by helping them creates a future wherein their problems no longer exist and increase the changes that the client has exhibited. In addition, a number of interventions are associated with SFBT and take the form of specific questions the therapist can ask to help the client develop insights to a situation where problems are minimized or eliminated. Likewise, incidents in the present situation are incorporated into that vision. It is therefore necessary that prior to the first sessions, there is an orientation of the questions to be dealt with. This is called the "miracle question," which is the main strategy and the key in SFBT.
Strategies for Helping Clients
One of the main strategies used in SFBT is "the miracle question" which serves to encourage and open the mind to creative thinking and a realistic description of how the client is getting on with his/her life. It would be better and more facilitative on the part of the client if the questions are more concrete and realistic. The art of questioning done by the counselor or therapist on the first session would be of great assistance to the counselee to realize what is going on with his/her life. Moreover, it would be of help to the counselee to continue talking about instances and details of his/her life and how he/she managed with the difficulties and crisis of his/her life.
Research on Efficacy
In a study conducted at the Brief Family Therapy Center in Milwaukee, Wisconsin, 72% of their cases (a randomly selected 25% of 1600 cases seen from 1978 through 1983) reported improvement within an average of six sessions per client (deShazer, 1985). In another study in 2000, Gingerich and Eisengart reviewed fifteen controlled studies of SFBT to examine the effectiveness of this approach to therapy. This study measured clients functioning and assess treatment outcomes. The study also used interventions, which Gingerich and Eisengart state are different from traditional therapeutic interventions. Although fifteen studies were reviewed, only five were considered well-controlled. The five well-controlled studies showed SFBT as providing a significant benefit.
Choice/Reality Therapy
Description of CRT
Reality Therapy is the application of Choice Theory within the context of helping relationships. All behavior is an attempt to meet one or more of four basic psychological needs; love and belonging, power and recognition, fun, and freedom (Ostrishko, 1997).  
History
William Glasser, M.D. was born in Cleveland, Ohio in 1925, and is the founder of Reality Therapy and Choice Theory. He is notable for having developed a cause and effect theory that explains human behavior. His ideas which focus on personal choice, personal responsibility and personal transformation are considered controversial by mainstream psychiatrists who focus instead on classifying psychiatric syndromes and who often prescribe psychotropic medications to treat mental disorders. Dr. Glasser is also notable because he has used his theories to influence broader social issues such as education, management, marriage, and recently advocating mental health as a public health issue, to name a few. Last, but not least, he is notable because he warns the general public about his profession and the dangers therein.  Glasser had many beliefs and assumptions about CRT. 
Philosophical Underpinnings
According to Glasser, reinforcement is not a part his overall approach, as he feels any consequence of an action, whether positive or negative, should be natural instead of teacher-given. Glasser believes that if a teacher were to interfere, this would be letting "the student of the hook" (Wolfgang, 2001, p. 155). The use of punishment is also dismissed by Glasser as being effective management because of its inabilities to provide the student with responsibility. Glasser feels that it has been proven ineffective even by the American judicial system (Wolfgang, 2001). 
Theory of Change
Essentially, the purpose of Reality Therapy in the school is to teach students to recognize that they do have control of their lives. CRT uses a problem-solving method that supports successful decision-making. Students are taught how to take greater responsibility while the school holds them accountable for their behavior. It teaches kids how debilitating behaviors such as blaming, denying mistakes and making excuses can be. Emphasis is placed on self-discipline. There are relatively limited published researches on the use of Reality Therapy, particularly with special school populations, and because many schools are currently using this model, the preliminary findings of this report are of significance. Reality Therapy is a self-evaluation process involving a series of questions that allow participants to make their own value judgments. Experiential education offers infinite opportunities for applying and internalizing these principles for enhancing personal and professional growth. 
Role of Therapist
The applications of Reality Therapy have ranged from a focus of very specific behaviors of selected students to incorporation as a primary component in district-wide plans. Glasser (1990) suggests that counselors should strive to create a supportive environment enabling students to be responsible and producing positive change. Glasser suggests emphasis on the following points: (1) Involvement (2) No Excuses. (3) No Punishment, (4) Never Give Up. (Coats 1992)
Strategies for Helping Clients
One of Glasser's strategies for helping clients in a school setting is a method of confronting students about their behavior.  During these meetings, students and teacher sit in a circle facing each other to talk through problems. The teacher leads the class through three possible types of meetings. There is the open ended, educational/diagnostic, and problem solving, all of which allow the students to confront others about problems they see in a mature and calm manner. At the end of the meeting, the teacher and students should have a plan that is mutually agreed upon by all (Wolfgang, 2001). This serves as a covenant between teahers and students. Dr. Glassser feels that having that close relationship is essential to meeting any of the other needs. Thus, he has listed the seven habits that teachers should have in the classroom. These seven caring habits are (William Glasser Institute, 2005):
Supporting;
Encouraging;
Listening;
Accepting;
Trusting;
Respecting; and
Negotiating differences,
On the other hand, there are seven deadly habits namely (William Glasser Institute, 2005):
Criticizing;
Blaming;
Complaining;
Nagging;
Threatening;
Punishing; and
Bribing or rewarding to control
Research on Efficacy
Most of the studies of Reality Therapy that examined student variables reported at least one outcome. There is significant differences between experimental and control groups or within groups across time. Only a few researchers examined the effects of Reality Therapy training on teacher behavior or attitudes and their results were mixed. Positive results have also been found in studies that have used components of Reality Therapy to respond to specific problem students. In one study, Moede (1987) found evidence of a substantial drop in the number of disciplinary actions, suspensions, and expulsions at three elementary schools whose teachers were trained in Reality therapy (Coates, 1992) Another study where the impact of a school wide Reality Therapy strategies on students at a Junior High Roberts and Mama (1978) reported the utilization of a student planning room which led to significant reductions in the number of suspensions and student days lost. Still in another study Drummond (1982) examined the impact of training in Reality Therapy by the staff on juvenile offenders. Based on students' self-report positive changes were found in their perceptions of the correctional environment over time, and found the program as being more associated with more supportive staff (Coats 1992). In the study of Marandola and Inter (1979), results demonstrated significant reductions in student arguing after implementing a series of class meetings which focused on the problem using Glasser's class meetings.
There are similarities between SBFT and CRT. Both uses scales in the form of zero to ten to assist the person to rate their achievements. Both also use the rating scale to distinguish different characteristics of the problem, as well as a possible solution; a ten may indicate that all of the identified goals have been achieved and a zero may signify that none of the person's goals have been achieved.   This procedure is called scaling and is used to determine progress during each session in response to the therapist's opening.
Comparison and Evaluation
One of the major limitations of SFBT is the apparent lack of comparative research. There are no methodologically sound studies conducted.  Extensive meta-analyses of psychotherapy outcomes, which in general show no differences between various therapeutic approaches and that therapeutic success is most closely related to the quality of the client-counselor relationship. Another limitation is that SFBT is perceived to be a poor approach for clients with severe, long-lasting problems, and those who have very weak coping mechanisms. It does also apply only to those who have high mental abilities.
It has been refined over the years since its development and applied in a number of settings (e.g., hospitals, residential treatment settings, outpatient office settings), and for a variety of problems (e.g., substance abuse, panic attacks, phobias, eating disorders, family relationship problems). Solution-focused therapy is a form of brief therapy that builds upon individuals' strengths by helping them evoke and construct solutions to their problems. The therapy focuses the future rather than the past or present, and on hope and achievement, rather than problems and their causes. It entails developing a solution to a problem and discerning the resources to accomplish the solution. A central aspect of solution-focused therapy is the active exploration of the person's strengths and resources, and acknowledgement of them. It is not driven by diagnostic formulations or problem exploration.
Gingerich and Eisengart did note that one of the limitations of related literature was the lack of standardization regarding the implementation of SFBT. They noted that, of the studies they reviewed, only two contained all seven components of SFBT. Five of the studies contained four or fewer components. It seems the statement that SFBT can be beneficial to clients can be accurately made only if it can be determined what components of SFBT are actually being delivered. The definition of SFBT would need to be standardized in order to generate definitive outcome research.
Since its introduction in the therapeutic field, it appears that many practitioners have embraced SFBT as a new and innovative way of working with clients. A review of the literature indicates that SFBT has been used with several different populations.
Integration
Throughout the course of therapy, the solution-focused therapist continues to highlight exceptions to the client's problems, and reinforces changes that have taken place through giving compliments or directly attributing the changes to the client's behavior, by asking the client how they were able to do something differently. The author points to the aspects of SFBT, such as therapist and client working as collaborators toward a mutual goal, and its focus on behaviors and perceptions rather than feelings as being  particularly useful in work with minority clients. The author further states that these aspects afford the client respect for their particular lifestyle and are sensitive to the client's culture.
Clark (1996) advocated the use of SFBT when working with juvenile offenders and their families. He cites the difference, especially when working with this population, between blame, which focuses on past failures, and responsibility, which can highlight past successes, without ignoring accountability for past mistakes. He states, "We simply do not have to drag our juveniles and their families 'through the mud' of their own failures and defects to bring about change" (p. 64). He cites advantages to using SFBT with juvenile offenders, including aiding the juvenile justice worker in being culturally sensitive and helping to brighten the workplace atmosphere among juvenile justice workers by instilling encouragement, hope and optimism. He also indicated that this approach may be integrated and used in conjunction with practices already in place in the juvenile justice system. Dolan (1994) discussed the benefits of using a solution-focused approach when working with clients who have experienced severe abuse. Dolan discussed how severe abuse victims could develop "rigid associational compartmentalization" as a response to the abuse (p. 276).
This compartmentalization can render the abuse victim unable to access necessary internal resources. She states that using a solution-focused approach can be beneficial to these clients in that it can help them envision a brighter future and empower them to unlock and use their internal resources to overcome the rigid compartmentalization. Osbourn (1997) discussed the use of SFBT when working with clients suffering from alcoholism. Osbourn discussed the mismatch between using SFBT with an understanding that alcoholism is a disease or is a result of biological and genetic factors. The treatment goal when using this understanding of alcoholism is abstinence. This is a mismatch because SFBT is an approach, which advocates client centered goals and a "non-pathological orientation" (p. 21).
Having a psychosocial understanding of alcoholism, that is alcoholism as a learned behavior and a result of biological factors along with environmental factors, may be more compatible with using a solution-focused approach. Members of the National Association of Alcoholism and Drug Abuse Use of SFBT afford the therapist the opportunity to work with the client in a respectful and hopeful manner, by focusing on resources and strengths and using a collaborative, rather than a directive approach. It was also mentioned that using SFBT can be beneficial to the therapist by helping the therapist feel less overwhelmed and creating a brighter, more positive atmosphere in the workplace.
What has been most helpful in learning how to do SFBT? (reading, watching videos, examining case studies, doing role plays, using model in actual therapy sessions, observing SFBT from behind the mirror as it was being used with clients) How was this helpful?
Bibliography
Coats, Kevin I. (1992) The impact of reality therapy in a school for emotionally disturbed youth: A preliminary report.  Hudson Falls, New York.
Glasser, William. (1988) Choice theory in the classroom.  New York Harper & Row.
Ostrishko, Gail (1997) The reality of experience.  Raleigh, NC: EDRS
William, Martin C (1988) Control Theory: Applications to middle-level school environments.  New Orleans, LA: EDRS
deShazer, S. (1985). Keys to solution in brief therapy. New York, NY: W.W.
Norton and Company.
deShazer, S.,  Berg, I.K. (1997). "What works?" Remarks on research aspects of solution-focused brief therapy. Journal of Family Therapy, 19, (2), 121-124.
Related Topics