Communication Between Men and Women/Self explanatory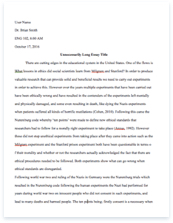 The whole doc is available only for registered users
A limited time offer! Get a custom sample essay written according to your requirements urgent 3h delivery guaranteed
Order Now
Communication is a very important factor in human life. Without communication our lives would be dull because we wouldn't learn from each other or keep up with what is occurring around us every day. Men and women communicate in the same form, but each of them oppose in certain aspects of communication that may cause interference between both sexes. Why do we differ so much to often cause uncomfortable social situations between each other? This question is often answered by understanding simple social observations of both sexes as adults and as children.
American men are more social in public than women who seem to be more social in more intimate situations like at home with their husbands. Men take on a hierarchical world in that they feel they must defend themselves or be on the defensive in order to keep others from making them feel or seem inferior. This causes men to become more inclined to socializing in public rather than at home with their wives. During intimate situations men are quieter because they are more at ease and don't feel they need to defend themselves with their wives, therefore they refrain from talking. Women on the other hand are less social during public occasions and more social during intimate situations. This difference between the two exists because women think that when they are in public situations they are better off being quiet in order to avoid awkward situations in which they may cause someone to be offended or to avoid saying something that may bring bad vibes between herself and the others. At home women feel freer to say what they wish, they worry less about being judged or possibly misjudging someone; therefore they are more talkative.
In order to try and understand what brought about this difference in communication between couples, observations in ones childhood was made. The pattern in which one was communicating with others of the same sex would show that although sometimes men seem to not be listening to women, they are in fact listening only that their actions appear to disagree. Girls tend to talk to one another about one topic at a time for a longer period of time than boys of the same age group. Boys seem to rather skip from subject to subject quicker than girls. As adults the same characteristics are viewed in both sexes. This can prove that while a woman is talking and a man may abruptly change the subject it isn't that he is being rude, he has simply been accustomed to socializing in that manner. Unfortunately sometimes a woman can feel that she is boring her husband because he seems to want to change the subject continuously instead of dwelling more into one subject at a time.
Also observed was the body language between both sexes as children. When two girls talk to each other the majority prefer to keep close eye contact with one another. This can be so that they feel assured that the listener is paying attention to what is being said. In contrast boys are less about eye contact, they prefer to stare away from each other as if ignoring even though they're giving their full attention to the speaker. These habits have also proved to interfere with men and women in their socializing. Often women come home to their husbands and speak to them but feel ignored because the husband is may be involved in another activity. While not giving much eye contact during conversation, men are often confused with ignoring their wives because their wives expect to have eye contact in order to feel that both parties are entwined in the conversation. Men only react this way in conversation because that is how they feel more comfortable sharing their thoughts and just communicating with others as a whole.
These patterns in conversation between husband and wife or man and woman can be causes of unfortunate situations such as divorce or a loss of friendship. Many people have never actually done their research in order to discover these observations that can actually help the relationship by better understanding others as well as oneself. If people understand their habits of socializing they can try to change their ways of communicating in order to prevent any awkward or unnecessary moments while conversing with the opposite sex.
Related Topics