Commentary on Newspaper Article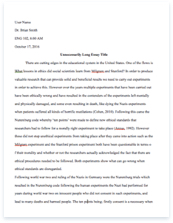 The whole doc is available only for registered users
A limited time offer! Get a custom sample essay written according to your requirements urgent 3h delivery guaranteed
Order Now
My first piece of original writing is a newspaper article which is intended for a broadsheet paper like The Times or The Guardian. For my article I decided to write about rape. This is a subject that I personally feel strongly about. Rape is considered a taboo subject as no one wants to speak out about, society would rather behave as if these incidents do not exist but they do. To make sure that I was writing about true facts I visited a few news website to get a good idea about this and also to get facts about the subject matter. At the website I found some statistic which I felt that I should include into the article as it makes more of an impact on the reader.
This piece of writing is exclusively written for informative purposes. I have laid out my article as the same way that's The Times or The Guardian have laid they're articles out. Although I have chosen to use clear subtitles whenever I am changing the subject matter. I have chosen to take up this approach as I feel that the readers would find it much easier to understand what the article was stating.
The audience of this piece of writing is primarily for people aged twenty and older, I have chosen to aim this piece of writing at both men and women as I feel that both sexes need to be informed about this subject.
The main lexical field of the article is actual rape incidents themselves but the semantic field is about the feelings of people who have had these things happen to them. In the text itself I have not used any abbreviations because after studying the specimen newspaper articles I have to come to note that the main news reporters do not use them. This is because The Times or The Guardian are both known to be quite formal papers, ones which would only usually be read by professional people.
The graphology of the text is set out the same as a newspaper is. I have set out the text in to three columns which is very common in most newspaper articles. I have used bold text for the heading as this is the main part which is going to be attracting the readers. I have also chosen to use one picture in the article which again is common in most articles, this is because if the articles where purely written then the reader will begin to become bored and may be distracted by another text which has got a few images.
I have made two drafts before I had finally decided to go with this particular one. With the first one I felt that it was not informative enough and that it tended to talk about things without getting down to the precise point.
Commentary on Problem Page
My second piece of original writing was a problem page for a teenage girl's magazine such as bliss or Sugar. I chose to write this particular piece of text as I have not written anything entertaining which is aimed at this particular age group of people and I thought that it would be a good experience. In order to get a good idea about what kind of things most kids write to problem pages about I decided to look in some magazines and I also looked on the internet. I feel that these problem pages are essential for children as they discuss issues which some people are to afraid to talk to their parents about.
This text is primarily written for children aged between thirteen and sixteen. I have chosen to write it for a girl's magazine not because it is only aimed at females but because there seems to be no magazine which is just aimed at boys. I thought that this was not appropriate so in my article I have chosen ton write problems which effect both boys and girls as it is commonly known that now day's boys also tend to read girls magazines.
The main lexical field is the problems of the children themselves but the semantic field is about how naive some of these children seem to be at this high age. I have chosen to use alliteration in this text but only in the writing which is from the children but the actual 'Agony Aunt' herself does not use it in her replies. I have done this because I feel that the children are supposed to be the inexperienced ones and the 'Agony Aunt' is meant to be someone who has the answers to everything so she needs to be quite well spoken.
The graphology of this text is set out similar to that of other problem pages. I have used many bright colours as children to tend to pay more attention to things which stand out from the rest of the magazine itself. I have one problem from each page into a coloured box as this is the way that most magazines set theirs out. But after studying the texts in Bliss magazine thoroughly I have found that they do not put very important letters in to these boxes they seem to put any of them into the boxes. So I have chosen to use the same strategy and put some of the letters into these brightly coloured boxes. I have also used many pictures which are quite childish as I feel these are the types of things which are going to attract the reader.
Before I had done my final piece I had made two different drafts. The first one was a rough idea of what kind of matters I would be writing about and the second draft was working on the layout of the final piece after my second draft I had decided to add some pictures primarily to attract attention and as they are quite comical to add a little bit of humour as well.
Related Topics