Codman & Shurtleff : Planning and control system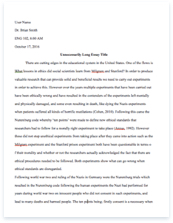 The whole doc is available only for registered users
A limited time offer! Get a custom sample essay written according to your requirements urgent 3h delivery guaranteed
Order Now
1. The Johnson & Johnson planning and control system efficiency
Definition : Management & Control System
Management control system can be defined as a critical function in organizations. (K. A Merchant & Wim A. Van Der Stede, 2007). In other words, it can also be described as the process by which an organization secures to achieve its performance.
Major roles of control systems
– Motivate organisation members to act consistently with organizational objectives – Integrate the different parts of an organisation
– Proper interchange/flow of information within the organization – Enable strategic plans implementation (L.D. Benyayer, 2014)
Evaluate the planning and control system use at Johnson & Johnson
Strengths
– Decentralized Management
o Decentralization, split by business unit – easier to control and have a better view of each unit o All subsidiaries report directly to executive committee members. o Subsidiaries are managed by locals, which enables the organization to gain proper knowledge of the local market, cultural affinity, norms and values. o Each director has to analyze their own business unit strategy and is in charge of monitoring. Allows them to get a grasp of the bigger picture instead of solely working through their day-to-day activity.
– Long term approach (5 to 10)
o Even though the company has to face a very volatile market, they try to maintain a long-term basis. o Retrospective learning: J&J accords a lot of importance to learning from its mistakes o Motivational factors for directors of subsidiaries: Financial incentives in order to promote motivation o Train someone in JJ and send him to work at a subsidiary to think and act » like at JJ and implement it in the subsidiary. o Instead of figures J&J works towards a better strategic support structure to improve their businesses
– Responsibility to key constraints
o Good budget review by the committee, and the CEO
o Weekly abstract of sales performance and monthly financial reports
o A lot of review of the strategies by the directors, who are the experts – i.e. the 8 technical directors
o Yearly reviews by managers (programs action plans in order to promote process optimization
– Diversification 2,700 products in line
Our analysis:
The field of work is so different from one unit to the other, decentralized approach is good.
Weaknesses:
– Decentralized management:
o No corporate strategy defined by Johnson and Johnson as a whole; every subsidiary have their own strategy. o Unequal resources allocations.
o Conflicting interest between subsidiaries
o No communication between top level executive and subsidiaries employees.
o Not enough consideration for Geographical aspects (second focus; first is products)
o Missing involvement from the directors of the subsidiary at J&J executive meetings.
o A lot of pressure on subsidiaries – if they don't meet the expectations with the envelope they were given, they face a shortage of resources
– Long term approach
o In a quick evolving market, long-term approach is not usually effective: it takes lots of time, lack of farsightedness => which constrains innovation aspects.
o Difficult to understand the disparities between the estimations and reality. o No time for innovation.
o They don't really act proactively, instead they focus on rectifying mistakes.
o Lack of short-term actions or emergency procedures.
– Responsibility to key constraints
o Too optimistic hence, too many changes are implemented in the budget. This results in a waste of time and resources. No penalty for inaccuracies.
o Too much time of subsidiaries head is focused on the budgeting, reporting instead of modeling.
– Diversification
o Too much diversification can be detrimental to the development of specialize products.
2 Codman & Shurtleff June budget revision
Describe and characterize the ideas by C&S to meet the profit objective.
The areas identified by C&S to meet the profit objective were; – Currency issues: the hedging positions of the company weren't sufficient to neutralize entirely the risk of currency – Mixed variance: due to inaccurate product predictions – Excess of inventory: to ensure their market requirements concerning good delivery periods of their products, the company has amassed too much of inventory
Their objective is to bring the shortfall down by $1,100,000 (therefore they have to save up to $900,000).
To provide an answer to the problem, C&S opted for spending cuts in 2 main areas: – R&D department ($400k):
o 300k will be saved from "cutting the fat out" and focusing on the prioritized projects o Deferring some other projects (100k dollars)
– Commercial expenses ($500k):
o Every department should reduce commercial expenses by 2%. This will make up for $500k o Early retirement program: 14 headcounts reduction (no replaced) but it will not be effective in June budget. – Contingency fund ($200k)
o 200k will be adjusted from the contingency fund
Concerning the slow moving products, they will deliver them in 90 days and concerning the products that have a low time of inventory they will be shipped directly without having them in the inventory. à explain the consequence on quality
– Charges linked to the inventory won't have a big impact and won't impact june budget. Inventory level is too high on some low turnover products. – Prioritized projects / products will be the ones that are stocked and other products will suffer from a decrease in service quality
How these ideas may be related to the Johnson & Johnson ?.
– R&D department
Codman & Shurtleff
Johnson & Johnson
Cut their budget in R&D
Wants to Innovate and improve creativity
– Commercial expenses
Codman & Shurtleff
Johnson & Johnson
Large focus on cost analysis
They try to always adapt themselves to the market à they try to bec ost-effective
Reduced number of geographical locations 14 to 4
Increased number of product group
Staff level by 20 over percents
Take care of employee career
Medical speciality instead of product speciality
Annual staretegy report for every 5-10 years of every significant area Offering a unique product with cost in-use benefits
A lot of different projects, notably in R&D sot hey rank them by value and ROI, sales projections, estimated profits, etc.. In order to better allocate the resources 80/20 rule
Use the same plans (5 to 10 years) time scheduled planning and fixed on long term Focus on medical specialities
3 Reward & Incentive
.- Reward for creativity/innovation. Since they have limited resources and budget to do the R&D research, It is a good way to initiate people to get more innovative under this limitation. We can use group and individual tournament to affect the motivation and creativity. – Reward system focus on long term. It will be in the same direction with their long-term strategy. Moreover, in some cases the short-term profit is not sustainable in the long terms, so the bonus plan which has been paid is not going to claw back. (Eg. UBS new incentive plan. Change from annual plan to triennial plan on a rolling forward basis.) – Reduce the degree of hierarchy in the reward system. In this case, the company only have the bonus for the directors, They should set up the rewards to the employees based on the performance of their job. Open systems put considerable pressure on organizations to do an effective job in administering rewards – Different way to reward. We reward people not only in cash, but also in other ways like downplaying fringe benefits, perquisites, and status symbols.
– In rapidly changing environment, we should use our base pay to incentivize to get new skills.so we can pay for the employees who has an excellent performance to get the training class. – Our compensation strategy should be used to retain talent. Eg: provides employees with a compensation package that fits their individual needs which would make workers have no benefits-related reason to leave a company.
Q3
Build both general incentive reward for the whole company and separated incentive reward for different subsidiaries. -The company already has existing bonus system for directors of the subsidiaries, they could set up policy requesting the director who gain the bonus to issue bonus to its higher contribution team/Department of this subsidiary -The subsidiary should also set up KPI for its own incentive reward to motivate the employees, such as every month each department select one star employee based on performance ratio.
Set up both monetary and non-monetary incentive rewards.
-Monetary incentive rewards can encourage employee to better serve for the company, which can be flexible. The company can offer different options for their employee, like cash bonus, paid vacation, low-price company's products, etc. -Non-monetary incentive rewards reflects the company's value and culture, such as training and exchange visiting. Since the company is a quite international corporate, internal exchange can be a very practical method as rewards and help to retain the talent in the long-term. Build innovation-related incentive rewards.
-l In order to help to improve the innovation level of the whole company, they can select such as innovative employee, creative department, subsidiaries.
How would you deal with relating pay to performance in rapidly changing environment? We can know from the case that the company focuses on long-term development. Thus we can: -Set up special loyal employee reward to encourage the employee who stay with the company and also reward for recommendation of new talent. -Since the company is a quite international corporate, internal exchange (such as training and exchange visiting) can be a very practical method as rewards and help to retain the talent and also help the employee to adapt to the changing environment in the long-term.
Related Topics