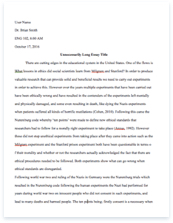 The whole doc is available only for registered users
A limited time offer! Get a custom sample essay written according to your requirements urgent 3h delivery guaranteed
Order Now
Introduction/History
What comes to mind when you think of the restaurant Chipotle? Would you say Mexican food with a fast casual environment? Well there is so much more to this publicly traded company. Chipotle was founded in 1993 by Steve Ells who is a trained chef. Steve originally opened the first Chipotle restaurant with the intention of building a place where you could eat delicious food of the finest ingredients cheaply. In 2006 they became publicly traded and have steadily grown from his original in Denver, CO to 1600 worldwide. Much of the success is attributed to the expanding customer base of Chipotle. The success of Chipotle stems from upper management's ability to expand the operations while maintaining the current experience and quality of food. Since the creation of this chain of restaurants profits have steadily increased from 12% to 24% annually. Chipotle as a company is now looking into new ventures such as the Southeast Asian inspired spinoff, ShopHouse.
Mission/Values
"Food with Integrity" is Chipotle's commitment to finding the very best ingredients raised with respect for the animals, the environment and the farmers. What this means is serving the very best sustainably raised food possible with an eye to great taste, great nutrition and great value. Chipotle supports and sustains family farmers who respect the land and the animals in their cave. This means that whenever possible they use meat from animals raised without the use of antibiotics or added hormones. We also source organic and local produce when practical as well as using dairy from cows raised without the use of the synthetic hormones. "Food with Integrity" is a journey that started more than a decade ago and is one that will never end. (Chipotle Mexican Grill, 2014)
Vision
The focus of Chipotle has always been on using higher-quality ingredients and cooking techniques to make great food accessible to all people at reasonable prices. However their vision has evolved. While using a variety of fresh ingredients remains the foundation of our menu, they believe that "fresh is not enough, anymore." Now Chipotle wants to know the sources for all of their ingredients, so that they can be sure they are as flavorful as possible while being mindful of the environmental and societal impact of the business. Chipotle calls this idea, "Food with Integrity", and it guides how they run their business. (Chipotle Mexican Grill, 2014)
Business Model: Customer Value Proposition
Chipotle's customers are loyal and returning because of good, organic, hormone-free, affordable food. The menu isn't complicated, the food doesn't have too many ingredients, and they can count on everything being fresh. The company is also very sustainable and green oriented. While only a small percentage of customers may know this, it makes them prefer Chipotle over the leading competitors. Chipotle offers a value proposition of better food produced using organic ingredients. The use of the organic ingredients in producing food products has become the USP for Chipotle.
Chipotle claims to serve more naturally raised meat than any other restaurant chain. Chipotle focuses on using high-quality raw ingredients, classic cooking methods and distinctive interior design in order to attract and retain customers. (Fool, 2013) As a strategy to involve people in its "Food with Integrity" concept, Chipotle has announced its plan to host cultivate festivals in San Francisco, Denver, and Chicago. The festivals are a one day event and include cooking demonstrations by celebrity chefs, live music, a special Chipotle festival menu, etc. emphasizing fresh food made with sustainable and organic ingredients. The whole idea behind these events is to educate people about how food can be raised responsibly. (Fool, 2013) Business Model: Profit Formula
Chipotle is profitable, maintaining margins near 20% even in 2008 which was a terrible year for restaurants. The key is efficiency gained in other areas – while Chipotle over-invests in tasty ingredients, they cut costs by running small restaurants with lower rent and utility bills, providing a streamlined menu (a result of a CEO/head chef who believes when you do fewer things, you do them better) and streamlined operational hours (open for lunch and dinner, so only two shifts). Strategic Objectives and Strategies
Chipotle has several strategic objectives in place. These are to increase consumer awareness with regards to the importance and benefits of consuming naturally-raised products, to vigorously seek out expansion into European market and to continue to grow and foster new relationships with food suppliers. There are multiple strategies that go along with each objective, the breakdown is as follows: Objective 1: To increase consumer awareness with regards to the importance and benefits of consuming naturally-raised products
Strategy 1: retain staff to help engage Congress in support of banning the multiple chemicals used to genetically enhance animals raised on commercial farms Strategy 2: establish questionnaire's that would be placed on website to test customers knowledge regarding the severity of the chemicals used by the commercial farms and reward the customers with discounts to the restaurant
Strategy 3: distribute informative pamphlets that can be placed in the restaurants as well as other locations which will give detailed information on the benefits of naturally-raised food Objective 2: Vigorously seek out growth into the European market Strategy 1: Additional research will be needed as European tastes differ from the US and could propose some difficulties
Strategy 2: as growth evolves, acquire talent that is willing to live overseas and oversee the operations will collaborating with headquarters in the US Strategy 3: conduct foreign market research in order to properly advertise the Chipotle experience Objective 3: Continue to grow and foster new relationships with food suppliers Strategy 1: implement incentive program for suppliers who will adhere to the organizations standards in raising animals naturally Financial Objectives
Chipotle wants to maintain its consistent profits while continuing to reduce costs. As the restaurants become more sustainable, they are able to focus more on bringing new customers in, and returning customers back, which will generate more profit.
External Analysis
Porter Analysis
Chipotle's Green Strategy: Chipotle is currently working closely with framers and ranchers to ensure their operations create as small of an impact as possible, on the environment; thus they realize the importance of ensuring that all chipotle restaurants are as green as possible. The operating restaurants in Gurnee, IL and in Minnetonka, MN are registered with the United States Green Building Council, which is the nation's first ever platinum LEED certified restaurant. This move comes with concerns from many buyers who understand the value of environmentally friendly businesses. Suppliers: Chipotle has a very close relationship with its supplies, evaluating them based on high quality standards. With such emphasis placed on high quality, the company expects its suppliers to deliver fresh ingredients and other supplies necessary to operate. The buyers in the distribution centers are procuring from multiple suppliers based on quality and their understanding of the company's mission/vision.
Chipotle uses a mix of forward, fixed and formula pricing protocols; they have tried to increase the amount of suppliers based on inventory levels, this approach can help the company reduce pricing volatility and avoid any shortages. The company does not directly purchase raw materials from the farmers or random suppliers, but have handpicked the approved suppliers that meet their purchasing criteria. Since Chipotle has placed high standards on quality, the suppliers have an eminent bargaining power, mainly because finding high quality food products are not offered by everyone. Buyers: The consumers for Chipotle are the everyday people like you and I, they pay a little more than the competing companies, but they are paying for a premium product. Most consumers like myself love the fact that the company is going greener and excluding GMO from their meats.
This explains the long lines at every store, just about every hour of the day, consumers are getting educated about the importance of healthy food and they are willing to pay premium for healthy fast-food. Consumers nowadays are sharing their thoughts and opinions on the social networks about their dining experiences. Chipotle has a team, entirely dedicated to listening to their consumer's opinions, this team helps create a stronger brand and even helps in building closer relationships with their consumers. The director of initiatives Eric Wilson said, "As social media becomes the primary platform for customers to share their experiences and feedback, we are constantly evolving our communication model so we can connect with our customers in the ways that are most relevant for them," this helps the company to stay connected with their consumers. In my opinion, the consumers have a medium bargaining power, there are other alternatives to Chipotle that are healthy and affordable.
Industry Competition: Chipotle's competitors include Moe's Southwest grill, Qdoba Mexican Grill, McDonald's, Wendy's/Arby's Group, YUM Brands (Taco Bell/KFC), and Panera bread; each competitor runs their business a unique way. Due to high barriers of entry, the competition is limited, in my opinion the barriers of entry are high because many of the competitors are embracing the green/organic approach. It is difficult for a smaller stores to compete with the giants. Besides the green/organic approach, the industry competition in always fierce, while many of other competitors reaching maturity or are already in that phase, Chipotle is still in the growth phase. The company is testing out its concept store "ShopHouse Southeast Asian Kitchen," which will be derived from the same model that Chipotle currently holds, but instead will focused on Asian Foods.
This could be the game changer in the industry, if the concept store proves to be successful. Threat of new competition: Threat of new competition could arise from the current competitors. They could embrace a completely new approach to their menus by adding more green options and offer organic chicken. It is highly unlikable for a small business to challenge chipotle head on even if they offered better food than the company. Substitutes/Compliments: There are plenty of substitutes to Chipotle that are healthy and affordable. Such as, Subway who has been big on healthy food and is much cheaper, there is Muscle Maker Grill, Qdoba, Moe's Southwest Grill, YUM Brands Taco bell with their new improved menu. Other alternatives are that you could cook your own healthy meal with the same cost. EXTERNAL FACTORS
Economic: The market is rebounding (chipotle stock is climbing again), "Going Global" movement is definitely helping the stock as well. With the unemployment rate still high, consumers are turning away from other expensive options and turning towards cheaper healthier options like Chipotle. Cultural/Social: The trendy stores are gaining popularity (casual dining) like Chipotle, people are getting educated and are demanding healthier foods now. We can also see that people are eating out more because it's convenient to eat out vs. cook a meal from scratch. The "going green" movement has also promoted Chipotle in a positive manner. Technological: Due to new social media technology available at hand, it is easier to listen to your consumer's voice. Businesses like Chipotle and others are embracing the technology, there is rise in online food ordering through mobile apps and websites.
There are also newer and faster ways to prepare food, Chipotle introduced new heating machines that heat tortillas faster and more evenly (No more ripping!). Conclusion: After analyzing all of the external factors, we can clearly see that Chipotle is a strong brand, every household member is aware of their foods and their organic approach towards it. Not just that, the investors love the year over year growth the company is able to produce. With the assistance of green trends, organic foods, technology, and the economic factors playing in favor of Chipotle, I think the company will see more growth in the upcoming years
SWOT/TOWS Analysis
Strengths
Weaknesses
Company maintains ownership over all restaurants
Expanding into markets with a diversified taste
Extremely strong financials
Rising Labor costs
Minimal expenses accrued for marketing
Seasonality of sales
Strong customer loyalty
Strong supplier relationships with organic products
Commitment to providing healthy menus
Opportunities
SO Strategies
WO Strategies
Growing health trends among consumers
Maintaining healthy menu choices allows customers to be responsible when ordering
Growth of organic food ingredients
Maintaining "Food With Integrity" mission proves a proactive movement Foreign expansion may inhibit some use of organic ingredients Technological advances for ordering food
Innovations such as apps and online ordering systems for ease of acquiring food
Sustainable restaurant design is increasingly popular
Chipotle was the first chain within industry to acquire LEED permits for new restaurant design
Diversification of food concepts
The company is inexperienced in different food concepts and would need to develop a sound plan before starting a new concept Threats
ST Strategies
WT Strategies
Rising food prices
Backward integration would alleviate rising costs
Expanding operations creates the need for more produce
Ease of entry into the market
Impact of inclement weather and natural disasters
Varying supplier geographic areas would prevent a complete loss of supplies Impact of economic downturn from recovering economy
Changes in consumer tastes and preferences
Maintaining customer loyalty would maintain sales
Related Topics