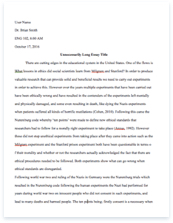 The whole doc is available only for registered users
A limited time offer! Get a custom sample essay written according to your requirements urgent 3h delivery guaranteed
Order Now
Low self-esteem is a big problem in today's society. Beauty pageants don't help. Girls with "perfect bodies" strutting around in skimpy swim suits with their teeth whitened and every piece of hair stiff from all the hairspray. Before it was just grown women but today we face a whole new type of beauty pageants. Now instead of 21 year olds there are toddlers and tweens. These pageants sometimes cause parents to abuse their children without knowing it. Children are taught that some kids are better than others and other bad life lessons. The pageants make or break children. They either end up as snobby and egotistical or with low self-confidence because they lost the pageant to a girl that didn't have the most expensive dress or a famous modeling coach.
My first reason is that the parents sometimes abuse their children without knowing it. A little girl screaming, begging her mother not to 'tear it off' as she's held down in a chair for a brow-waxing is not just insensitive on the mother's part – it's abusive. Putting your four year old child through hours of hair-dying, waxing, extreme dieting, tanning, and who knows what else so she can look like Madonna is child neglect. I don't see a difference between repeatedly ripping your kid's hair out in the name of beauty and repeatedly hitting your child in the name of authority.
My second reason is that kids are taught unhealthy life lessons like that self-worth is in physical beauty only. These lessons can change kids for the worse. If you were taught that if you weren't beautiful you would never be a winner, how do you think you would act? Would you be a nice kid that accepted everyone, a good role model for all, or would you be a snobby kid that only talked to people that were "cool"? Most of the pageant moms don't take losing well. Instead of having good sportsmanship they blame everyone else if their kid doesn't win. Kids are like sponges. They are going to see their parents behave this way and then they'll think that it's okay to act that way.
My third and final reason is that these pageants can make or break a child. What will happen to the kid, regardless of whether they win or lose, is unpredictable! If they win they might not change. They could remain sweet little children. Or they could end up as snobby and rude little monsters. On the other hand, if they lose they might be fine. They could just move on with their lives and try to win the next pageant, but the loss might take a big chunk out of their self-confidence. The parents yelling at their kid doesn't help. The kid could end up with very low self-esteem.
I think child beauty pageants are a bad idea. Kids may be abused by their parents, without the parents knowing they're doing anything wrong. The kids are taught unhealthy life lessons and the pageants can make or break a child. There may be pros to child pageants but the cons outnumber them. Child beauty pageants should be outlawed.
Related Topics