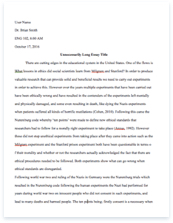 The whole doc is available only for registered users
A limited time offer! Get a custom sample essay written according to your requirements urgent 3h delivery guaranteed
Order Now
Introduction
Following our last meeting, I wanted to update you the transformation that is about to take place in this department. I am certain of your awareness when it comes to necessary change in support of excelling, as we have intention of expansion and growth of this organization. While overseeing the Largo Campus, we are always looking forward to constant success in achieving our objectives and goals. Therefore, I am writing to inform you on some changes that are going to be made prior to the start of school. This change was well thought out and should be one of the best benefits for this program. Next week, I will be sitting down with my entire staff to make sure everybody is aware of the changes and provide them with a logical reason for this transformation. Overall, I am committed to leading this team from the beginning to end by making the best decisions as the Senior Director of High Road School. Location Change
After constant growth of the program, it is been determined that we are no longer able to successful operate out of the current building. Therefore, we are moving to a new location that will include start of the art technology, bigger classrooms with smart boards in each room and lots of other incentives that will lead our program to achievement. The new location will not be far from our current building and will be ready for use immediately. This is the best time to make this move, for our current lease is up and holds no penalty. This new building with allow teachers the space and necessary tools to educate our students. In addition, the parents will be excited of the new curriculum and the benefits of this new building, as they have been complaining of the need for new technology. Again, I feel that this will be the best advantage for our Largo Campus, since we are currently filled to capacity and cannot accept any new students.
Conclusion
Change is always necessary for advancement and growth. Managing change can be a difficult task, but must be well thought out and made in a timely approach. Communication is a key factor to making changes, and should be discussed in details prior to making any transformations. Change should always consider and most importantly should result to higher benefit the entire company. Overall, the management team is committed to making the best decisions for necessary change within a company. While writing this paper, we felt that a location change would be the best benefit for this organization.
Reference:
High Road School. (2014). Retrieved on September 15, 2014 from http://www.sesi-schools.com/schools/high-road-school-of-prince-george-s-county-largo-md Leban, B., & Stone, R. (2008). Managing organizational change (2nd ed.). Hoboken, NJ: John Wiley and Sons. Burnes, B. (2004). Managing change(4th ed.). Harlow, England: Pearson Education Limited.
Related Topics