Case Study Analysis of ABC, Inc.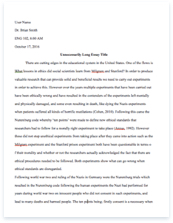 The whole doc is available only for registered users
A limited time offer! Get a custom sample essay written according to your requirements urgent 3h delivery guaranteed
Order Now
Introduction
Carl Robins, a newly hired recruiter for ABC, Inc, hired 15 new employees. These newly hired employees will be working for Monica Carrolls, the Operations Supervisor. The new employees require training on company policy, oriented to the organization, and screened for drugs. Carl is behind on training, he has not completed all of the required processing for the new employees. Some of the new hires do not even have their applications completed or their transcripts on file. He needs to arrange a place outside the company to have the orientation as the IT department has the training room scheduled. He also needs to assure that the new employees have all the training material they will need for the seminar. Mr. Robbins needs to come up with a plan of action and implementation fast.
Background
Carl has had sufficient time to complete all his tasks but has procrastinated until the last minute. Monica Carrolls is hoping to have the new hires processed in time to work in July. Carl is new at the job himself and this is his first recruitment effort. This, however, is no excuse for not producing the desired outcome. The main issue is that there are many problems and not very much time to complete them. Carl will need to evaluate his choices and find a solution. Carl has many obstacles and hurdles to overcome, but the July deadline is still attainable
Alternatives
There are many ways that Carl could handle his problem. One solution would be to inform Monica that the new hires would not be ready in July. This choice would solve the problem by pushing back the date the new hires need to be ready, but would be undesirable because it would cause Monica to doubt Carl's abilities and to loose faith in him. Carl's second alternative would be to follow through on his assignment and have the employees ready in July. He can accomplish this by making a list of thing that need to be done and getting the new hires to help him accomplish them. This may involve a lot of organization on Carl's part but he put himself in this position. The new employees will be expected to complete the drug tests and their applications. This is a great solution to the problem because along with accomplishing the mission it will foster a sense of teamwork between the new hires.
Proposed Solution
Carl needs to create a list of what needs to be completed and ask for assistance from his fellow workers and complete the task on time. First, Carl will need to get the new hires together and let them know that if the tasks are not complete they will not be working with full pay for another month due to the delay in orientation. Carl should assign three team leaders within the new hires and assign each of them a group these groups will divide the tasks and complete them. The missing applications and transcripts should not take long to complete. In the course of the orientation, they can be gone over and completed. The orientation manuals need pieced together into one, after this is done the manual needs to be revised and rewritten. The completed manuals then need to be copied either at the office copier or taken to the local Kinko's.
Carl can assign someone to call the Drug testing facility, and schedule five people per day for three days. This will take care of the drug-screening problem. Finding another room for training or working out a shared schedule with the IT department director needs to be a high priority. If he cannot share the classroom, he needs to find somewhere else to hold the training sessions. A possible alternative would be another conference room at the facility or renting a nearby hotel conference room. Once all these tasks are completed, Carl needs to assure his colleagues that when he hires new employees in the future that this problem will never happen again. He can do this by planning, analyzing what happened this time, and improving on the identified weak areas.
Related Topics