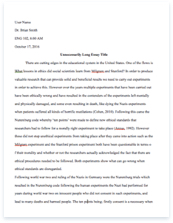 The whole doc is available only for registered users
Pages: 2
Word count: 463
Category: Business
A limited time offer! Get a custom sample essay written according to your requirements urgent 3h delivery guaranteed
Order Now
1. Report to your respective Practicum Adviser for orientation of the OJT Program.
2. Identify the institution where you want to undergo training.
3. Prepare an Application Letter to undergo the training with curriculum vitae attached (with proper photo). This will be checked by the adviser.
4. Fill-up the request slip for securing endorsement letter (attach a copy of application letter and CV) and have it approved by your Practicum Adviser. The Adviser will forward the request to the Placement & Linkages Office ( PLO ).
5. Get the Endorsement Letter from the Practicum Adviser. Make 2 photocopies (one for the PLO and the other for your Practicum Accomplishment Report /PAR)
6. Proceed to the training institution with the Endorsement Letter, Application Letter and Curriculum Vitae.
7. Get an Acceptance Letter from the training institution and submit 2 original copies to the adviser. The Adviser will forward one copy to the PLO.
Get the following required information from the training institution for the Training Agreement Form (TAF):
• Inclusive Dates of Training
• Trainee's Working Hours Per Week and Timings/Schedule
• Department/Unit where the Trainee will be assigned
• Trainee's Job Description
• Training Supervisor's Name and Title/Position
• Training Supervisor's Contact Information (Phone Number and E-mail Address)
8. Get a (WBL) Agreement Form and a (WBL) Plan Outline from the Practicum Adviser (signed by the University Representatives – College Dean and Head of Academic Affairs) and have it signed by the Training Institution Representative. Submit a copy of the TAF and TPO to Adviser (the original will be an attachment of PAR)
9. Undergo an orientation with the Training Institution Supervisor and start the training ( 120 hours )
10. Report to the Practicum Adviser for the following:
a. Submission of requirements**
b. Progress Report
c. Evaluation forms (Evaluation of Competencies, Performance Evaluation, PAR Evaluation Form) to be given to the training institution before the completion of OJT d. Preparation of the Practicum Accomplishment Report ( PAR ) e. Submission of the Practicum Accomplishment Report (CD and hardbound copy to the Practicum Adviser to be forwarded to the PLO)
DOCUMENTARY REQUIREMENTS**
PRELIM REQUIREMENTS
1. Endorsement Letter ( 2 copies – for PLO and PAR ) 2. Application Letter
3. Curriculum Vitae with photo attached
4. Acceptance Letter ( 2 copies – PLO and PAR ) 5. Work Based Learning (WBL) Agreement Form ( 2 copies – PLO and PAR ) 6. Work Based Learning (WBL) Plan Outline ( 2 copies – PLO and PAR ) 7. Business Card
8. Chapter I – Company Background
9. Preliminary Examination Permit
MIDTERM REQUIREMENTS
1. Chapter II – Narration of Experiences
2. Chapter III – Evaluation of Practicum Experiences
a. Insights Gained from all phases of OJT
b. Problems Encountered
c. Solutions Offered
d. Recommendation
e. Conclusion
3. MIDTERM Examination Permit
Related Topics