Blue Ocean Strategy Paper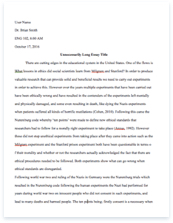 The whole doc is available only for registered users
A limited time offer! Get a custom sample essay written according to your requirements urgent 3h delivery guaranteed
Order Now
What is Blue Ocean strategy and the importance of it? Blue Ocean Strategy is the creation of a new product that is not used in the market and there will be no competitors for this product. By having no competition in this market place it will help decrease the company's costs but will give the company new customers so the value will go up. It is a theory that was created by INSEAD professors W. Chan Kim and Renee Mauborgne which advocates the creation of a new market space as a mean for achieving profitable growth. (W. Chan Kim and Renee Mauborgne, Harvard Business Review) The Blue Ocean Strategy is a very powerful innovation process. It strives at creating a profitable high-growth for companies. The objective of this strategy is to create and secure new demand for a product by focusing on groups of customers that have not been targeted before with a strategy that will create a jump in value for both the consumers and the company. A company will identify key features that are currently defining a product or service.
The company will use a select group of customers that value certain pieces of the new product. The company could decide not to make the product as good in some areas that the target customers don't really care about. The company could consider making the new product better in certain areas based on the characteristics that are valued high by the target customers and introduce new features. Once this has been completed, the new product will be positioned in a way that provides no alternatives and will allow more effective branding tactics to be utilized. The process focusses on the big picture, is very visual, highly collaborative and experiential. It is also applicable to any company in any industry. The Nintendo Wii would a product that would be considered a Blue Ocean move. Rather than having to compete with PlayStation made by Sony or the Xbox made by Microsoft, Nintendo created a whole new gaming system that used motion detectors instead of the button controls.
Nintendo had fewer resources than its rivals but they built a large market share because it took a risk on unproven technology. This system was received very well by all consumers in the gaming world and built a whole new market with no direct competition. An alternative Red Ocean move would be the Microsoft Xbox 360. This gaming system also uses motion sensors as well as button controls. Some of the pros would be that there are only two gaming systems on the market that use motion sensors.
The cons would be that the Wii has a few more controls that you can buy for it to use and there are several games for the younger children on the Wii versus the Xbox 360. Xbox 360 games are more for the teenagers and adults. Many people already now about these products so most companies don't have to spend a lot on educating the consumers. It is also less risky to offer this product because of the market research that has already been done. It can also be hard to find a lucrative niche in already well-established markets. Conclusion
There are many technology firms that are trying to implement these types of strategies to gain a competitive advantage in the marketplace. There are many risks associated with this but it can be very rewarding if it's successful. Companies will have to compare the benefits and the risks before making the decision.
References
Kim, W., & Mauborgne, R. (2004). BLUE OCEAN STRATEGY. Harvard Business Review, 82(10), 76–84.
What is Blue Ocean Strategy? Chad Brooks, BusinessNewsDaily Senior Writer, Dec 17, 2013
Related Topics