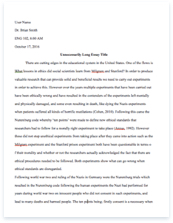 The whole doc is available only for registered users
A limited time offer! Get a custom sample essay written according to your requirements urgent 3h delivery guaranteed
Order Now
Why I Chose Asos.com
I chose Asos.com because I have been a very active customer on their site for the past three years. It has become my favorite online store for three main reasons: they have my sizes, they provide free shipping and returns, and their clothing is always on trend. Even more, I chose Asos.com because I find it very interesting that it is a retailer that is located only online and seems to be doing fairly well in the industry of fashion. Background and Location
Nick Robertson and Quentin Griffiths in the United Kingdom developed Asos.com, which stands for "As Seen on Screen", as a public company in June 2000. Interestingly enough, it was originally created to be an online company that would allow people to buy affordable versions of clothes that were worn on screen. Robertson and Griffiths created the site so that shoppers would have to click on the "copycat outfit" and it would be delivered right to them the next day or so. As the company has grown since 2000, it has become an online store that sells both branded fashion goods and its own variety of clothes. It has become not only a global fashion retailer but also a beauty one as well. With its own label product lines from women's wear to beauty, it has brought in millions of unique visitors, active customers, and registered users. One of the main reasons Asos.com has gained such a positive response is because of the growth of its online service to places like the United States and Germany. Critical Dates in the Growth for Asos.com
* 2000 – ASOS launched
* 2001 – ASOS PLC Holdings was admitted to AIM on the London Stock Exchange
* 2004 – Introduced ASOS own label for Women
* 2004 – Maiden profit
* 2005 – Launched ASOS Beauty
* 2005 – Buncefield Fuel Depot explosion closes business for 6 weeks
* 2006 – First UK online store to launch catwalk
* 2007 – Launched ASOS Magazine
* 2007 – Introduced ASOS own label for Men
* 2008 – Launched ASOS Outlet
* 2009 – Launched Little ASOS
* 2009 – Launched Designer Store
* 2009 – Launched ASOS Life
* 2010 – Achieved CarbonNeutral company status
* 2010 – Launched ASOS Mobile
* 2010 – Launched ASOS US
* 2010 – Launched ASOS France
* 2010 – Launched ASOS Germany
* 2010 – Launched ASOS Marketplace
* 2011 – Launched ASOS Facebook Shop
* 2011 – Launched ASOS Fashion Finder
* 2011 – Launched iPhone and iPad app
* 2011 – Launched ASOS Spain
* 2011 – Launched ASOS Italy
* 2011 – Launched ASOS Australia
* 2012 – Opened first international office in Sydney, Australia
Mission Statement (Principles and Values)
The mission of Asos.com is to create the best shopping experience for their customers. They want to provide an inclusive, authentic, honest, consistent and high quality customer experience. Asos.com's philosophy is that whatever it is their customers are doing in the digital fashion world, whether online or on their mobile phones, they will be able to do on Asos.com. In addition, Louise McCabe, who is the head of Corporate Responsibility at Asos.com, envisions Asos.com as great resource that helps to "provide young people with life changing opportunities, support and inspiration." ("ASOS Annual Report 2012."
Asos.annualreport2012.com. PDF, n.d. Web. Oct.-Nov. 2012.) Whether it is online or on mobile, Asos.com provides the best of shopping services. They have launched services from iPhone and iPad apps to shopping via Facebook technology; all to inspire, engage and capture their customers. Lastly, Asos.com's ongoing mission statement, according to Nick Robertson, Chief Executive Officer and Nick Beighton, Finance Director, is to "further cement itself as the destination for young fashionistas." Throughout all of the changes and new innovative ideas in the digital world of fashion, Asos.com continues to grow passionately with the same objectives. Customer Service
When it comes to customer service, Asos.com provides nothing but exceptional service for its customers. In Asos.com's most recent annual report, Susan Caesar, who is the company's head of customer care stated that the "primary objective for any customer contacting our (Asos.com) Customer Care team is that they receive an exceptional service." ("ASOS Annual Report 2012." Asos.annualreport2012.com. PDF, n.d. Web. Oct.-Nov. 2012.) Even more, Asos.com truly values the satisfaction of their customers. They put their customers at the heart of everything the company does, whether it is developing a new feature on the site or expanding their territories.
Chief Executive Officer of Asos.com, Nick Robertson, knows that his "Customers are part of a global fashion community. We'll win by staying connected, listening and collaborating"("ASOS Annual Report 2012." Asos.annualreport2012.com. PDF, n.d. Web. Oct.-Nov. 2012.). Thus, Asos.com believes in being customer obsessed and knowing their customers' love of fashion and their fashion wants, and growing with their tastes, likes, and dislikes. Employee Relations
Asos.com strongly values and appreciates its employees. Their philosophy is to create a great place to work by keeping a positive and motivating physical environment and culture. Asos.com also strives to build pride for the business in its employees. In addition, Asos.com supports its employees' career progression, and works to help them develop new skills and knowledge. Asos.com has been able to do so with more than 950 permanent staff in the United Kingdom and with an additional 1,580 working through outsourced partnerships. Target Market
Asos.com's Demographics
<Demographics are a form of market segmentation that is on a basis of easily measured characteristics like age, race, income, education, gender etc.> Asos.com's demographics are focus mainly on age. They market towards 15 to 34 year old women. However, a portion of their visitors are 35 years or older. Asos.com's Psychographics
<Psychographics are also a form of market segmentation that focuses on consumer personalities, values, interests (what activities they pursue), attitudes and opinions, and lifestyles>
Asos.com's psychographics are wide range of people who are fashion-conscious. Their interests include having great personal style and confidence. They like to use their friends, social and traditional media, and celebrities as inspiration. In addition, they are constantly updating their styles to keep in synch with their changing opinions and interests and what is trending. They are tech savvy young women who have a wide range of tastes and interests but value simple to very fun clothing, whether they are in the work environment, hanging out with friends, or dressing formal for a party. Customer Overview – Twenty-Somethings who Love Fashion
Asos.com customers are young people who are very fashion-forward and who wish to wear the latest trends. Although Asos customers were once TV viewers who wanted to wear the clothing they would see worn on television, as the companies taste and interests have grown, so have their customers. The online store's customers are classified as very unique. They are mainly women in the United Kingdom, United States, and Australia who are between the ages of 15 and 34, and a few are 35 years or older. They are customers who appreciate hip and affordable fashion and like to wear the colors, styles and brands they want. Their personal style is one of the most important things to them. They know that at Asos, whether it's clothing, accessories, jewelry or even beauty, customers know they can use these sources to help combine their own style with inspiring things in today's fashion. Also, Asos.com's customers also include men and women of other ages still find a lot of interest and liking in their products. These customers belong to families with an income bracket of 90,000 to 150,000 dollars who occasionally buy from stores like Asos. Location Evaluation
One of the major factors in strategic retailing is location, because it decides and determines what and who will occupy it. Knowing location is important because it is relevant in terms of being close to target customers/market. Also, location is relative to where our product will come from and the costs related to the logistics of moving product from raw materials to finished product. Points like these and more are what retailers take into consideration when choosing a location. Asos.com is positioned only on the World Wide Web. It's website caters to those in the United Kingdom, Germany, Australia, and the United States. Asos.com's original purpose was to be an online site where people could go to find and order copies of outfits they would see on television. By being an online site, they were open and easily accessible to a very large customer market all over the world. As it has become the go-to online fashion site for many, its location has been what has made it unique. Asos.com' s direct competitor, VANCL.com is very close to it in the online shop hemisphere.
VANCL.com has an average of about 200 more daily visitors than Asos.com does. As a single location retailer, Asos.com has both its advantages and disadvantages in the industry. Its disadvantages include the fact that there are no stores for customers to visit to try on clothing and see the garments for themselves. Another disadvantage is that a lot of online stores are sold by the image that their models provide for the garments. The stores chose the models that fit the clothing best and this can sometimes intimidate customers because it causes them to become unsure as to whether or not they would look good in the garments. However, there are some key advantages to being an online only store is that anyone who has internet can get to it and order anything and have it come in a few days. Whether you're in the work office or in the comfort of your own home, you can get on the site and shop. In addition, by being an online site, they do not have to worry about the hassle and costs of opening locations in different cities all around the world. Instead, they can focus their money on a few key locations for departments to sell the merchandise and not worry about anything else.
If Asos.com decided to become a multi-channel operation it could possibly benefit and grow even more. However, I believe that what makes Asos.com so special and successful is the fact that it is an online only operation. It has basically created its own location and should keep it for as long as it can. If anything, the online site should continue to build and develop more services on its single location so that it continues to keep its customers coming back and satisfied. In general, bricks and mortar stores and non-stores each have their pros and cons. Stores are great for the fact that they are a place where customers can go to see what garments look like right in front of them. Even more, they can get a feel of the material of the garments and can try them on to see the fit before buying it. However, one of the downsides of store locations are that retailers have to always keep up with the cost of rent or mortgage payments. One of the pros online-only locations are that they do not have to worry about making sure the can pay a month's rent or any other finances that must be paid went renting or owning a property for retail. However, non-store locations can sometimes face the disadvantage of possibly having a much smaller customer base. Merchandise Mix
As the world's best online fashion destination, Asos.com provides customers with 850 plus labels and on-trend street style apparel. Their assortment of clothing offers over 40,000 branded and owned label product lines from womenswear to menswear. The womenswear on Asos.com has large assortment of lingerie, jewelry, beauty products, dresses and shoes. Although the quantities are smaller than the main womenswear line, Asos.com also provides an assortment of clothing and products for maternity wear, petite sizes, and plus sizes. The menswear section on Asos.com includes jeans, t-shits, shoes and shirts. On Asos.com, the products are categorized based on womenswear and menswear. Upon entering the home page of the shopping site, customers are presented with two options: "Shop Women" or "Shop Men". These two paths take them directly to the services and products they provide for these categories. The way the website is designed in a very straightforward and edgy manner.
It tells and shows customers everything they need to know for successful shopping at Asos.com. The home page of the site is clear and concise and provides a directory for all the services and products Asos.com provides. The presentation that creates the strongest visual impact on the channel is the marketing of Asos.com's 'Free Shipping Both Ways' all over the site. It instantly adds attraction to the site and pulls in customers. Asos.com's product River Island Dogtooth Skinny Jeans come in three different colors: chartreuse, pink, and white. The jeans also come in an army like- geometric print. The River Island Skinny Jeans, and several other products on Asos.com come in different colors and patterns that are always in trend. The online retailer provides sizes US 0 to US 22 for womenswear. For menswear, Asos.com provides sizes of 28 inches to 38 inches. In regards to womenswear, the most popular sizes seem to be 8 through 10. As for menswear the 36-inch short is the most popular size.
Asos.com's bestselling colors at the moment, especially in womenswear, are oxblood and tartan prints. They are bestselling especially because they are currently what is trending in fashion. Asos.com does a very good job at making sure that they have all the styles and colors that are trending in street fashion in ready to wear apparel and ready to order formats. The items that appear to be selling well currently are the studded accessories, army colored apparel, baroque print apparel, oversized knit sweaters, and leather leggings. This is mostly because of what was seen on the fall runway shows for 2012 and is in style. The average retail prices for these best sellers can go from just five dollars to 540 dollars. Promotion Strategies
Online interactive communication techniques are different ways information is changed between two sources online. Asos.com is involved in a lot of effective online communications with its customers. For example, two times a week, Asos.com emails a newsletter to 1.8 million people who have signed up for it. This creative newsletter, which provides updates and details on Asos.com's brand and business growth, has been able to bring in an increase in sales by 137 percent in 2007. Offline interactive communication techniques are offline forms of information exchange between two sources. One of the Asos.com's most successful offline interactive communication techniques is their monthly magazine. The magazine, which is around 116 pages, features style advice, band interviews, entertainment news, aspirational fashion and stories for both men and women.
Online passive communication is the idea of indirect communication from source to source on the web. One of Asos.com's passive communication techniques is their use of advertising on websites. Just in the past week, while visiting YouTube there was an Asos.com commercial advertisement that played before the video I was going to watch. Offline passive communication is the idea of indirect communication from source to source off of the web. Asos.com techniques for offline passive communication include their advertisements in fashion magazines, like Teen Vogue and Glamour. Although Asos.com has done a pretty good job at communicating to its customers in different formats, I truly believe that there is always room for improvement. I believe that putting up effective and interactive Asos.com billboards in cities like San Francisco and Los Angeles would create a great amount of curiosity to people who are not very familiar of the website. It would be a great offline passive communication technique that might possibly be the company's next boost in revenue.
| ASOS.com| VANCL.com| HM.com |
Target Customer Segments| -15 to 34 year old women w/ a small portion of 35 year olds| -24 to 34 year old men and women| -16 to 30 year old women| Store Type & Design| -Online store with a very contemporary and edgy feel| -Online store with a fashion-forward mindset| -In store only -Designed with several aspects; appealing to a larger customer demographic taste| Visual Presentation| -Simple, straightforward and hip| -Not that special. -Has its main categories for inventory and that's about it| – The store is designed lots of merchandise that can be edgy, preppy, and urban | Uniqueness of Product Offering| -Great quality and trendy garments that were seen very recently on the runway| -They offer products, from apparel to lifestyle goods, that are of high quality and at a reasonable price | -H&M focuses on bringing the hippest of trends with the most affordable price| Organization of Merchandise| -Organized based on two categories: male and female. Followed by several sub categories for both of these| -Organized on three main categories: men, women, and kids.
-They also have a new arrivals and sale section| -Sometimes organized according to trend-Organized according to the variety of themes in the store| Merchandise Variety & Assortment| -Asos provides a wide variety of merchandise with a moderate amount of merchandise. -A lot of times, items are quickly sold out.| -VANCL provides a wide variety of merchandise with a moderate amount of merchandise.| -They have a wide variety and a large assortment| Price Ranges| – Ranging from anything from 5$ to $500| -Really affordable-$10 to $20| -Reasonable prices| Customer Service| -Asos cherishes the satisfaction of their customers & making things convenient for them-Provoke the best shopping experience-They provide free standard shipping/return| -Want their customers to have access to well-made fashion.- Want to provide the best quality and the best prices| -H&M values the evolving fashion taste of its customers and wants to always satisfy the needs driven by these tastes| Just like ASOS.com, its competitors most successful merchandise items are the ones that are currently in trend. Whether they are oxblood colored pants or baroque printed skirts, trendy and fashion-forward items seem to be the competitive channels most selling items. SWAT
With everything in the world of retail, each retailer or service has its strengths, weaknesses, advantages and disadvantages. Asos.com has been able to take what some retailers may see as Asos.com's weakness and completely made it one its strengths: being an online-only retailer. Asos.com has the advantage of being online only because it has selected one of the most populated areas in the world: the Internet. Thus, Asos.com is able to reach out to all of the people inside and outside of its target market, without having to leave their computer screen. Even more, Asos.com has cut down costs for owning several Bricks and Mortar stores. Just like what was said above, the fact that Asos.com is an online-only retailer has its strengths but also its weaknesses. The fact that Asos.com is an online only retailer, it has made it difficult for non-internet and non-online users to get to it. This, of course, creates the disadvantage of missing out on selling to a lot of customers who are in-store shoppers.
What the future holds for Asos.com…
By the looks of it, I am confident that Asos.com will continue to grow and in the global online fashion race . Because Asos.com places its customers and creating the best shopping experience its number one priority, it can only grow more and more successful and popular. Asos.com has found its niche in the world of retailing and has developed an inclusive and collaborative organization that continues to improve every day.
Works Cited
"Asos.Com : a Case Study" StudyMode.com. 12 2010. 12 2010 <http://www.studymode.com/essays/Asos-Com-A-Case-Study-512725.html>. "ASOS Annual Report 2012." Asos.annualreport2012.com. PDF, n.d. Web. Oct.-Nov. 2012.
Goad, Robin. "Asos.com: Growth and Demographics." Experian.com. N.p., June-July 2008. Web. 13 Oct. 2012. <http://www.experian.com/blogs/hitwise-uk/2008/07/02/asos-com-growth-and-demographics/>.
"ASOS.com." Wikipedia. Wikimedia Foundation, 17 Oct. 2012. Web. 13 Oct. 2012. <http://en.wikipedia.org/wiki/ASOS.com>.
"ASOS.com-Summary." The Times 100. N.p., n.d. Web. 14 Oct. 2012. <http://www.thetimes100.co.uk/downloads/asos/asos_14_summary.pdf>. Silvers, Kate. "Why Is ASOS so Successful?- Market Targeting for Online Success." I-com.net. N.p., 27 Apr. 2009. Web. 16 Oct. 2012. <http://www.i-com.net/blog/a-lesson-in-targeting-your-market-effectively-the-asos-effect-18/>.
"Our People." Our People. N.p., n.d. Web. 15 Oct. 2012. <http://www.asosplc.com/who-we-are/our-people>.
"VANCL Story." VANCL Story. N.p., n.d. Web. 12 Nov. 2012. <http://en.vancl.com/help/vstory.html>. "Meeting the Customer." Meeting-the-Customer. N.p., n.d. Web. 13 Nov. 2012. <http://about.hm.com/content/hm/AboutSection/en/About/Facts-About-HM/Idea-to-Store/Meeting-the-Customer.html>. "Strategic Growth in the Fashion
Retail IndustryAn Asos.com Case Study." Communication to Support Growth. N.p., n.d. Web. 04 Nov. 2012. <http://businesscasestudies.co.uk/asos-com/strategic-growth-in-the-fashion-retail-industry/communication-to-support-growth.html>.
"ASOS.com." YouTube. YouTube, n.d. Web. 04 Nov. 2012. <http://www.youtube.com/user/ASOSfashion>.
——————————————–
[ 1 ]. "Asos.Com : a Case Study" StudyMode.com. 12 2010. 12 2010 . [ 2 ]. "ASOS.com." Wikipedia. Wikimedia Foundation, 17 Oct. 2012. Web. 13 Oct. 2012. .
Related Topics