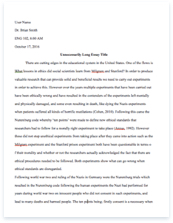 The whole doc is available only for registered users
A limited time offer! Get a custom sample essay written according to your requirements urgent 3h delivery guaranteed
Order Now
By not being accounted for I have let my unit down and failed in the missions that needed to be completed. I have not set a good examples for my Soldiers in my squad or fellow NCO's. I did not lead by example. As a non commissioned officer I should have used better judgement. I can't expect my chain of command to entrust Soldier's to me if I cannot be accountiable for my actions. I truly regret not having better accountability of myself. I have caused work to be late due to the fact that I let my personal issues cloud my judgement. It will not happen again. I need to ensure that I always strive to do better and achieve all of the goals in which I have set forth. I now realize that no matter what issue I am having that I need to communicate better with my chain of command so that they can help me. If I would have communicated more with my chain of command then there would not have been an issue with my wear abouts. I need to ensure that I am in the proper place at all times and if I am not then I need to ensure that someone knows where I am at all times. I must ensure that my Soldier's are where they are supposed to be in their proper uniform.
I need to ensure that I am that to receive the proper information to put out to them. If I do not put out the information to my Soldiers then I have failed them. It could be consequences for the Soldier due to me not putting out the information in time. Also, I must always b e accountable for my actions no matter how severe the consequences are. I need to teach the Soldier's that it is best to have integrity in all situations. By not have good accountability for myself I did not live up to all of the Army values. Once you have neglected one army value then you might have well neglected them all. Also by not making it to accountability it looks like I was blowing off pregnancy pt. Pregnancy pt is a post wide program and is mandatory that you let them know where you are during pt hours due to them needed to have accountablilty for you. They report to your chain of command all shows and no shows. As the training NCO I am accountable for ensuring that all training events are recorded and reported accurately. It is very important to have accountablility of all training documents to ensure that I am reporting everything properly. Accountability is one of the most important things in the Army.
Working in the orderly room also makes me accountable for reporting the numbers of the whole unit. If I am not at work working on the stats ensuring that I know where everyone is at all times I have also failed my chain of command. Not having good accountability for Soldiers in combat could cause someone to lose their life. I could not live with myself if I cause someone to be injured or someone get injured because I failed them. The U.S. army values soldiers that are accountable for their actions. Being accountable means being dependable-arriving to work and appointments on time, meeting deadlines, being in the right placevat the right time, doing the right thing at the right time. Morning formation is the most important formation of the day. It is made to get accountability of everyone and put out any information that there needs to be dealt with. Without having accountability there is no way knowing of where everybody is or what's going on. Not only does accountability matter in formation it is also imperative to have accountability of all your weapons and sensitive items. In case of something happening spontaneously and you don't have a clue where you weapon or sensitive items are, but then you really need them.
The importance of being on time accounted for is because lets say that you do not come back to formation after you go out on a convoy then they know that you are missing. If you do not show up and you do not respond on the radio there is going to possibly be a search team for you. If they do send a search team for then that puts that entire team at risk while looking for you. Point of accountability formation is to make sure all of your soldiers are there and that they are all accounted for. If one person is not accounted for then the entire formation does not leave. It is not just the fact that everyone is accounted for it is part of your military duty to be at formation and at movement. If you do not make it to formation or movement it is punishable by UCMJ. It could be the end of your carrer. Not only will it ruin everything that you have gone through and wasted your time but you are also letting your buddies down and if you can not show up to formation what makes you think that they can trust you in being there in the time of need. If you can not be there then what is your team going to think when they hear over the radio that you are on the way and you are the only one that can help them. They are going to be like what that is the only person we have well we are all good as dead. Accountablility does not end in the army life it also goes into civilian world.
When you have a job in the civilian world they are looking for someone that can be on time and do the job but the second that you are not on time your accountabliity starts to go down the drain. . Accountability is concerned primarily with records, while responsibility is concerned primarily with custody, care, and safekeeping. Why is accountability important to the Army? Accountability is a very important part of an enlisted and a NCO's job. The enlisted soldier is responsible for all items issued to issued to him weather it be a weapon, NVG's, clothes, a vehicle, or some TA-50, a feild manual, medication (morphine, demoral, or any narcotics), BII, etc. The NCO's responsibility is to make sure that the soldier is accountable for the items and has eyes on these items when need, so that he can report it to his higher command.
The Army spends a lot of money on equipment and belongings for the soldiers, so the Army expects to know where its equipment is. No matter what someone is always responsible for equipment in the Army. It goes to the highest officer to the lowest enlisted personal in the chain of command and back up again. Like in combat when there is a "code Red" the soldier knows that at a given and safe time he or she should get to the rally point, predestined by his or her chain of command, that way he or she and his or her equipment can be accounted for. Accountability is used in many different ways, for example knowing if something is missing you could easy look at the accountability report to see if it was there before.
Related Topics