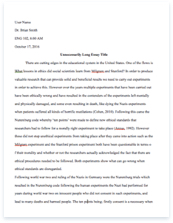 The whole doc is available only for registered users
A limited time offer! Get a custom sample essay written according to your requirements urgent 3h delivery guaranteed
Order Now
The argumentative essay
What is it?
The argumentative essay is to express your opinion on various topics. His goal is to convince with relevant arguments the reader .
structure
Introduction Development Conclusion
Subject – led – two arguments with examples or facts – Position ( decision) – Subject asked – 2 against arguments with examples or facts – Retell the best argument – Topic divided – Reflection , question, suggestion
* You do not take position
in the intro ! !
Examples of introductions
– The school is compulsory for all children. However, it is not everyone who attends . in Indeed, some are so-called homeschooling . In this argumentative essay , I will give you my arguments for and against this practice.
– More and more public schools voluntarily choose to wear uniforms for their students. this decision is very controversial and raises many discussions. That is why I give you in this text my views on this subject.
Examples of good arguments followed by examples
– I am for uniforms to school, because it allows those who have less money to be like others. For example, if I do not have enough money to buy clothes from a popular brand , it does me not stand out from the rest of the group. – I'm against uniforms in school, because it does not assert the dress style . as For example, it is important for a teenager to show his personality through what he wears. So it bullied their freedom of expression.
– I am in school at home, because I can learn at my own pace . For example, if I have problems in some subjects , I can take my time to understand .
– I am against homeschooling because it does not allow me to socialize with others. For example , I can not make teams work and I do not learn to live in society . Examples of conclusions
– To conclude this text , I finally against wearing uniforms in schools. I 'm not accordance with this rule, because it bullies freedom of expression among young people. In life , adults almost all have a dress code at work. Why not let the young free dress as they want while they still can !
– In conclusion , I can say with conviction that I am against home schooling , mainly the fact that the child does not learn to socialize with other students his age. Parents who take this decision should think twice before embarking on this adventure. This is the future of their child is at stake.
Related Topics