Are Protein Shakes Good For You?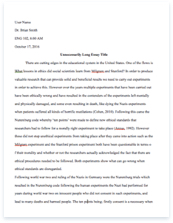 The whole doc is available only for registered users
A limited time offer! Get a custom sample essay written according to your requirements urgent 3h delivery guaranteed
Order Now
17 May 2013
Are Protein Shakes Good For You?
According to Flex bodybuilding magazine, protein shake is the number one selling bodybuilding supplement. Protein powders have been around for years, but they are currently gaining popularity and becoming more widely used for their health benefits. In fact protein is one of three food components we require in large quantities. Others are carbohydrates and fats. Your body uses proteins in your diet to build new cells, maintain tissues, and synthesize new proteins that make it possible for you perform basic bodily functions. According to Centers for Disease Control and Preventions, adults in the U.S are encouraged to get 10% to 35 % of their day's calories from protein foods. That's about 46 grams of protein for women and 56 grams of protein for men. Protein shakes come in a variety of flavors such as chocolate, vanilla, and strawberry. And there are different types of protein shakes, each with their own benefits and downsides.
Some protein shakes include a number of other supplements as well, to help people get more of the nutrients they need, some are suitable for vegetarians and vegans, and some just try to get as much usable protein into the body as quickly as possible. There are five main protein sources used in most protein shakes: soy, egg, casein, milk and whey. Of these, only soy is suitable for vegans. Both women and men can receive great benefits from supplementing a diet with protein, including recovery after intense exercise, weight loss and better immune system. Since you burn more proteins during exercise, you need to fill up the levels of proteins in your body quickly. Since protein shake is a rapidly absorbed source of amino acids, it is absorbed directly into your muscle tissue to be available for use quickly. Powdered protein is easy to digest and is quickly able to feed your muscles after working out. Numerous studies show that whey protein is crucial for stimulating muscle growth. According to the Whey Protein Institute, protein powder contains a high level of leucine, a protein that cannot be manufactured by the human body. Leucine is one of essential amino acids that are very important for muscle repair and preservation. In both exercise and in recovery of exercise, your body will break down a small amount of amino acids for fuel and the specific amino acids are those essential amino acids.
By providing the body with a high amount of essential amino acids, your body preserves your muscle, while the specific amino acid leucine actually stimulates protein synthesis. That means is that leucine sends a signal to the body to increase its storage of amino acids and the way the body does is by adding muscle. Flex bodybuilding magazine suggests to take smaller and more frequent dose of protein during your working out session. According to the journal Medicine and Science in Sports and Exercise, researchers conducted experiment on two groups of people; one of them consumes a large dose of protein and the other group consumes several small doses (qtd. in Flex). Forty-five minutes before exercise the first group received one big dose of protein supplements. Their levels of amino acids rose really fast but after exercise the levels decreased to resting levels. The second group received small dose of protein frequently during working out.
At the beginning of exercise, their levels of amino acids didn't rise as much as the first group's, but after exercise the levels increased. So it may be better to consume small and more frequent dose of protein during your exercise in order to get better results. While most people take advantage of protein powder to increase muscle gains, other use it simply as a low calorie meal for losing weight. By taking powdered protein supplements you are able to slow the deposits of fat on your body while improving the amount of lean muscle available. Since your body burns more energy breaking down protein, supplementing high levels of protein means your body is going to burn more calories. Donald Layman, a University of Illinois professor emeritus of nutrition said, "Our latest study shows you have a better chance of achieving all these goals if you follow a diet that is moderately high in protein". The study was conducted with 130 participants at two sites, the university of Illinois and Penn State University. The research was reported in the article "Is one diet as good as another? U of I Study Says No and Tells You Why" on the website of College of Agricultural Consumer and Environmental Sciences. The first group consumed 40 % carbohydrates, 30 % protein, 30 % fat while the second group followed a USDA's recommended diet, which is 55% carbohydrates, 15 % protein, 30 % fat. The experiment continued for twelve months.
The study by Dr. Donald Layman found that people of similar body types lost weight at about the same rate, but study participants who supplemented their diets with protein powder lost more fat and less muscle than others. Researchers at the University of Florida analyzed 87 studies that compared results of different types of weight -loss programs. Their conclusions, published in the American Journal of Clinical Nutrition, show that people following high-protein and low-carb plans for more than twelve weeks lost over fourteen pounds more than those eating the same number of calories on a high-carb diet plan. And the high-protein plan helped to maintain more muscle. Protein powder also helps to make your immune system stronger. The protein is required by your body to develop your physical health as well as for the protection against certain harmful diseases and infections. Researchers at the University of Rochester have found that a protein strengthens the immune system and it is very important in protecting against serious forms of influenza and getting flu viruses like the bird flu which is also known as avian flu. Researchers conducted experiment on mice; they infected two groups of mice with a deadly strain of flu. Mice with enough levels of protein were able to develop the immunity and 90 percent of them survived.
The second group of mice with low levels of protein was not able to develop the immunity and only 60 percent of them survived. So a good immune system helps to fight the flu. Another animal study, published in the journal PLOS ONE, found that a protein could activate the immune system and help to fight the flu, if it is received within 24 hours of exposure to the virus. Researchers from UC San Diego State University Medical center tested the protein in mice by first infecting them with flu virus and then giving them a dose of protein within 24 hours. Mice normally lose about 20 percent of their body weight when exposed to the flu, but the mice treated with the protein lost an average of only 6 percent. Some didn't lose any weight at all. In both cases, we can see that protein may boost the immune system. Protein powder is resourceful in many ways.
Moreover, it's best to ask a physician or a pharmacist what dosage is recommended for you. For any athlete, bodybuilder or gym member who trains hard, it is important that the body receives enough protein to replenish the muscle cells. While lifting weight, your muscle tissues break down to fuel the work out. Drinking protein powder is one of the fastest ways to give the body what it needs. However you should remember that protein powder is just a supplement at the end of the day. Having a good diet should be your priority, once you do that, protein supplements on the side can be more beneficial.
Related Topics