Apple Inc.: Individual Assignment Using Maps in Marketing Simulation Summary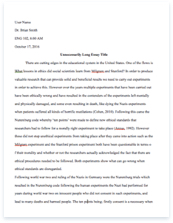 The whole doc is available only for registered users
A limited time offer! Get a custom sample essay written according to your requirements urgent 3h delivery guaranteed
Order Now
Complete the simulation, Using Perceptual Maps in Marketing, located on the student website. Write a 1,050- to 1,450-word summary in which you address the following for each of the three major phases in the simulation: *
The situation
Your recommended solutions, including why
Your results
Summarize the different marketing components addressed in this simulation by answering the following questions: What is the relationship between differentiation and positioning of products or services? Is the repositioning of the product in the simulation as you had expected it to be? Explain why or why not.
What is the effect of the product life cycle on marketing? What effect did the product life cycle have on the product in the simulation? *
Format your paper consistent with APA guidelines.
The situation:
In this simulation, you will construct and use a perceptual map to create a marketing plan for a motorcycle brand, Cruiser Thorr.
Background:
Thorr Motorcyles enjoys a high brand image, especially in the 651 + cc heavyweight cruiser segment and controls 40% of the share in an oligopoly market. **What is Cruiser Thorr's current market position?
(1)Formulate a positioning strategy by constructing a perceptual map and choosing its parameters. Choose parameters that are fundamental to the product and important to Thorr's customers.
Reverse the trend of decreasing sales for the Cruiser Thorr 1500cc model ($25,800).
Notes:
(1)Perceptual Maps
Using perceptual maps is a visual representation of a consumer's perception of a brand to help the company's positioning within its respective market. A perceptual map describes the parameters of a products attributes. These attributes sometimes define a product's parameters. Lifestyle Image (image marketing) is a fundamental parameter included a perceptual map. It can identify opportunities by highlighting unsatisfied needs of customers Branding contains information of a company that can be correlated with the sales figures to its market strengths.
(1) (Lifestyle Image, product styling & design, price, quality engineering)
(1) Notes:
Competitor Product Comparison
Haruhiro-Daisetsu Motorcycles (Anzai brand), young market, $14,300 Michelin Mecanique (Espritique), lower/large market segment, $17,600
(1) Notes:
Market Research Ratings
**The axis on a perceptual map shows the position of Cruiser Thorr and its competitors. These values correspond to the market research ratings. A large polygon depicts a large market share.
(2)Decide whether to maintain current positioning strategy and enhance it or change the positioning completely. You have the option of launching a new motorcycle that targets younger customers. However, you have to decide on features and pricing. If you decide on a new product, you will have to create a marketing plan that reflects the strategy and differentiation. ****Survey was conducted and you have to plot this data on a perceptual map. This will determine if your marketing activities have been a success.
How will you determine research findings for
(2) Notes:
Consumer Preferences
Younger customers want the element of cool associated with the motorcycle (product design, price, service offerings, and coolness).
(2) Notes: Marketing Strategy for RRoth
**Budget: $12,471 spent
Price: $13k – $15k
Promotion: Free test rides, provide giveaway merchandise, sponsor events (Daytona), and hire celebrities for endorsements. Place: Distributors, dealers, and internet (manufacturer's website). Services: Financial services, customization options, training to dealers, club membership.
(2) Notes: Market Research for Cruiser Thorr and RRoth
Cruiser Thorr: (A) Signifies power, fits lifestyle, is a power cruiser. (B) Engine quality is the best (market, massive capacity, and power). (C) Consumers are open to arranging their own financing options, but are open to the company providing finance options. (D) Financial services, customization options, training to dealers, club memberships, services to owner groups. (Lifestyle, price, quality engineering, and service offerings)
Related Topics