Analysis on: `What's Making Us Sick Is an Epidemic of Diagnoses`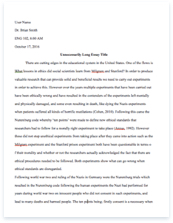 The whole doc is available only for registered users
A limited time offer! Get a custom sample essay written according to your requirements urgent 3h delivery guaranteed
Order Now
Part I
What is Dr. Welch's argument?
In his article, "What's Making Us Sick Is an Epidemic of Diagnoses"; Dr. Welch argues that there is an epidemic of diagnoses that is prevalent nowadays. By this, he means that there is a trend towards creating more and more characteristics and qualifications that make illnesses more inclusive and making more men qualify as patients.
He cites three points that causes the existence of the epidemic of diagnoses: 1) the proliferation of medical care; 2) the prevalence of detecting "at risk" patients through technological advances; and 3) the interests of those in the medical profession that make money out of it.
In the article, Dr. Welch also argues that the existence of the epidemic of diagnoses has more harmful that beneficial effects. Some of which are the: a) increased number of anxious and vulnerable people upon being diagnosed as sick, when they are actually just at risk of being sick and; b) the risks posed by giving too much medication to men.
Do you `buy` Dr. Welch`s argument? Why or why not? Argue.
The article was not very persuasive. It dealt too much on the explanation of what the epidemic of diagnoses actually is, how it existed and for what reasons. However, what it lacked obviously was further elaboration on how it becomes harmful to men.
Also, despite the efforts of pointing out some of the harmful effects of the epidemic, the article also lacked vital statistical information that will be able to convince an individual that an increase in diagnoses is actually harmful to people.
It was good that Dr. Welch was able to cite some effects of increased diagnosis. One of which is the anxiousness and vulnerability it brings to patients, together with possibilities of discrimination and embarrassment. However, the article failed to site statistical figures as to what part of the diagnosed patients actually experience these instances. There was also no further elaboration as to how these feelings will affect the lives of the diagnosed individual.
Another is that the second supporting detail that Dr. Welch used – the risks posed by giving too much medication- really needed medical statistics that will prove the claim's veracity.
Thus, through this lack of research evidences, one can further conclude that Dr. Welch claims are just assumptions.
Part II
1) What is the thesis statement?
The argument that is presented in the article is whether or not an epidemic of diagnoses exists and whether or not its existence is a threat or development for men.
In that paper, Dr. Welch takes a stand and points out that that increase in the diagnoses actually presents more harm to individuals than benefits.
a) Do you think this statement is effective? Why or why not?
The thesis statement was clear and direct to the point. It was broad in the sense that it does not reflect the instance of the epidemic of diagnoses in just a certain country or region. However, the fact that its existence was tackled from a general point of view somehow justified the broadness of the statement and made the argument more interesting. Thus, the statement was indeed effective since it did not pose confusion and it attracted attention.
2) The author uses transition paragraphs to bridge his points together. Pick one of these paragraphs and explain how it functions. Specifically, why does the author choose to use this type of paragraph? Why are its strengths and weaknesses?
The shortest transition paragraph Dr. Welch used was: "Americans live longer than ever, yet more of us are told we are sick."
He used this logical and practical statement to provide a glimpse of what an epidemic of diagnoses is (having more people that are diagnosed as sick), while at the same time citing an obvious fact that leads to support the veracity of the next claim he takes in the next paragraph (the high budget allocation for medical care). In a sense, this statement presents an ironic view of the increase in diagnoses and thus, further supports his argument in a common-sense manner.
3) What are his strongest points?
What was good in the article was that he explained detail by detail what the epidemic of diagnoses means and how it occurs. The fact that he pointed out some matter-of-fact harmful effects of increased diagnoses also increases persuasion.
4) What are his weakest points?
He fails to mention researches and studies to support his claim. He spent so much time elaborating what the epidemic of diagnosis means and how it occurs that he lacked details that showed how actually the epidemic of diagnoses becomes harmful to men other than making the diagnosed patients feel vulnerable and anxious, and "over-medication" to patients that are just "at risk".
References:
Welch, H. Gilbert, Lisa Schwartz and Steven Woloshin. "`What`s Making Us Sick Is an Epidemic of Diagnoses". January 2, 2007. Retrieved January 6, 2007 from http://www.nytimes.com/2007/01/02/health/02essa.html?em&ex=1168059600&en=7a4f5481cd2362b2&ei=5087%0A
Related Topics