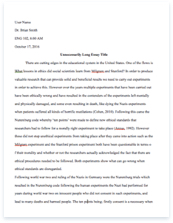 The whole doc is available only for registered users
A limited time offer! Get a custom sample essay written according to your requirements urgent 3h delivery guaranteed
Order Now
1: Toys "R" Us sales exceeded $300 Million by 2004 on the Amazon.com site. In about 200 words explain how Amazon, Toys "R" Us, and other toy sellers who participated in Amazon's Marketplace retailer program benefited from the network effect as a result of the relationship between Amazon and Toys "R" Us.
Toys "R" Us and other toy sellers who participated in Amazon's Marketplace retailer program benefited from the network effect as a result of the relationship between Amazon and Toy "R" Us in many ways. Since Amazon has network deals with companies there will always be a benefit or a profit. A lot of times people go on Amazon looking to buy many different things and to have the ability to one stop shop for most everything that you will need comes in handy and at a reasonable price. Also, with Amazon having the ability to only sell toys from people who are in the retailer program helps both parties.
Toys "R" Us had encountered many problems selling toys online before joining Amazon Marketplace program and I feel that without the help of Amazon there could be many business that would have a problem selling their items.This also works for the small businesses and specialty businesses that have things to offer that you may not be able to find anywhere else or that they may be having a hard time selling. If that business is a part of the Marketplace Program not only do their items get sold but Amazon and the business owner get a profit. 2:
In 2004, Toys "R" Us sued Amazon.com for violating terms of the agreement between the companies; specifically, Toys "R" Us objected to Amazon.com's permitting Amazon Marketplace retailers to sell toys. (Note: when the lawsuit was filed Amazon Marketplace was called "zShops".) Amazon.com responded by filing a countersuit. After more than two years of litigation, a New Jersey Superior Court Judge ruled that the agreement had been violated by both parties. The judge ordered the agreement be terminated and denied both companies' claims for monetary damages. Amazon.com appealed the ruling. In 2009, an appellate court affirmed the lower court ruling but reversed the ruling on damages, which had awarded Toys "R" Us $93 million plus interest. In June 2009, the two companies agreed in an out of court settlement that Amazon.com would pay damages of $51 million. Use your favorite search engine and the web links for case c1 to review the courts' findings and rulings. Prepare a report of about 200 words in which you summarize the advantages and disadvantages that Amazon.com should have considered before in entered into the agreement with Toys"R"Us.
There are many advantages and disadvantages that Amazon.com should have considered before entering into an agreement with Toys "R"Us. I am pretty sure that neither Amazon.com or Toys "R"Us could have foreseen the dispute that took place in 2004 and if there were things that both companies could do to change the outcome of this I feel that they would have changed them and had them in writing prior to making a contract. The advantages that Amazon and Toys "R" Us had by working together is not only a customer base that spans across the entire world but the ability to help other businesses that may not have been able to stay afloat without each other. More advantages of Amazon and Toys "R" Us working together would be that customers would be getting the products that they ordered in a timely manner and both parties would be compensated as long as both ends of the contract were held up.
In my readings I found that when the companies merged it was good for both of them Toys "R" Us toy sales were going up and customers were satisfied with the promptness and the overall delivery of their products.The disadvantage of Amazon.com working with Toys "R" Us is that they didn't want them to work with any other toy companies. Court findings state "Toys R Us was to be the sole third party toy retailer on Amazon's web site". Amazon.com breached that contract by allowing other companies to sell toys on its website which in turn made them have to pay Toys "R" Us millions of dollars. In conclusion, when going into business with anyone there is a need to make sure that the contract that you make is realistic and that everyone knows what is to be done in the business.
Although I feel that Amazon shouldn't have had to pay Toys "R" Us anything due to the fact that Amazon kind of saved Toys "R" Us' online sales I also feel that it was not realistic of them to not want Amazon to sell toys from any other toy retailer. I also understand why Toys "R" Us wouldn't want Amazon to have the ability sell other retailers toys because that would be less money for the other companies and more for Amazon who would be the common denominator. All in all I feel that if there was a clearer contract set up this would have been handled a lot differently.
3: In 2009, Amazon.com purchased Zappos, A highly successful shoe retailer that was started in 1999. Since the purchase, Amazon.com has kept Zappos operating under its own brand as a separate website. In a report of about 200 words, outline a rationale for Amazon.com's decision not to subsume Zappos operations into the Amazon.com website.
Since opening their virtual doors in 1999, Zappos has exceeded everyone's expectations in sales and revenue for the past 10 years before getting purchased by Amazon.com in 2009. Since Zappos has been doing remarkably well without the Amazon.com brand name to back it up It wouldn't have been necessary for Amazon.com to subsume them. If the company was failing or needing a little extra brand help It would be best to have the companies merge to increase profit but because Zappos is doing so well and there hasn't been any loss in the company and if it has it hasn't been substantial enough for them to not be able to get back up on their feet. Amazon.com made a wise decision to keep Zappos standing as their own entity as it is a success on its own without the help of any other company. The Amazon.com Brand is a good brand to have on your side but if the company that you already have is doing well on its own and has been for a long time I don't see any reason to change that. There may come a time when Zappos may need Amazon.com and when that day arrives I am pretty sure that Amazon.com will help.
4: In 1998, Amazon.com purchased the Internet Movie Database for a substantial, but undisclosed, sum. The site offers reviews of movies and information about movies, actors, directors, and others involved in the filmmaking business. The site doesn't charge membership fees (except for a small area of the site reserved for people who work in the film industry, called IMDbPro, which doesn't generate a substantial amount of revenue for Amazon.com). In about 100 words, speculate on why Amazon.com might have purchased this website and explain how it benefits from owning the site today.
When looking up the Internet Movie Database I didn't know that I was an owner of it. I currently have streaming tv through Amazon Prime which is a part of the IMDb. I feel that Amazon purchased this website because of the simple fact that times are changing and a lot of movies are now being streamed either through a gaming system or straight through your television if you have a Smart TV. Although this website may not generate much revenue now it may in the near future. The people who make payments into this site are smart because it can secure your place in a company that is on the rise.With the growth of Internet TV and Streaming media it would be important to be in on this company.
Hal's Woodworking
1: Conduct a SWOT analysis for the new Hal's Woodworking online business. You can use the information in the case narrative, your personal knowledge of the retail hardware and tool industry, and information you obtain by following the web links or doing independent searches of the web as you conduct your analysis. You should create a diagram similar to figure 1-12 to summarize your SWOT analysis results.
2: Based on your SWOT analysis, Write a report of about 400 words that includes the summary of your assumptions and a list of recommendations for Hal's Woodworking. The recommendations should be specific and should address the content that the website should include, the features that Hal should make available on the site , and how Hal's Woodworking might overcome any of the weaknesses or threats you identified in the SWOT analysis.
Hal's Woodworking is the picture of a small business owner that is trying to make their business work in the world of online shopping and larger than life competitors. When thinking about the woodworking store and what it would need to do to become a successful online business I am brought back to my SWOT analysis that I made about this company. With its many strengths and opportunities there is no reason why this company can't make it not only as a storefront but as an online retailer. Some of the strengths and opportunities that Hal's Woodworking has is the ability to have classes that teach you how to build and assemble many things at no charge to the customer. This is a great thing because there are many people including myself that purchase power tools and/or redecorating equipment and have the slightest clue on how to use them.
Another opportunity that this business has is the ability to provide work training for their employees. I feel that this is important to a company because it gives the employees knowledge on what they are selling which promotes the purchase of power tools. Some strengths of this company is that a lot of its clients purchase high end power tools which Hal's Woodworking seems to specialize in. With the purchase of higher end power tools it is also a strength for the company to try them before you buy them. I like this philosophy because you get serious inquiries about products and fewer returns. Some of the weaknesses and threats to Hal's Woodworking business are competition and business growth.
With the rise of super stores like Home Depot and Lowes it becomes harder for smaller businesses to stay afloat. Due to the fact that the larger businesses are able to purchase more lumber and overall products then smaller companies it is easier to understand them getting their product at a lower rate. Because Home Depot and Lowes can get such large quantities they are able to sell them at a cheaper price than the smaller companies which overall cause Hal to have to close his lumbar department. Another weakness that Hal may have is the fact that because he is a small business owner he may have a smaller customer base which in turn will also affect the sales of product.
Overall there are many options for Hal's Woodworking business and I feel that he should try to start an online business that has times of the day that he offers training for customers, what tools are available in store, online, and how often can customers ship their orders to the store and pick them up there. The website should have a place where the customers can rate the hand tools that they have used and they should also be able to write a review of the products that they have purchased online and in store. I also think there should be an area where customers can leave feedback on things that the business can change and what they can improve on, because the company has such close ties with the community I think that it is vital to have the communities input in the business.
Related Topics