Allocating and Monitoring Budgets – How Finance Works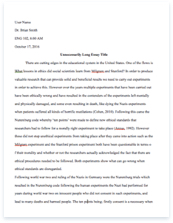 The whole doc is available only for registered users
A limited time offer! Get a custom sample essay written according to your requirements urgent 3h delivery guaranteed
Order Now
There are many different ways to maintain control of costs within an organization and they vary from company to company. Within my hotel we have several ways the main ways being; Purchase orders, these are formulated whenever a department would like to order something that is not a stock item. For instance, should the bar want to order a new blender they would need to raise a purchase order request which would then be approved by either myself or the Executive Food and Beverage Manager? The purpose of signing off on the purchase order requests is so that we can maintain control of costs and compare what has been spent already on the budget.
There have been occasions that due to this process we have realized that there was no more money left in the budget to spend, therefore, orders were placed on hold until the following month. Should the purchase order process not be in place, departments would be able to spend without a cap and could result in overspending and in turn, reduce the profit percentage for that particular month. In addition, purchase order requests provide an explanation of where the money has been spent, therefore, when formulating the following years budget if we notice that in one month there was a large amount spent on equipment we can refer back to the purchase orders and determine whether that is a cost that will be included the following year as well, or whether it was a one-off cost in which case the budget will need to be adjusted accordingly.
One of the biggest costs of Food and Beverage other than payroll, is the food cost. Therefore, at my hotel, we use an online shop which we call the F&B shop, where all food orders need to go through. The orders will then be sent directly to the suppliers, in addition to ordering the prices always remain up to date, therefore, when receipies are formulated it is easy to cost dishes and ensure that the correct prices have been allocated. We have a budgeted food cost to sales of 23% – 25 %, therefore, it is vital that all the pricing is up to date especially as our menu is very seasonal. On the other hand, we have a Food Purchaser who processes all the orders and puts them through the online shop; the process is that the chefs will fill out a form and then hand it over to the Food Purchaser, this ensures that the chefs are not over ordering which will lead to wastage and in turn increase our food cost to sales.
Monthly stock takes are another excellent way to control costs as this ensures that the par levels set at the beginning of the year are adhered to and there is no over or under spending. At my hotel, the following monthly stock takes are carried out to ensure that we control our costs; linen, silver, equipment, and beverages.
In addition to operational procedures hotels and organizations put in place to monitor costs, there are also weekly/ monthly meetings to keep all the managers up to date on what the revenues are against budget along with profits against a budget. At my hotel, we have a weekly forecast of all aspects of the business including revenue, payroll, expenses and what the profit conversation is. By having these meetings and the reports distributed to the Heads of Departments and Managers, it ensures that everyone is aware of what is being spent and accrued within their departments. Managers then strategically think of ways to either generate more revenue or how to save on costs such as payroll. It is essential that all organizations have mechanisms in place to maintain control of their costs, otherwise budgets will not be achieved and in turn, could lead to an unsuccessful financial year.
Related Topics