All Art Is Useless – How Far Do You Agree?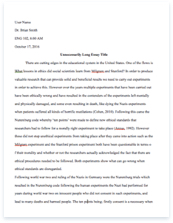 The whole doc is available only for registered users
Pages: 2
Word count: 429
Category: Art
A limited time offer! Get a custom sample essay written according to your requirements urgent 3h delivery guaranteed
Order Now
Art is a creation done by an individual or a group of people. Art can be a sketch, a drawing or a design. Some people think that art is useless, but for me, it's useful and very important. This essay will explain why i say art is not useless.
Art can be a hobby to any people of any people of any age above two. Art is learnt in schools –in kindergarten, in primary and secondary school, and even in the university. Art is very suitable for people to cure boredom. Children at the age of two to five enjoy colouring and drawing; teenagers like to design, drawing cartoons or a character in an anime or a movie; and old people write calligraphy of poems and useful proverbs. Art is an environmental friendly activity –not much electricity is needed– and not much spending is needed. In conclusion, art is very useful as a hobby because it creates fun without harming the environment and the society, and it's cheap to do.
A person's feeling and expression can be expressed in a person's art. The emotions of an individual when doing art is very important as the emotions will also be reflected in the art. For example, a person who is in a sad mood will use pale colours to draw and the drawing will be something related to the reason for his or her sadness. Psychologists make use of art wisely. They find a person's mind and problems by asking them to draw something. Art is able to describe a person's mind that cannot be expressed by the person.
Art is used widely in many jobs. There are a lot of jobs that require good skills in art, such as architecture, artist, carpenter, etc. A fashion designer or a carpenter makes a sketch of what they want to make and design it on a paper first to avoid mistake when they start to make a thing. Nowadays, most jobs require people who have skills in art, and for those who think art is useless will have difficulties in finding jobs.
Hopes are inspired by art. people who have some disability often turn to arts. There are a lot of people in this world who have a disability and are doing art to support themselves Art provides hopes not only to normal people but also to the disabled people. It is very important.
Art is not useless, it is useful in many ways. There are a lot of things that are related to art.
Related Topics