Air Force Core Values – Integrity First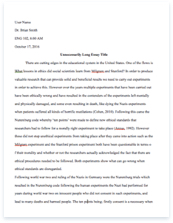 The whole doc is available only for registered users
A limited time offer! Get a custom sample essay written according to your requirements urgent 3h delivery guaranteed
Order Now
The Air Force runs on three Core Values: Integrity First, Service Before Self, and Excellence in All We Do. In this essay, we'll be looking at the first of those. Integrity comes first in the list because it forms the basis of all we do. AFI 1-1 describes it as "the willingness to do what is right even when no one is looking. It is the moral compass – the voice of self-control and the basis for the trust that is essential in today's military. All airmen must have unquestionable integrity so that their leaders can trust them to perform their duties correctly even without direct supervision. This character trait can be broken down into several facets, including courage, honesty, responsibility, accountability, and fairness. Here we'll briefly examine those, starting with courage.
The courage facet of integrity boils down simply to being able to do what is right, even at personal cost. The price of integrity could be money, a friendship or, in the most extreme case, your career or your life. It may be as simple as returning a dropped wallet without taking anything or as harsh as admitting to something you did wrong even if you could hide it away.
Honesty is the part of integrity that most people fixate on without considering what else it can mean. As military members, our word is our bond. When we promise to do something or simply when we give a report, our reputation for honesty is what makes people believe us. This includes not pencil-whipping a form, not covering tech data violations, and writing full and true memorandums and reports.
Responsibility and accountability can be rolled together as two parts of a whole idea. Responsible members see their duty, acknowledge it, and perform. Accountable members take the heat when something goes wrong in those duties or if they don't get performed at all without shifting blame on others. The phrase, "The buck stops here," very aptly explains these concepts.
Finally we come to fairness. The same treatment must be given to all people in similar circumstances; preferential treatment must never be given. For example: during a party in the dorm, your two airmen are caught drinking underage. You can't recommend one for an Article 15 and simply give the other a LOC because you like him or her better. The circumstances are identical, and so must be their punishment. The same refers to giving perks as well. If they both perform admirably and you decide to reward one with a free day off, you must reward the other.
Integrity at its basic level is doing what is right no matter the consequence, even when no one else is around to see you do it. Since it is impossible for our leaders to watch what we do at all times they must be able to trust that we have this trait. It is how they know we follow the rules, perform our duties the way they should be performed, and trust that we'll own up when something goes awry. In short, integrity is first because it is the basis for everything we do.
References:
AFI 1-1
http://www.airforce.com/learn-about/our-values/
Related Topics