Adverse Effects of Education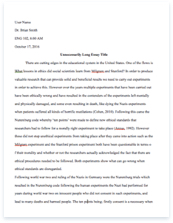 The whole doc is available only for registered users
A limited time offer! Get a custom sample essay written according to your requirements urgent 3h delivery guaranteed
Order Now
Life is a struggle, sometimes you have to lose something in order to get something, but it's always your choice to consider what you want or need the most. If education improves people's life style and social environment, it also affects our lives in an undesirable way. I know education is essential in almost every aspect of our lives, but do we really want it to entirely take our place? That is, should we give priority to education only and put everything else behind? People see education from different aspects, but one thing about education that everyone agrees on is that it has done so much, socially and politically, for us. Considering all the improvements and differences that education has made, we are unable to see what it has done to us. Today we see education simply as academic success but that's not all there is about education. Being yourself, valuing your culture and identity, and remaining in family are the key issues that we should consider when thinking of getting education. The more we are trying hard to achieve academic success, the more we are starting to grow apart from our love ones and it is changing everyone in certain way.
According to Jimmy Santiago Baca in, "Working in The Dark," "Only by action, by moving out into the world and confronting and challenging the obstacles, could one learn anything worth knowing." Usually we have to go out in the world in order to get education and even face lots of problems, but don't you think sometimes it becomes dilemma for us that we have to chose education over our family or family over education, because there are so few people who get education by not going to school. I am aware of the fact that not all the people have to suffer through these things because who doesn't want to get education and still remain in culture and family? But it doesn't always happen this way. Things change, people change. The way we live and where we live does affect us in some way. Sometimes you need to go far away from family and live with different people to get education but it doesn't mean that we should start seeing ourselves the way others want us to. Although education is of a great importance in everybody's life, it can make people challenge their cultural values and create and unsatisfied relationship with their loved ones.
Despite the fact that education improves people socially and helps them succeed, it distances us from our family and makes us question our cultural values. You cannot force someone to study and neither can you stop him or her if they want to. Everybody wants their children to get good education but nobody wants them to be so obsessed with study that they don't even think about anything else besides studying. I know high education requires more time and really hard work, but it's not the same with kids. Some kids achieve so much at a very young age, which is so impressive, and this constant success changes them, making them so preoccupied with reading books and novels, but later they realize that they have missed all the other things in their lives that they shouldn't have. According to Richard Rodriguez in the article, "The Achievement of Desire," "A primary reason for my success in the classroom was that I couldn't forget that schooling was changing me and separating me from the life I enjoyed before becoming a student."
It is useful to read books and get something out of them but it doesn't mean that you should be a bookworm. Some people call getting high education at a very young age a success and therefore making kids choose study over everything, but I think kids or anyone should also enjoy other things at the same time by not avoiding to spend time with their family and friends as well as interacting with other activities like sports. Because by not doing this, not only you grow separate from your culture but you also form a different world of your own in which you act different and live different, making yourself look unique in everything. Because after having a little success, one does not want anything that makes him or her less perfect. Therefore end up feeling so complex that suddenly you feel that may be your culture or family members are not perfect according to you and you see them as others do. But that's not a real education.
Education is like a sea; you can never get enough of it. While education is very important to us, the ways people educate themselves have enormous effects on their cultural lives. Once you educate yourself academically, cultural values and your background don't seem that important to you as you consider yourself in high society. Kids who come from other countries learn new things and after a while living here, they adapt another culture. They even feel ashamed speaking their own language and they try to get rid of the accent. Sometimes they even feel ashamed and embarrassed of their parents by their lack of education. It feels bad to hear things like this; after all it is all because of your parents. We wouldn't be here if it wasn't because of our parents, Mr. Rodriguez wouldn't have gone to school and achieved so much success if his parents wouldn't have paid for him. So we should never grow apart from our families and parents. When we came from India we knew what our culture is and why we came here.
My parents also want us to get education and be someone as everybody's parents do, so my dad allows us to have anything and do anything as long as it is not out of culture and concerns studying. But after living here for a couple of months, my brother found a girlfriend, which my culture doesn't allow. When we found out, we tried to stop him because they were both disobeying our culture. But he took advantage of going to college and kept seeing her. Still my dad allowed him to go to college because he wants us to make a career but instead he chose her and ran away. So I think even if you manage to achieve so much academic success, you should never forget where you come from and who you are. Take advantage of education and opportunities that you get by educating yourself, but don't let it challenge you your identity and your community. Education will definitely make your life better but it is not going to change your identity and culture or should it?
Although education get you some fame and make you wealthy, it can affect your personal life in an unfavorable way. As you become successful in life, your responsibilities also rise and sometimes it becomes hard to make sure that all the responsibilities have been taken care of. Because as well having responsibilities toward your intellectual aspect, you also have some responsibilities toward your family and friends. Some kids, who are dedicated to their studies and are always studying, sometimes fail to fulfill their parents' desires. Mr. Rodriguez agrees, "Scholarship boy: good student, troubled son." Endowed children, who are highly interested in study, are most likely to act a little different and sometimes weird. Being an intelligent scholarship student doesn't mean that you should always read recommended books and totally neglect other aspects of your life. If parents want their kids to study hard and support them, which is a good thing, they definitely don't want you to abandon other good things in life. As we see today, many kids who are flawed are most likely to be rich.
Is this because their parents are highly educated and they hold highly paid jobs? Therefore they don't have much time to spend with their kids to teach them valuable lessons? For example, although George Bush, president of United States, has benefited himself and his family from his education in an enormous way but do you think he has a satisfied relationship with his daughters after what they have done? And is this because they are rich and highly educated? Do you think his daughter would have been better if they had not been so rich and famous? Mr. Baca agrees, "If I had not left our village, if I had stayed all these years with my grandmother, I could have been a better man than I am today." Although Baca had learned in prison, but I don't think he would have even gone to prison if he had stayed with his family. You learn so many good things just by living with your family; you feel their and your culture's importance. The same with a celebrity like Bill Clinton, don't you think his character was more important then him being the president of U.S.A? Could his education save him from questioning his position? How did it impact his family life even though he was very successful academically? There are so many ways of learning if you really want to learn, going to private schools or getting degrees is not the only way.
According to Malcolm X in the article, "Learning to Read," "I don't think anybody ever got more out of going to prison than I did." If you really want to learn you can do that anywhere but if one doesn't want to learn he or she wouldn't be able to learn even by going to some expensive school. Sometimes your inspiration should come from within otherwise you'll be doing something you are not interested in but someone else is. Education is not a bad thing if we think of it as something to help others, making your family proud of you, having a career and making a difference in the world, but there are so few people who understand the actual meaning of education. But we should never chose education over our family, considering education or more importance than our culture and family. Some people study to make their lives easier and better whereas some people study to help and improve other people's lives and others simply study to learn something they are interested in. Being academically successful isn't always considered successful in life, valuing your cultural, family and moral character are the most important things when thinking of success. After all our parents do want us to educate ourselves and support us in making a career so why avoid them and see them as obstacle on the way of your success.
Everything has two sides, positive and negative. Usually we tend to look at the positive side of education, which is important, but there are also negative effects of education, which we don't think too often. Not that we should see education as a bad thing but we should definitely consider the way we educate ourselves. Everybody wants to have their children a better life and career, but not everyone can afford this. Parents support their kids in getting education the way no one does, they are the one who won't be jealous if you'd be successful. So we should never let our parents down in any way, instead thank them for what they did to help us getting education and make our lives better. Parents are the role models of their kids; they are the one who we look up to. So they should also teach their children the important lessons of life like how to value your cultural beliefs and giving them the real education first.
Since education is most important in today's lives, kids should definitely educate themselves and make a career but they should never forget their culture and family neither should they disobey them. Study hard but don't be someone to question your identity. Educate yourselves in way people will respect you. Don't be embarrassed or feel ashamed by their lack of education, at least they know the value of culture and family. And nobody is perfect, but if education can empower people and make a difference in the world we should definitely make the most of it. There is always an opportunity cost in everything that's why we should educate ourselves so we can make the best choice. Education has done so much for us and is still doing but don't neglect the fact that it has also done something to us— spacing us out from our cultural life, making us question our identity, and changing the way we look at things.
Related Topics