About National Number for the Suicide Prevention Hotline that Provides Free Emotional Support to People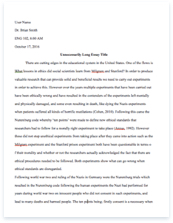 The whole doc is available only for registered users
A limited time offer! Get a custom sample essay written according to your requirements urgent 3h delivery guaranteed
Order Now
Take a minute and think about this. At the top of your head, do you know what the significance of the phone number, "1-800-273-8255" is? I am sure you have seen it on tv commercials, billboards, websites, music videos and people even have the phone number tattooed on their bodies. The actual phone number, "1-800-273-8255" is the national number for the suicide prevention hotline that provides free emotional support to people struggling with suicidal crisis or emotional pain, 24 hours a day, 7 days a week and 365 days a year. In early 2017, Logic released the single "1-800-273-8255" before releasing the entire album it appears on, Everybody. The album release was followed by the release of the 7-minute music video for "1-800-273-8255" and one year later, the music video has 24 million views. The song features guest vocals from well-known singers/songwriters, Alessia Cara and Khalid. In his song "1-800-273-8255", Logic tackles a topic many seem to ignore which is suicide while also demonstrating common struggles with depression, homophobia and other personal issues.
Sir Robert Bryson Hall II, or more commonly known as Logic, is an American singer, rapper, songwriter, and record producer. Logic was born on January 22, 1990 in Gaithersburg, Maryland. He had a troubled childhood as both his parents were alcoholics and addicted to drugs. Not only that, his brothers were drug dealers, and taught him how to produce and sell crack cocaine. Today, Logic tells interviewers that his mom and him are not on talking terms because according to him, "she is not only prejudiced but also racist and not a good person overall." His father was not around most of the time while Logic was a child, but he has reconciled with his father after his career took off. He found interest in rap and hip-hop music at age 14 after watching "Kill Bill: Volume 1." Logic started performing on stage in 2009, under the stage name 'Psychological'. He released his first mixtape at 20 years old in 2010 and continued releasing several other mixtapes before signing with a record label and releasing his first studio album, "Under Pressure" in 2014. (Who is Logic) Logic started becoming more personal with his music, mentioning in his lyric's, incidents like his troubled childhood with being expelled from high school, his parent's addictions and abandonment along with his mother being racist while having bi-racial children.
"1-800-273-8255" follows a story of a character in major distress wanting to commit suicide and comes to calling the suicide lifeline. The first main chorus of the song is from the perspective of the potentially suicidal person calling the lifeline and repeating that they "wanna die" and "don't wanna be alive". In the following verse, the listener gets a sense of how the character is feeling inside and why they are having suicidal thoughts. The second main chorus switches perspectives to the volunteer on the other end of the suicide lifeline as they plead for the distressed character's life and explain why they should not take their own life. Playing on the perspective of the suicide lifeline volunteer, the next verse is sung by Alessia Cara. She sings about feelings of optimism and surfacing from within, a will to live and move forward. The third main verse follows, still from the perspective from the lifeline as they try to relate to the distressed character on the other end of the phone line. Simultaneously validating thoughts of depression and suicide while also showing feelings of positivity and persistence. The final chorus starts from a completely different perspective of the distressed character. Opposite of the first main chorus, the character now demonstrates feelings of a will to live and move forward. The outro then further shifts the theme of the narrative to positivity and endurance through hardships. Ending with the perspective of another caller, Khalid sings of a changed outlook and life mindset.
The music video for "1-800-273-8255", follows a young African-American high school male athlete (Coy Stewart) fighting his way through his teenage years. We are also introduced to another high school student (Nolan Gould) that Stewart seems to have a romantic relationship with while also being introduced to Stewart's unaccepting father. As the video progresses, we get to view the struggles that the student deals with such as bullying, homophobia, depression, and eventually reaching to an emotional point where we see him in his own home with a gun to his head, contemplating suicide. Stewart decides to call the suicide prevention hotline and the audience gets to see a flash forward to the high school student as a grown man, marrying another man and later raising a child together. The music video's main purpose is to show the audience real-life struggles of an individual struggling with depression, homophobia, bullying etc.
On August 27th, 2017, Logic, Alessia Cara and Khalid performed the song together at the MTV Video Music Awards which included many suicide attempt survivors on stage as well wearing tee-shirts showing the Lifeline's number on it. After the performance Logic speaks to the audience and states, "I just want to take a moment right now and thank you for giving me a platform to talk about something that mainstream media doesn't want to talk about: mental health, anxiety, suicide, depression and so much more that I talk about on this album. From racism, discrimination, sexism, domestic violence, sexual assault, and so much more; I don't give a damn if you are black, white, or any color in between. I don't care if you're Christian, you're Muslim, you're gay, you're straight, I am here to fight for your equality. Because I believe that we are all born equal, but we are not treated equally and that is why we must fight. We must fight for the equality of every man, woman, and child regardless of race, religion, color, creed, and sexual orientation. So I say here and now, if you believe in this message. of peace, love, positivity, and equality for all, then I demand that you rise to your feet and applaud not only for yourselves but for the foundation we are laying for our children." (Rosen) Although the message is quite clear in this small speech that is given by Logic, it is also a very powerful speech. To quickly sum this message up, Logic is thinking everyone for allowing the success on his song and album where he talks about deeper topics. He also continues on to say that no matter what your race, color, sexual orientation or religion is, he is one to fight for equality for all.
In November of 2017, Logic had tweeted "The most important song I've ever wrote" along with a picture attached to it with statistics about the song's impact. On the day that "1-800-273-8255" was released, the suicide prevention hotline received the second highest daily call volume in its history at the time. They had received over 4,573 calls that day which was an increase of 27% compared to the average amount of calls on the same day of the week for the previous 3 weeks. On the day after Logic and the featured artists' performance of the song at the MTV VMA awards, the lifeline received 5,041 calls which exceeds the amount of calls received on the song's official release date. Along with these statistics, Google searches for the Lifeline's phone number increased significantly on the release date of the song by more than 100% as well as several crisis centers noting callers mentioning Logic's song after its release. (Armstrong) Just with these statistics alone we can prove that the song "1-800-273-8255", tackles a topic many seem to ignore which is suicide while also demonstrating common struggles with depression, homophobia and other personal issues. Now I would like to ask you again, do you know what the significance of the phone number, "1-800-273-8255" is?
Related Topics