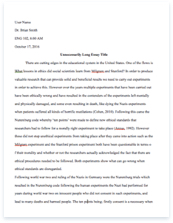 The whole doc is available only for registered users
Pages: 4
Word count: 918
Category: Industry
A limited time offer! Get a custom sample essay written according to your requirements urgent 3h delivery guaranteed
Order Now
Abbott Laboratories was incorporated in 1990 in Illinois. The company manufactures, develops, and sells a variety of health care products. The company is divided into four major sectors which are pharmaceutical products, nutritional products, diagnostic products, and vascular products. The pharmaceutical products segment manufactures and sells adult and pediatric pharmaceuticals on a global scale. This segment directs its primary marketing efforts toward securing physician prescriptions and recommendations. Managed care providers, and state and federal agencies are also important customers. The diagnostic products segment sells diagnostic systems and tests directly to laboratories, hospitals, clinics and physicians' offices in the United States, and either directly or through distributors worldwide. The nutritional products segment sells baby formula, nutritional drinks and nutritional food items to institutions, wholesalers, retailers, health care facilities and government agencies. The vascular products segment develops products for the treatment of vascular disease. Products are sold directly to hospitals in the United States, and either directly or through distributors worldwide.
Industry:
Pharmaceutical manufacturers produce a diverse range of preparations for human treatment. The majority of these firms' products are produced in final form for consumption such as ampoules, tablets, capsules, vials, ointments, medicinal powders, solutions, and suspensions. Industry output consists of two important lines. Pharmaceutical preparations promoted primarily to the dental, medical, or veterinary professions are called "ethical" drugs, also known as prescription drugs. Those sold openly to the public are commonly described as "over-the-counter" (OTC) drugs. There are loads of different pharmaceutical companies which is one reason this is a highly competitive industry. Also, an important aspect of this industry is research and development, trying to make a product or drug first in order to own all rights to the drug. Some of Abbott Labs main competitors and some information about them are posted below:
This is an industry that has lots of different companies all racing against time in hopes to creating a new product before the other. The companies above are only a very few companies that Abbott Labs is competing with. The industry its self is different from many other industries because it's not very correlated to the rest of the market and not so much each other either. The change in the market comes from new product developments, patents passed, and other factors which effect the companies future growth. This industry is also still growing a lot. The graph below shows the expected growth of the pharmaceutical manufacturers as an industry from 2008 until 2013:
Company inside look:
Abbott Labs has a good plan in order to keep a company that will survive time and grow larger. They are focusing on three major defining attributes in order to have Abbott do so. The first is to keep a balance their diverse mix of business. This diverse mix is a key to the strength or Abbott and having good stability and balance will help them grow in all four of their business groups: pharmaceuticals, nutritional products, diagnostics and medical devices. They want to not only balance their business but balance them geographically. This is the second attribute that they are to grow larger outside the United States. Although Abbott has been international for a long time the company has no doubt been the largest single national market.
However, as of 2007 revenues outside the United States exceeded those within the country. Showing that the international component of growth for Abbott is already happening and able to increase at great rates. Finally the last attribute to ensure growth for Abbott Labs is the strength or the four different business groups. This key to strength is that the quality of their products and the scientific advances they provide. They take patients and health care professionals needs in consideration of the utmost importance when investing in research and development. The research and development side of the company is definitely a key component to its future and growth. Return History continued:
When comparing Abbott Labs to the S&P 500 fund you can see that there is not really a very correlated outcome. It seems at times that they follow each other a bit but you can see that at other times they may even move in opposite directions. It does seem to somewhat correlate with Merck at times but again not fully. Within the pharmaceutical manufacturing industry they mostly independent of one another and from the average market as a whole as well. There are times that they might correlate such as if the economy is a downward spiral then people might not be spending money which would cause the market to probably go down and it may effect to pharmaceutical companies because they might get hit hard from low sales so they would not be able to develop new products, however this is not a probable common causation. The companies within the industry might have more correlation from outside factors such as something that would effect their products. For a specific example they discovered a new strand of the HIV virus a few weeks ago that rendered some of the drugs that are out to help people with HIV useless. Therefore the industry as a whole could be hurt by this because of them all probably having some role in the drugs for HIV. Different situations such as that one may have the different industries possibly correlating however as a general rule they are more independent of one another in the industry and of the market as a whole.
Related Topics