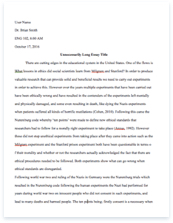 The whole doc is available only for registered users
Pages: 4
Word count: 957
Category: Football
A limited time offer! Get a custom sample essay written according to your requirements urgent 3h delivery guaranteed
Order Now
Aaron Charles Rodgers was born in California on December 2nd, 1983. After he graduated high school, he attended Brutte College. A year after that he went to the University of California at Berkley. He was a football star for two years there before he was drafted by the Green Bay Packers in 2005.
Football was always one of Rodger's favorite things to do, especially at a young age. At the age of 2 Aaron was able to sit silently and watch and entire NFL game. By the time he was 5; he could pick out different football formations on the television and throw a football through a hanging tire. It also helped him become a Heisman finalist in 2004. In 2005 he quit before the beginning of his last year Berkley to enter the 2005 NFL draft. There he was one of the college football's top prospects. He got plenty of football knowledge from his father, Ed Rodgers, who was an offensive lineman in college. His dad continued to play semipro ball after he graduated, then took his team, The Twin City Cougars, to the Semipro National Championship where they defeated a Wisconsin team. If you ask any of Aaron's friends or family they tell you, "Aaron was a talented athlete with a strong arm and a good head on his shoulders." While he was still in school he played just about every sport possible, including soccer basketball and baseball. But only one sport truly called out to him, and of course that was football. He inherited his father's passion and competitiveness.
In school, he would have no trouble telling other kids what to do. He was often scolded but his teachers for being too bossy. Rodger's enrolled at Pleasant Valley High school in 1998 where he immediately had his heart set on the varsity quarterback job for the school. His junior year, he took hold of the offense, passing for more than 2,000 yards. He later earned All-Section honors for his first 2 seasons. When his senior year came around, he threw for a school record of 2,303 yards. While he attended Butte, he led the school to a 10-1 record and a number 2 national ranking while setting a variety of school passing records. During his 2 years at Berkley he led an offense that helped him break a number of school records, which drew many scout's attention to him. When he joined the Green Bay Packers he had to sit and watch the team's start quarterback, Brett Favre, who started every game for the Packers since 1992. They expected Aaron to watch and learn from Favre and soak up the atmosphere of a winning team. Green Bay had a terrible season in 2005 mostly due to injuries. Javon Walker was hurt in the opener against the Detroit Lions, running back Ahman Green blew out a knee. Aaron only saw action in three games, but completed 9 of 16 passes for 65 yards. Aaron spent most of the 2006 season also sitting on the bench, watching.
Brett kept hinting he would soon retire but changed his mind during training. During this season Rodgers threw a total of 15 passes but his year ended early when he broke a foot, losing to the New England Patriots; 35-0. Their 2007 season was a lot better, improving the team to 13-3 reaching the NFC Championship Game. Aaron's big moment came to him during a Thursday Night game against the Dallas Cowboys, when Brett Favre was knocked out of the game. He threw over 201 yards leading the team in the game, but later losing 37-27. Their super bowl shot was ruined when Favre threw an interception against the Giants in overtime. March 2008, Favre had a press conference announcing he would be retiring, but once again changed his mind. McCarthy decided that it was time to commit to Aaron and give him a change to show what he could do. This lead to Brett being traded to the New York Jets. He didn't hesitate, all 16 regular season games he threw for 4,038 yards and scored 28 touchdowns.
The team benefitted highly from his quarterbacking, giving them victory in Super Bowl XL VII. Rodgers earned MVP honors while completing 24 of 39 passes for 304 yards. In August 2005 Rodgers agreed to a reported five-year, $7.7 million deal that included $5.4 million in guaranteed money and had the potential to pay him as much as $24.5 million if all incentives and escalators were met. Rodgers spent his rookie season with the 4-12 Packers as the Packers' backup quarterback behind Brett Favre. He received his first extended look in the opening preseason game against the San Diego Chargers after replacing Favre. He had to endure a malfunctioning radio in his helmet and two offensive flags.
In his first NFL game, Rodgers completed two out of seven passes and was sacked twice. He continued to struggle through the preseason, before ending the series-preseason by converting two third downs and throwing a touchdown pass to Tight End Ben Steele against the Tennessee Titans. Once the regular season began, Rodgers saw very little action that year. He played some against the New Orleans Saints in the fourth quarter of a 52-3 victory, and completed his first career pass to fullback Vonta Leach for 0 yards. On December 19, 2005 Rodgers entered the game against the Baltimore Ravens at the end of the third quarter in a 3-48 loss. He completed eight passes out of the 15 attempted for 65 yards and an interception. Rodgers saw one more play at the end of the season against the Seattle Seahawks, taking a knee to end the game.
Related Topics