A Reflection on Wholeness and Healing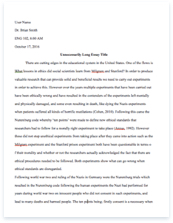 The whole doc is available only for registered users
Pages: 6
Word count: 1392
Category: Nutrition
A limited time offer! Get a custom sample essay written according to your requirements urgent 3h delivery guaranteed
Order Now
I am passionate about seeing people live well. In other words, I love to see people living abundantly and live life to the full. There are many ways that we can do this. There is not just one way to live well. People across the globe live well in many different forms or fashions varied by culture, socioeconomics, gender, and more. The opposite is true as well. People in every stage of life, whether it be the rich or the poor, young or old, white or black, all do not live well too. Yet despite the many ways that one can live a life out, I believe that there are basic principles by which all can abide that help create a framework in which people can thrive. In order to live well, man must be whole, complete, and unbroken or in an undamaged state. Ultimately, this state can truly only come through Christ, but He has allowed humans to be apart of helping each other be made whole. There are so many facets in which man must be made whole. Counselors can help walk people through emotional healing. Pastors often guide people to spiritual alignment. Dentists help make everything right in people's oral cavities. Each one of these tasks has value. Optimally, each broken area of a person's life should be addressed and made whole. I want to join the team of making man whole through the tangible means of healthcare particularly as a doctor or a nurse practitioner.
Although it may take time to get this dream fleshed out, I someday hope to open my own clinic or join a team that focuses on helping families live well in order to approach medicine preventatively by looking at both individual and communal lifestyle choices and how they affect an individual's health. Not only would I get to diagnose and prescribe as a means to help people heal from illness; I would also be in a position where I could promote lifestyle changes. Both of these tasks function to enable people to live well. Particularly here in the States, obesity is a huge problem. According to the World Health Organization, obesity rates have gone from 1:8 to 1:3 in the last 10 years (World Health Organization (WHO), 2012). The consumption of processed food, more commonly known as "junk food" has quadrupled in the last decade (WHO, 2012). These are just two simple facts that demonstrate how people make choices that minimize the well being of an individual. The standard of life for someone who is obese is undeniably lower.
Not only are there many health related issues; people suffer from negative social stigmas as well as their own personal emotional problems. When I shadowed a NP at a low-income clinic in Oregon, I was amazed at how the majority of patients were overweight causing them to have serious health problems. I loved hearing the stories from the NP of how she got to speak into patients' lives and be a part of helping the people begin to live abundantly. She encouraged them to intentionally make decisions to create an environment where people can move toward wholeness. Another factor that I think is essential in the role of helper is being deliberate and intentional in the way we think about our helping role and the word choice that we use with those we are helping. Two words that need to be defined are wholeness and health. Without communicating this message accurately, people can lose hope. This is particularly true when helping within the medical field. Health is described as the state of being free from illness or injury, including both a mental and physical sense. Wholeness can be defined as something that is complete. In other words, wholeness is when all things are right, when someone is in a state of shalom.
From a biblical perspective, humans only experienced complete wholeness in the beginning. Back in Genesis, all things were made right. Sin had not entered the world. Humans were in right relationship with themselves, others, God, and His earth. But after the Fall, sin entered the world. Everything was not right in the world and brokenness began. Fortunately God's story does not end here. Jesus came. He came to bring His kingdom both here and now and in the future to be. Jesus came to make all things right and to restore shalom. He broke the power of sin and began the undoing its curse to rid the world of brokenness and bring wholeness. Jesus said in Luke 5:31, "It is not the healthy who need a doctor, but the sick." We get to be apart of this restorational process in our own life and the lives of others. Here are some examples that illustrate the difference between these two words. Someone with a terminal illness can live as a whole person although they may not be in good physical health. For example, there is a middle-aged woman who is suffering from stage 3-skin cancer. But she chooses to pursue the best potential physical health by making wise food choices and intentional activities.
She has great relationships with people that she has invested in over the years. She fills her spare time by pursuing her passions and helping those in need that are around her. In every sense of the word, she is abundant and filled with joy despite her frail body that is worn down by cancer. She illustrates someone who has a terminal illness and is not in good health, yet is walking in wholeness. As a provider, I would want to bring hope to her by revealing her wholeness and encouraging her to pursue this abundant life, despite physical conditions that I may not be able to aid. Although I argue that someone may not have good health and be whole. I would also argue that someone who is not in good health and consciously chooses not to pursue health is not moving toward wholeness. Pursuing being made right within one's physical state is an essential part of living and acting out of a state of wholeness. Now imagine someone who is perfectly healthy. Physically he is fit. He rarely gets sick and is mentally sound. His IQ is even above average. He spends all his days at home on the couch watching American Idol. He does not have any friends and spends the other portion of his time thinking about how much he dislikes his parents. Although he is healthy, I would argue he is not walking in a state of wholeness or even moving toward wholeness.
These are just two simple examples, but hopefully they help illustrate the difference between wholeness and health. I think both are important and a part of God's design for our life, but they have different implications. They are noteworthy and worthwhile to reflect on. As I pursue professional helping through the medical field, I understand that my experiences thus far are limited. Over the last 21 years, the majority of my interactions have been with middle-class white Americans. If my work leads me to helping in other countries or even in different socioeconomic parts of the States, I will encounter extensive learning curves. Right now, I now how to interact and relate to people who are like me with similar backgrounds, but learning how to help people who are different than me is going to be a challenge. People of a different race may be culturally offended by the medical advice I would naturally give.
I also must recognize that encouraging patients to pursue a whole and abundant life is dynamic. A medical provider cannot provide all the answers and support needed. People need help on many levels from counseling to medical attention. Some people just need a friend and others need a plumber that they cannot afford. There are many ways to help people. Recognizing my limits is going to be a challenge. The hardest part of all may be accepting these limits. Along my journey headed toward the medical field, I can practice helping people along the way as I learn to relate to people that are different than me and encourage them to live abundantly.
Work Cited
World Health Organization. (2012) Obesity and overweight (Data file). Retrieved from http://www.who.int/mediacentre/factsheets/fs311/en/
Related Topics