A Critique of "For Gay Marriage," by Andrew Sullivan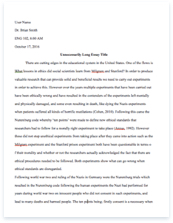 The whole doc is available only for registered users
A limited time offer! Get a custom sample essay written according to your requirements urgent 3h delivery guaranteed
Order Now
In Andrew Sullivan's article, "For Gay Marriage", he is a man on a mission. He appears to be so fully committed to democratic values that he seeks to extend equal rights in marriage to homosexuals. And he makes an admirable case for equality and dignity for all people, including homosexuals. However, he could make an even stronger case by citing more studies and expert opinions.
Although Sullivan's meaning is well taken by sympathetic readers, the fact is that he could overcome much of the ambiguity of his presentation by citing more concrete studies, including long-term studies, which support his key points. For example, when he makes the assertion that "in some ways the marriage issue is exactly parallel to the military" (283), it is unclear exactly what he means. Is he referring to prejudice against gay soldiers? On the other hand, is he referring to a common requirement of self-sacrifice? The answer is simply not clear because Sullivan never cites any studies of the problem he has in mind.
An even more important point for Sullivan concerns child-rearing. He asserts, one may say correctly if he already shares Sullivan's opinion, that children raised by homosexual partners are as well adjusted as children raised by traditional, heterosexual parents. This would be a perfect opportunity for Sullivan to cite several well-conducted, long-term studies which bear out his view. But does he take the opportunity? Does he cite any studies? No, not one.
Another key point for Sullivan concerns the relative importance of legalizing gay marriage. He asserts that "if nothing else were done at all, and gay marriage were legalized, 90% of the political work necessary to achieve gay and lesbian equality would have been achieved" (285). But, Sullivan never explains where he gets the figure 90%. He could explain if this is the expert opinion of any recognized authority.
Still another key assumption in Sullivan's article is that having gay marriage legalized would give homosexuals greater hope about the future. He says, "It provides role models for young gay people, who after the exhilaration of coming out can easily lapse into short-term relationships and insecurity with no tangible goal in sight" (285). Here again, it would be helpful to have references to several authoritative studies or expert opinions, but these are singularly lacking.
In seeking to legalize gay marriage, Sullivan promotes equality and dignity for all people, and especially homosexuals. As it stands, his article is admirable and praise worthy. And I believe his assumptions may be correct. However, without careful documentation and citation of experts and respected studies, he comes across as preaching to the choir. Those who are in favor will continue to be in favor, but those who are not will continue to be opposed. As good as the article is, providing more citations of studies and expert opinions would raise this article to another level of clarity. This could be the difference in winning over the conservatives Sullivan seeks to persuade.
Works Cited
Sullivan, Andrew "For Gay Marriage." Writing and Reading Across the Curriculum, Tenth Edition. Laurence Behrens and Leonard J. Rosen.NY.: Pearson Longman, 2008.282-286
Related Topics