Young and Middle Adulthood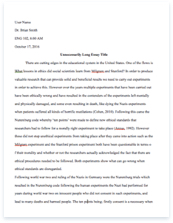 The whole doc is available only for registered users
A limited time offer! Get a custom sample essay written according to your requirements urgent 3h delivery guaranteed
Order Now
Young and Middle Adulthood is a time of change. It can be exciting or challenging time for young adulthood. It is a time for transition. Middle Adulthood is the prime time of your life. Most people tend to be fit and healthy. This case study will explore family, social and intimate relationships. It covers the affects that lead to health or unhealthy living. Case studies start from a source and then links to others. We will explore the different Psychological, biological and sociological aspects of this case study. Family, social and intimate relationships
This case study 1 shows how Jackson a young adult is unsure of where he is in life. He finds his self in and out of jail. No father figure to guide him in the right direction. He is raise by a single parent. Jackson was a normal teen before he had a car accident which has cause him to fall out and end up doing drugs and drinking. He hasn't been able to keep a steady relationship. Jackson finds his self-questioning his sexuality. There are major depression issues that arise from Jackson not wanting to leave his room or to socialize. His mother is worried. Jackson is face with challenging times as most of which occurred after his accident when he losses cognitive functioning and analytical skills. Case Study 2, Jackson family life consist of his mother, a brother, sister and Mothers boyfriend.
Tina, Jackson mother is a teacher with a busy schedule and not to mention a full time fitness addict. Tina is in her middle adulthood and finding that her health is more important. Jackson mother finds her self-obsessed with her fitness and health and spends most of her free time at the gym, while Tina's boyfriend careless about fitness and is finding out that his health is not as good as he imagined. Case study 3 is Michael and is in love with Tina, Jackson's mother. Michael is in his middle adulthood and finding that he has self-esteem issues. Michael is in the stage where he is revaluating his life. He has no children, over weight and suffers from some health issues.
Role Changes
Case 1 role changes that occur are teen to young adulthood. Jackson is a normal teen then involved in a car accident happens and losses cognitive functioning, Leads him to drugs, alcohol and in and out of jail. Case 2 focuses on the mother fitness and her obsession to be at the gym for four hours or more. Tina chooses fitness before boyfriend. She is in her prime and health is a major concern for her. Case 3 involves Michael in his middle adulthood that seems to be reevaluating his life. Michael is not into exercising and enjoys his food. Both Case 2 and 3 are experiencing change both physical and sociological. They both want to get married but neither has made that commitment. Case 1 is unsure of what he wants out of life and need more help and counseling. Each case study has a health issue, case 1 is experiencing drug and alcohol use. He has lost cognitive functioning and tends to go into the depression. Case 2 is obsessed with her fitness and health. Case 3 is happy how he looks and is not concerned with fitness or health. Both Case 2&3 are trying to maintain a stable relationship, but neither has made a commitment. This leads all three cases in need of help, revaluation and counseling. Conclusion
Young Adulthood focuses on the time in life when children become adults and usually leave home and start living on their own. Having medical issue and doing drugs at a young age will make it more difficult to experience this stage in life. Middle Adulthood is a time when most people think of being healthier and establishing a better life style, raising children, being married or set in their career. This case study shows how the mother is set in her career, but is obsessed with her health and fitness and has no time to spend with her boyfriend or son who could use a little boost of self-esteem. Case 3 is set in his ways but focuses more on his career and his family rather than his health and girlfriend. There are different ways to help with each of these cases. It is important to know what each person is going through and how the main person can benefit with resources and help needed to get him out of this depression and in the right state of mind. Tina and Michael can go to counseling for their issues, but Jackson need more one on one help to deal with his health issues and drug issues.
References
Zastrow, C. H. (2014). Understanding Human Behavior and the Social Environment. Retrieved from The University of Phoenix eBook Collection
Related Topics