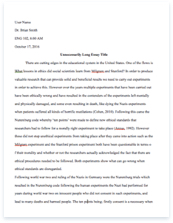 The whole doc is available only for registered users
A limited time offer! Get a custom sample essay written according to your requirements urgent 3h delivery guaranteed
Order Now
I am very intrigued by Lepore's article about feminism in the United States and how she shadows its evolution with the birth of Wonder Woman. The way Lepore provided an informed timeline of feminism in combination with the visual images of vintage Wonder Woman that vie seen so many times, in her bustier top and enormous breasts in her powerful comics, and then provided historically accurate instances of the treatment of women really made me take a step back and realize how monumental the invention of a feminist pop-culture comic hero really was. I couldn't imagine a time in our history where there was such a strong, independent and inspirational visual representation of the American women while the real women living our country are being oppressed at the basic levels of humanity.
Then I opened my eyes a little and started thinking about Scarlet Johansen's character in the new "Iron Man" movies or the animated spy character Lana from the TV series "Archer", and can see that the issues that Wonder Women faced in the 1940's carries to all female roles in film and media culture today. We cant have a woman as a heroine in a movie unless she is weakened or distracted by some sort of love interest, we do not see female characters in male dominated movies unless they are glorified sex symbols, they serve more as an object to be oogled than a rounded character that plays in the same league as the men. I love the response of model and actress Gal Gadot who denied an interviewer's hint that she would not be a good Wonder Woman because she was small-chested, hinting that the only characteristics of a female hero that are important on the big-screen are her physical attributes (Lepore 64).
In 1920, Sanger asserts that, "the most far-reaching development of modern times is the revolt of woman against sex servitude," and I question whether Wonder Woman's physical appearance and her attire reject such servitude. For acceptance as a strong woman's hero in our culture, does a heroine like Wonder Woman have to appeal to the sexual fantasies of men? Would heroines in movies and novels be as inspiring to our culture if they didn't conform to our idealized statutes of beauty? Do women still have to submit or conform aspects of our lives, like careers or family aspirations, in order to further ourselves on other platforms? Even in 1942, Wonder Woman was forced to stay behind when her comrades at the Justice League shipped off to defend the innocent in war (Lepore 70). This article really makes me evaluate what I am willing to gain or lose as a woman to reach my personal goals, or if I should even have to.
I also was truly fascinated at the nontraditional family of Byrne, Marston and Holloway back in 1926 and how Marston lost his professional career because of it. Its hard for me to think of this family and how they were so far ahead of their time, and then reflect on the nontraditional families of the twenty-first century and how they are also persecuted. The boy I babysit had his acceptance to a private Catholic school revoked simply because he has two mothers, even though they are practicing Catholics. You see perfectly responsible gay and lesbian couples losing rights to adoption and marriage equality denied because, as Lepore rightly puts, marriage has evolved into an institution that is rooted in jaded social constructs (Lepore 68).
While our culture today puts on a façade of acceptance and equality for all, why is it okay to produce shows like "Modern Family" and still deny basic rights to those types of families in all 50 states? How can we idolize characters like Meryl Streep as career-women in "The Devil Wears Prada" but not be outraged by the fact that in real life, she would be paid less than her male counterparts? I think our culture does itself a disservice in sweeping issues under the rug and settling for what will appease the masses. I am interested in creating characters through my art that may provide the youth of our country with role models and heroes like Wonder Woman, who was conceived to, "set a standard.. of strong, free, courageous womanhood," and combat ideas of inferiority and oppression, not only for women, but men and transgendered Americans as well.
Works Cited
Lepore, Jill. "The Last Amazon: Wonder Woman Returns." The New Yorker 22 Sept. 2014, Annals of Entertainment sec.: 64-73. Print.
Related Topics