"Why We Flirt" by Belinda Luscombe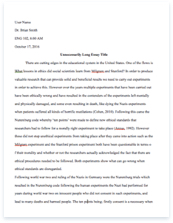 The whole doc is available only for registered users
A limited time offer! Get a custom sample essay written according to your requirements urgent 3h delivery guaranteed
Order Now
Everybody flirts. Life is nugatory without flirting. By flirting, we mean gleaming our internal light through our words and deeds in such a way that people are attracted to us irresistibly. It is our innate impulse and an essential facet of human communication. Flirting seems to be a natural gift that God has given us. According to Belinda Luscombe, "Flirtation is a game we play, a dance for which everyone knows the moves" (50). Clearly, flirtation behavior is simply in human psyche, and is something very natural. It doesn't seem that there is any need to learn how to flirt. . Every person who flirt thinks that there is nothing wrong in flirting. Although, it seems that flirting is natural, and there is no harm in doing it, but really there is a danger with married flirting.
Belinda Luscombe seems to propose many reasons which make us believe that there is nothing wrong in doing flirting. First, it is a natural way through which people express their happiness and emotions without asking for anything in return. Therefore, according to Belinda Luscombe, independent sex researcher Timothy Perper says, "People can flirt outrageously without intending anything" (51). Luscombe's point is that people engage in flirting behavior to ease some stress from their minds, and to have a bit of fun. This makes them to get out of a tense situation, and have some leisure time. Consequently, they feel relaxed and refreshing.
Secondly, flirting helps in making relationship bond more secure, and firm. In Belinda Luscombe's view, "The very act of flirting with someone else may bring renewed attention from your mate" (51). Basically, Luscombe is saying that flirting with opposite sex other than your loved one can rejuvenate the relationship. For instance, if you flirt with someone else other than your partner, then your mate feels more insecure and jealous. This feeling of insecurity and jealousy can make your spouse to feel more passionate, and closer to you, which eventually leads to an unshaken connection.
Furthermore, flirting helps to impart new vigor to one's life without imperiling the relationship. For instance, Belinda Luscombe states, "flirting is a decaf affair, a way of feeling more alive, more vital, more desirable without actually endangering the happiness of anyone you love" (51). Luscombe is insisting that people do flirting just to have some fun, and to make themselves more enthusiastic, and energetic. In flirting, there is no betrayal of vows, of commitments, or of infidelity, so it poses no threat to the gleaming face of the loved one. Moreover, people do it only to make them more noticeable, and more tempting.
On the other hand, Belinda Luscombe shows her concerns with the real dangers associated with marriage flirting. The greatest fear which both men and women face in marriage flirting is that ingenious flirtations moves, even by one partner leads to serious consequences like betrayal, and sometimes divorce. That's why in talking about the cons of marriage flirting, Belinda Luscombe points out that in marriage, "the stakes are higher and the risk is greater even if the likelihood of anything happening is slim" (51). Basically, Luscombe is emphasizing that something done even for fun can have an adverse affect on the marriage, and eventually leads to the catastrophic breakdown of marriage.
For instance, it is often hard for any spouse to watch their partner advancing to opposite sex with emotional or romantic intentions. This eventually instills a feeling of suspicion, betrayal, infidelity, and finally ends up in a divorce. In addition, excessive flirting can "overrode attractiveness" (qtd. in Moore 326), and other partner shows less interest in expressing desires, and feelings towards the loved one. Therefore, flirting is a curse rather than a boon in marriage life.
Having said that, people should realize that flirting is a natural gift that has been bestowed upon us by nature. People do flirting not to make profit or to make something, but to add meaning to their lives, and feel rejuvenated. In her article of "Why We Flirt" Belinda Luscombe shows that Simpson believes, "Flirting is not always intentional" (50), and people do it just to interact with others, and make new friends. Nevertheless, people should think sensibly and carefully before doing marriage flirting, as there is a "greater degree of danger and fantasy to it" (Luscombe 51). Moreover, people should be aware that "flirting can be treacherous" (Abbey, quoted in Luscombe 51), and it can even end with a divorce because "the cocktail is in some cases much headier" (Luscombe 51).
Work Cited
Luscombe, Belinda. "Why We Flirt." Time 4 Feb. 2008: 47; 50-51.
Moore, Monica. "Courtship Signalling and Adolescents: 'Girls JustWanna Have Fun?"' Journal of Sex Research 32 (1995):319-328.
Related Topics