Why some children have psychological disorders and some do not?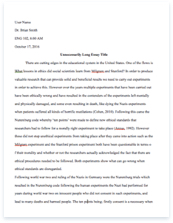 The whole doc is available only for registered users
A limited time offer! Get a custom sample essay written according to your requirements urgent 3h delivery guaranteed
Order Now
Psychological disorder is a condition which causes harmful dysfunction where an individual deviates from normalcy and feel abnormal or painful thoughts, feelings and living a distressful life that makes an individual contempt suicide or stigmatized. This happens in life and a problem of living in our current society and most reported cases when probed it happens that this happens are due to psychiatric disorder. The aim of this paper is to analyze the reasons as to why some children suffer from psychological disorders while others do not. The paper will also analyze the risk factors leading to the psychological disorders in children.
Children normally can experience this condition and this is often difficult for parents to identify the red flag or the signs of the problem. A child can continue with life but internally he or she is suffering but a time they can express. They may be feeling very irritated and a times under mysterious circumstances he or may commit suicide. There have been a number of reported case where primary school children decide to end his life and people will be wonder what might be the cause of such action (Gillies et al, 1110).
Children can experience a range of this condition like anxiety, moods, and schizophrenia. The causes of this disorder are associated with a range of factors such as Environmental stress, Psychological risk factors, Biological factors and nonspecific factors such as parental conflict and exposure to violence (Horowitz et al, 401). Environment differs among children whereby some are raised in a morally upright society where good conduct and respect is groomed, but others are raised and they are exposed to myriad situations like sexual abuse, bullying, and school problems, this causes a child to be depressed and he or she may have a feeling of being rejected in the society (Gillies et al, 1116). Like instances of sexual assault among two girls, one will be feeling unwanted among his peers in school or at home and she will be subjected to lifetime stress and the other due to good parenting and counseling she will be made to understand that it was not her wish and raised to forget that escapade and she will continue with her life as normal, this environmental risk factors tend to predispose them to childhood mental illness.
Psychological risk factors for psychiatric disorder include low self-esteem and situation of feeling helpless when dealing with negative events, normally teens when they reach puberty they have a desire of feeling to control their life 's, relationships with his parents and peers deviate and this calls for good counseling of children and showing them the right way of life, to follow the right path but mostly some parents are not keen this may lead to children developing mental disorder due to their conduct. Good parenting is a good virtue since it raises a child to understand herself. Self-esteem his how an individual feel about herself or himself and low self-esteem makes an individual to feel that they are not worthy and high self-esteem makes one have a happy life.
Biological risk factors are based upon the biology of the brain and the nervous system. This normally have an adverse effect on the person's mental health this may involve prenatal damage and infections. An example of epilepsy or head injuries of a child which he or she may have suffered is a source of psychological disorder since it triggers series of thoughts of a child of his or her condition. Without proper counseling a child we live to be thinking why he or she alone has such kind of situation and other children do not. For a child whom her parents have brought him or her close and thought that is nature he or she will live to understand and appreciate herself he is (Horowitz et al, 401).
In nature everything pertaining a child and the environment of the child affects how child develop and grow and there are different aspects the influence the children development such as microsystem. It is an immediate environment or the surrounding that the child lives in, such as her family, the daycare and the school and proper nurturing makes a child grow well. The microsystem depicts how the microsystem works for the sake of the child proper caregiving and daycare to enhance the overall growth of the child (Gillies et al, 1113). The Exosystem this is the large environment that the child may not interact with like the workplace of their parents if for example the parent is laid off from work they may not be in a position to pay for child fees and other requirements. The macrosystem this is the largest set of people and has an influence on the childlike wars in a nation, cultural values may hinder the child positively or negatively (Horowitz et al, 401).
In conclusion, it is evident that some children undergo psychological disorder and it is caused by range of factors biologically to the society at large and prevention is paramount to ensure that the child lives and healthy and happy life. Parents should counsel their children properly or sort the support from a psychiatric expect if they are not in position to handle such kinds of disorder. However, it is clear that not all children undergo this psychological disorder but it depends on the biological factors.  
Related Topics