Why Should Women Perceive A Career In Civil Engineering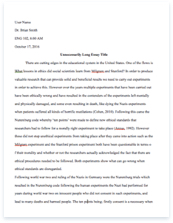 The whole doc is available only for registered users
A limited time offer! Get a custom sample essay written according to your requirements urgent 3h delivery guaranteed
Order Now
Civil Engineers are making some of the biggest advances in our society. As I look back and contemplate the last 20 years, it is astounding to note not just the sheer number of new engineering breakthroughs, but also the quantum of advancements on existing technologies that are making an impact on people and on communities. They are things that we use every day to make our lives better and with half the population being female, we deserve to have a female perspective. It'll only get better with the female perspective. So why shouldn't women perceive a career in civil engineering?
It is not just about gender diversity, but the fact that women offer and contribute to the team from a different outlook. Thus, making the team stronger and better posed to completing the project more efficiently. A young woman who is excited about her career as a structural engineer or as a construction manager, someone who yearns to design and construct tall buildings or magnificent bridges? It would be naive to suggest that the construction industry is prejudice-free. Stereotypes persist even today. For many, a job in construction too often still conjures up an image of a man in a yellow jacket with a helmet on a building site, wearing his trousers slightly lower than he should.
Male domination is one of the biggest obstacles, however, the modern era women should push past this baggage to continue to prove their fortitude in this field. With good core knowledge, analytical qualities and leadership skills, women are capable of leading the construction industry too. Emily Warren Roebling is well-known for her tireless contribution towards the completion of Brooklyn Bridge, in 1883, the world's longest suspension bridge. She was one of the first lady field engineers of her times. This woman and many more have paved way for the modern-day women civil engineers to make their mark. Civil engineering is a gratifying profession for women because of its creativity and sheer perseverance with which an idea is exhibited as a building.
For many, site work is the common perception of work in civil engineering, which is far from the truth. Even though site work contributes to the trade by 40%, the main aspects such as design, analysis, quantity surveying, estimation etc., are primarily office-based jobs, which has a lot of opportunities. Gone are the days, when everything used to happen manually. Technological boom has brought in a lot of benefits to ease unwieldy tasks like design, drafting, estimating, planning and management.
Today, with all the technological advancements in place, it is the right time to step in and pave ways for fellow women civil engineers. The civil construction industry is not a traditional vocation for women, but there is absolutely no reason it shouldn't be. And that is already beginning to change. The dark ages are over. Women are as good if not better than men at this work. It is simply not correct to say women cannot perform all roles in our industry. Young people, both men, and women are less willing to be locked in or out of careers.
Like the other different fields, civil engineering too has more advantages than disadvantages. It is just a matter of perception, few specific experiences, and biases, which has built-in to make civil engineering as a male bastion. The fact that there aren't many women perceiving civil engineering differentiates us – we got an opportunity to be role models. On a long run, with the right attitude, if we, women want to do something that is going to make a difference, it may take some struggle right now but there is so much to learn and so much to explore before we build anything we dream into reality, it's worth all the struggle.
Related Topics