What Are You Building with Your Life's Blueprint?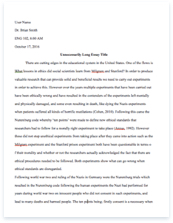 The whole doc is available only for registered users
Pages: 2
Word count: 464
Category: Life
A limited time offer! Get a custom sample essay written according to your requirements urgent 3h delivery guaranteed
Order Now
Can you sweep streets with the same passion that Martin Luther King used to inspire others? On October 26, 1964, Dr. King gave a speech to a group of students at Barratt Junior high, six months before his assassination. In Dr. King's speech "What is your Life's Blueprint?" he asserts that everyone should be the best they can be, no matter who or what they do. In his "Life's Blueprint" speech, Dr. King uses metaphors, personification, and similes, in order to figuratively and eloquently inspire students to perform to the best of their abilities.
In the speech "Life's Blueprint", he uses metaphors to help describe what a blueprint of life is. His use of metaphors describe his ideas in a figurative, and non-literal way. For example, "If you can't be a pine at the top of a hill, be a shrub in a valley" is not actually asking students to mimic plants in nature. It actually means that if you can't be something great, be something that people may not admire, but be the best at it. It also describes how life can open more opportunities to you. The metaphors provide students with an opportunity to think about what a life blueprint is in their own opinion.
Dr. King uses personification to elaborate, or change the way the students feel about themselves and what they want to do. It is used is to emphasize how important life is and how it can offer more choices in life's journey. For example, "Doors are opening to you" doesn't literally mean they are opening automatically. Instead, this is meant to describe the many opportunities that life provides. It is a more creative way of discussing a very common topic.
Lastly Martin Luther King uses similes throughout the speech. When he's using similes, he uses it to compare a tedious and unappreciated job like street sweeping to famous or great people. For example, "Sweep streets like how Michaelangelo painted pictures" compares a poor and menial job to a famous painter and his work. Afterwards he continues with more people, and finally explains why you should always try your best. You could be a small blade of grass in a whole patch, but be the best little piece of grass you can be.
In Dr. King's "Life's Blueprint" speech he utilizes three literary elements, metaphors, personification, and similes. He does this to inspire children to do their very best. Using metaphors allows the readers to think imaginatively; personification gives life a greater meaning; and finally similes, to compare a small job to a big person. Maybe you will become a street sweeper, but street sweep as if you were saving the whole world, no matter the job, be the best you can be.
Related Topics