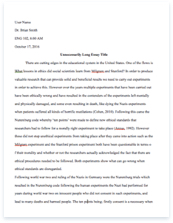 The whole doc is available only for registered users
A limited time offer! Get a custom sample essay written according to your requirements urgent 3h delivery guaranteed
Order Now
I. ANALYSIS FRAMEWORK
1. Strategic Business Units identification.
Before studying deeply about competitive position and market potential as well as strategic recommendations of Wal Mart, we want to expose our understanding of the very important part of company in which is called Strategic business units (SBU). Wikipedia, the biggest encyclopedia, says a SBU is a profit center which focuses on product offering and market segment. SBUs typically have a discrete marketing plan, analysis of competition, and marketing campaign, even though they may be part of a larger business entity.
For this whole Wal Mart case study assignment, we think a SBU is a part of a company for which there exists a specific organizational and industrial manner of serving a distinct market. By the case study of Wal Mart, we all agreed to divide into 3 different segments as 3 big SBUs such as: store segment, Sam's Club segment and international segment. To understand deeply regarding 3 Wal-mart SBUs, we propose the analysis as the below table:
As the international segment is always an interesting topic, we chose this No# 3 SBU to analysis further more in the next steps of this assignment. 2. Determination of the specific market for SBU:
Our analysis will concentrate on the national scale, particularly the Germany market which is a very rare circumstance Wal Mart pulled out of after 8 years developing. 3. Time selection for this SBU's market:
The period of time was from 1998 to 2004. This length of time also was the incorporation and growth period of Wal Mart international strategy.
II. COMPETITIVE POSITION AND MARKET POTENTIAL EVALUATION:
Before going deeper in analysis competitive position and market potential, we take a look at PESTEL framework which is an analytical tool to identify different macro-environmental factors that may affect business strategies, and to assess how different environmental factors may influence business performance now and in the future.
Based on all these analysis above, Germany retail sector is home to a rich and diverse market environment for enterprise in term of Legal, Economic as well as Environment. Beside opportunities, local enterprises also are big threats to those who have plans to extend business to this market. Define the competitive scope
At the first time Wal-Mart came in Germany in 1998, as many markets that it came before, it tried to extend its market by acquiring many hypermarket chain of large local corporation such as Aldi, Wertkauf, Interspar… In our mind, competitive environment of Wal-Mart was Volume.
Key success factors of Wal-Mart
Key success factors for Wal-Mart are low price everyday strategy, multinational marketing capability, managerial in many countries Competitive Force (Porter, 1980)
Market in 2004
In summary
Client and competitor force are 2 factors that have much impact because of Germany is new market to Wal-Mart, to extend and develop Wal-Mart need a appropriate strategy to compete with local retail corporations; habit and awareness of German consumers are not the same with one in US and other countries Wal-Mart entered. Evaluate the intensity of the competition
Industry life cycle position
According to the study, the Wal-Mart entered the German market in 1998. At this stage, the German market is considered as being in the Maturity stage. This can easily be seen in the difficulty of Wal-Mart from the fierce competition of selling price, sales, distribution channels, of direct competitors such as Aldi and Metro. However, the sale continues to grow but at a declining rate as compared to past. Map the competitive groups using various criteria to verify their validity There are lots of competitors in retailing industry. Nevertheless, each opponent has different focus on strategies and market.
Entry and exit barriers
Each market has different characteristics, which leads to various difficulties entry. In the German market, the most difficult of Wal-Mart is the failure to understand local and management policies are not compatible.
Strategic freedom of the company: limited because of 2 sources: Entry barriers high
Competitive topography tigh
Evaluate the company's competitive position and its market potential To get better understand of the Wal-Mart competitive position in the global market, we had better to have a look at its own Value Chain in which the value- generating activities separated clearly.
As you can see in the above diagram, Wal-Mart activities had divided in to two main activities: Supporting activities (Firm infrastructure, Human Resources, Technology development and procurement) and primary activities (Inbound and outbound logistics, operations, marketing and sales and after-sales services). We diagnose Wal-Mart's strength and weakness followed the value chain as have seen in the below table. Besides, the facts have been proved that the 2 cutthroat competitors of Wal-Mart in Germany were ALDI and LIDL.
They are 2 German global discount supermarket chains in which own around 8000-10000 stores across the Europe. They are also the 2 biggest competitors in German with the same characteristics contributed to the failure of Wal-Mart in Germany. Therefore, we take ALDI as the leader in this industry in German from 1998 to 2004 to benchmark Wal-Mart performance in comparison with ALDI. Now, let's have a look at the below table for the detail of what we have benchmarked these 2 biggest competitors in the discount supermarket chain in Germany from 1998 to 2004:
III. WAL-MART DEVELOPMENT RECOMMENDATIONS:
1. Generic strategy
When it comes to marketing Wal Mart business, there are three generic strategies we can use based on M. Porter generic strategies guide. To understand more about it, we can have a look at the below chart:
Strategic target
Industry wide
Particular segment only
The question is " which generic strategy Wal Mart should use to win ALDI in Germany market"? To answer this question, we'd better to put Wal Mart case into each strategy to analyze the advantages and disadvantages in order to select the best solution. We have a comparison table as below:
As it has been shown in the case study and the analysis above, Wal Mart has some strong points: – Very large scale in international as well as in nation. This feature allows them to get the benefit of economic scale, therefore gain the higher profit. – They have over 30 years of experience (count to the chosen period of analysis time) in distribution and working in worldwide. They have been developed successfully efficient supply chain with modern technology, helping them expanding the distribution network easily. – Low-wage foreign market had brought the strong point to decrease the price, thus creating the high competitive advantage
. These strong points are unique allowing Wal Mart have enough capacity to take part in the cost leadership strategy. Meanwhile, differentiation and focus strategies require Wal Mart investing a huge amount of money on product research and development in order to create innovative products.
It would take much time, initial financial investment and specialized experience in which Wal Mart was not really afford for all at that moment. In addition, the overall cost leadership strategy develop in the Volumn environment which is analyzed above is very strong power while differentiation and focus strategy couldn't be as strong enough in this environment. In summary, we propose Wal Mart should use the overall cost leadership in the industry wide to take advantages of its strong points. 2. International strategy
Evaluation of the advantages and drawbacks of standardization and adaptation policies:
Choice of the internationalization strategy- Wal Mart lesson of failure:
As we can see in the case study, Wal Mart came to Germany market in 1998 with the acquisition of 21 Wertkauf hypermarkets. In the next year, they acquired 74 units of the Interspar hypermarket chain and remodeled all these stores to American standardization. Therefore, Wal Mart applied the international strategy in Germany market from 1998 to 2006. The facts have been proved that Wal Mart didn't use the adaptation development logic for this typical market.
I can take a few examples as below: – Germans didn't quite like the same products as American. Many American festivities such as Halloween hardly exist in Europe, so why should customers want to buy related goods. On the other hand, Wal Mart ignored the deep-rooted German carnival tradition. – American bread didn't meet the expectation of German that has over 350 different sorts of bread. Unfortunately, they failed and left the market after 8 years operating with the pre-tax loss of at least $1billion. In this case, we have a better recommendation for Wal Mart to propose the international strategy as the multinational strategy in which their strengths would be enhanced and weaknesses would be limited.
The reasons will be explained as below: – As the above analysis of advantages and drawbacks of standardization and adaption, Wal Mart has their own unique strong points of efficient supply chain, research and development, technology in which the drawbacks of adaptation could be solved. Therefore, Wal Mart should use adaptation strategy in order to take full advantages of its. That's the reason why global strategy and international strategy are not the first choice for Wal Mart case. – Wal Mart have been successful in others countries market such as UK, Asia, China, Japan and so on, by implementing the adaptation strategy.
They have their own experience, ability on how to enter and win the host country. – Due to the different culture and customs of each country in the regional blocks, Wal Mart should use specific strategy in a particular host country in order to create its own techniques and key competitive advantages. – The multinational strategy is alignment with the organizational profile which is analyzed in the above SBU analysis. In this alignment, the decision making power should be dispersed. In conclusion, Wal Mart should use Multinational strategy in order to win the German market from 1998 to 2004. 3. Relevance of cooperation strategy
LINKED
Partners' field of activity
UNLINKED
UNLINKED
LINKED
Partner's market segment
The cooperation strategy of Wal Mart should be lateral cooperation and correlation cooperation. In UK, Wal Mart had become partnership with ASDA- Britain best value food and clothes superstore. They become alliance. Following this cooperation strategy needs a lot of time to find the suitable partners in the host countries.
However, in order to carry out the adaption strategy, Wal-Mart need to cooperate with local companies which are deeply understanding the local market needs. In Germany, Wal Mart had acquired 21 Wertkauf hypermarkets in 1997. In the next year,Wal Mart acquired 74 units of In-terspar hypermarkets chain of Spar Handel AG, the German unit of French Intermarche Group. By this acquisition, Wal Mart has proved the correlation cooperation in which company found the same industrial partners and then took over it.
4. Marketing process
Segmentation and Targeting
As the international strategy of Wal Mart has shown, we divided into different segments based on the host consumer market. There would be a lot of potential segments categorized by geography, demography, psychograph and behavior of the customers; however, Wal-Mart should target to the above table of Germany segment. The company should focus deeply on Germany market in which the low income people should be in the first list of potential customers. Otherwise, these group of people prefer to shop at convenience stores at convenient hours and they're willing to shop everyday especially in the weekends, special holidays. Therefore, we make a recommendation that Wal-Mart :
Should do more relevant researches on industrial market and customer behaviors so that it could adapt to the local market. As the result, the company should provide need-suited products to the local people based on their culture and customs. Must improve customer satisfaction through more accurate forecasting of demand. Must learn, understand and develop better relationship with German suppliers in order to improve the stability of supply chain and lower distribution costs.
Positioning:
High Quality
High Price
Low Price
Low Quality
Wal Mart has been positioned "Every day low price" & "fair quality" with large distribution network in customer mind. However, when it came to Germany and scoped with 2 biggest competitors as ALDI and LIDL in the cut-throat competition, Wal Mart lose its competitive advantage of cost leadership. ALDI and LIDL also provided the very good cheap price with the acceptable quality of products and especially tailored for the local customer needs. We recommend that:
Wal Mart should cut down the cost and maintain the cost leadership. Wal Mart might have worked with a local partner to create a German venture so that Wal-Mart could bring its expertise in improving retailing efficiency while its partner could provide Wal-Mart its local supplier and labor union relationships, brand recognized by customers for low prices, and local market and legal knowledge. 5. Marketing Mix
Related Topics