"Voices Of The Self" by Keith Gilyard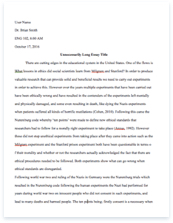 The whole doc is available only for registered users
A limited time offer! Get a custom sample essay written according to your requirements urgent 3h delivery guaranteed
Order Now
Keith Gilyard in his book Voices of the Self states a position about pluralism in education. Giving his own experience as well as others within the educational system as an example, Gilyard demonstrates what can happen if schools only acknowledge, accept, and represent the culture of the majority. Gilyard, as an African-American boy suffered the uprooting from his atmosphere to be placed in a ?divided by two? new environment. After he finished first grade, he and his family moved from Harlem to Queens. Both White-American and African-American children inhabited his new neighborhood, but they were divided in different school districts. Since his family lived within the range of the school where all White-American children lived; he had to attend that school. There was where the author started to feel the separation from his culture.
Gilyard states that there are many other cultures other than the White-American in the U.S., such as the African-American culture, as well as different languages other than English, such is the Black English (a dialect from English), and they ought to be accepted in schools. The non-acceptance of children's culture in school will lead, for Gilyard, to loss of identity within school, and consequently to a search for one's identity in other places that may lead to bad experience in life. Moreover, Gilyard pursues goes beyond the school system when he talks about pluralism. With many references about American history during the late 60?s, he shows the pluralism within American society and the consequences of the non-acknowledgement, non-acceptance, and disrespect of this multiculturalism within this society.
To illustrate his loss of identity in school, Gilyard tells us about his first day of school in his new neighborhood Queens.
At the moment of introducing himself in front of his classmates Gilyard adopted a new personality. Since he could not find himself contained and represented in school, he was the only Black student in the class, he would rather assume a new persona and be called by a new name. A person with a name only used and known within school?s ambit. He felt that his ?real name? and his ?real personality? did not fit in school.
Then, Gilyard tells us the story of James Meredith, an African-American College student who had to attend College followed by guards because he was attacked by people who refused the participation of Black students in that institution. With this example the author shows us the context in which America was immerse in the decade of the 60?s, the time that Gilyard attended Junior and High schools. The non-acceptance of cultures others than the culture of the majority went further than school?s limits.
Personally, I share the idea with Gilyard of a multicultural school system where all children can see themselves represented, but I am afraid that his position is a utopia. Nowadays, twenty-five years after Gilyard's experience in school, things have changed. Today, schools accept much more the multiculturalism in this country and they try to represent some of the cultures. However, a school where "all the cultures" are represented hasn't been created yet, and schools where a first language other than English is accepted and taught lack in taking seriously the fact that English ought to be taught in order to achieve success in this country. Most of the students who attend these schools can hardly write and speak in English when they reach to College.
No one can deny that the U.S. embraces a wide variety of cultures. Many people have migrated to this country and have brought different traditions and languages. The descendants of these immigrants carry on this heritage and constitute what America is. As a multicultural country, the U.S. ought to acknowledge and accept all the cultures that are included within it. Children of the immigrants must see their cultures recognized in their schools. For instance, languages others than English must be taught in school or historical figures from all the backgrounds must be recognized and their contributions to the American history must be taught.
I am an immigrant myself, but I have never suffered from feeling isolated from my classmates while attending school. Since I attended school in my country I was culturally represented. However, my case isn?t usual among my generation in this country. Most of the young people in the U.S. are descendants of immigrants; they have lived in a ?broken in two? culture all their lives. These people needed to see their cultures represented when they were in the pre-college schooling in order to feel identified. They, as children, needed to feel identified within school to develop a sense of being contained and accepted by their society.
Nowadays, the school system in the U.S. has changed. Thus, it has evolved in a way that accepts most of the many cultures that inhabit this country. There are many schools that teach their programs in different languages other than English. Most of the sons and daughters of the immigrants attend those schools. Nevertheless, most of them can hardly express themselves in English when they arrive in College. To illustrate, I remember my first ESL class; the majority of my classmates were descendants of immigrants. All of them had at least attended High-school in this country. All of them had attended bilingual schools.
None of them could express his or herself in English. None of them passed the ESL (English as a Second Language) class by the end of the semester. Most people who cannot negotiate English language cannot successfully develop a professional career in this country. Upon today it has been shown that the recognition of multiculturalism within the school system in the U.S. could not be implemented. A question is raised: could it ever implemented? I certainly do not think so. Therefore, even though I strongly share with Gilyard the idea of an integrated multicultural school system, I believe is a utopia considering the failure of its accomplishment.
Finally, the ideal of a multicultural school system functions theoretically but not practically.
Related Topics