Vanity Fair Magazine Coverage of Jeffrey Wigand Story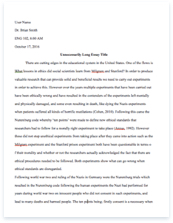 The whole doc is available only for registered users
Pages: 7
Word count: 1544
Category: Tobacco
A limited time offer! Get a custom sample essay written according to your requirements urgent 3h delivery guaranteed
Order Now
Introduction
According to Mike Moore, former Attorney General of the State of Mississippi, Jeffrey Wigand is a courageous, intelligent and driven individual. Though, Wigand himself declines to be seen as a hero, "just ordinary people placed in extraordinary situations" he has a pioneering spirit for having to go an extra mile in our collective effort to save lives. This will not however deny anyone from giving praise where is due and with certainty. Biography
Born in New York, Jeffrey Wigand grew up in the Bronx. His parents were Catholic and he was raised in strict Catholic principles (Brenner 1996). He served in the military for a brief period, later earned both the Master's and Ph.D. from Buffalo University. While attending a judo class in 1970 he met Linda, his first wife. They divorced shortly after Linda developed multiple sclerosis.
He worked for several healthcare companies including Johnson &Johnson, and Pfizer before working for Brown and Williamson. Furthermore, Wigand was also employed as the marketing director and general manager at Union Carbide. This was then followed by being the vice president at Technicon Instruments. It is in 1981 while at Johnson & Johnson that he met Lucretia, his second wife.
In December, 1988 started working for Brown & Williamson but only to be fired 5 years later on May 24, 1993. Eighteen months later, Wigand began teaching Japanese and Science in DuPont Manual high school. In 1996, he was recognized for his teaching skills and was awarded the Sallie Mae First Class Teacher of the Year.
His cooperation with the government agencies to investigate the tobacco industry was very vital in discerning how safe the nicotine in tobacco products is (Brenner 1996).
His addresses on public health and smoking on issues concerning smoking earned him national prominence. During an interview with 60 Minutes he revealed the truth regarding the tobacco industry's disregard for health and safety. Brown &Williamson filed a lawsuit against him due to the public disclosures but it was later dismissed.
Dr. Wigand formed an organization, Smoke-Free Kids which addresses tobacco use by the teens. He has received many awards for his unrelenting efforts.
The Jeffrey Wigand Story
In March, 27 1994 "fire safe" a story on Phillip Morris was aired on "60 minutes" (Okrent 1996). However for the fear of negative legal implication, Philip Morris kills the full impact of the story. As a consultant for the production of the story Wigand is reportedly paid $ 12,000. In the same year August 3, after a long period of indecision, Dr. Wigand agrees to be interviewed together with his wife on "60 Minutes" by Mike Wallace.
Later on February 4, 1996 Bill Cater reported in the New York Times of the intension of 60 Minutes to interview Dr. Wigand. The reporting asserted that news executives were seeking a way to air the interview in response to critics regarding news division.
 The May 1996 issue of Vanity Fair Magazine, Marie Brenner wrote of Dr. Wigand as, "The Man Who Knew Too Much". In her reporting, Brenner centers on the personality of Dr. Wigand and his role in the government battle against the tobacco industry.
The Wall Street Journal also got the opportunity to interview Dr. Wigand. He accepted to talk to the journalist but with his name withheld. The story addressed the fact that "60 Minutes" had found Dr. Wigand story a hot subject to tackle (Okrent 1996). It was to the effect that the tobacco companies in the U.S added some chemicals to cigarettes which made the nicotine inhaled more potent. For this story the journal won a Pulitzer Prize in 1996.
The Man Who Knows Too Much
In her article in the May 1996 issue of Vanity Fair Magazine, Marie Brenner writes of Jeffrey Wigand as never been ambitious to be a protagonist in the tobacco wars. He not only comes to conduct with the American nightmare where he loses control over his life but he feels pressured to reconstruct his life (Brenner 1996).
He is bombarded by requests for interviews, appearances on the front pages of the top newspapers and TV vans pursue him up to the high school that he teaches. He is restrained by a court order to share his experience at the former employer. Yet a series of charges are hurled against him by Brown &Williamson. Dr. Wigand at the moment seems not to care a dime about being the national figure that most people crave for. This, he knows comes with a price, the most obvious being the loss of the family and financial standing. Already at the DuPont Manual high school where he teaches, Dr. Wigand receives $ 30,000 a year for teaching the sciences and Japanese. Peanuts compared to his salary at Brown & Williamson.
He is morally outrageous and negative on issues personal. When asked, about his opinion on his wife and brother he retorts bluntly "Ask him/her". On answering to the phone Wigand is beyond snappish. He responds with anger and desperation. He is so much taken in by the smear campaign which he believes if successful then no other whistle-blower will ever emerge from the tobacco company. He is also worried about his personal safety and also that of his family, who have been receiving incessant death threats (Brenner 1996). These threats notably a bullet placed on the mailbox made her wife to show him the door.
At the same time The Wall Street was reporting that deposition given by Wigand in late November was going to be used in a lawsuit against major American tobacco companies. He is noted as the key witness to those that seek reimbursement over expenses that result from illnesses related to smoking. It emerged that his experiences at brown &Williamson were finding relevance far and wide. If cigarettes were proved to be addictive, the companies responsible will have to settle thousands of plaintiff actions coming as a result.
Dr. Wigand is surprised at the loss of privacy. Even the death threats that he receives is broadcasted for anyone to see. As the anti-tobacco forces portray Wigand as courageous, the pro-tobacco forces are on a campaign to demonize him (Latour 1996).  These tactics to break Wigand down by constant harassment does not bear fruit. His stubborn nature sees him through.
Though a nonsmoker Wigand had kept with the company, Brown &Williamson since the latter believed in his ambitiousness and what was perceived as great potential. He bought himself a two-storied brick house in a suburb. His work place struck him as rather old fashioned. Nonetheless, there were no proper experts to aid in the study about the health hazard of tobacco. There were studies done in 1960s in the same company that proved the addictive nature of cigarettes and their role in causing cancer. These facts were learned by Wigand after he had left the company.
The staff at B&M stayed together. The pay was good and with lots of benefits. Wigand was set apart from the rest of the staff. He was simply a different animal. He trusted no one. At his department however Wigand was able to make various transformations. He hired both a toxicologist and a Physicist, studied fire safety and purchased new computers. To his surprise he comes to know that the hazardous nature of tobacco was known to the company since the 70s courtesy of a health research carried out in Switzerland. From this day onwards he kept a scientific diary. He also learned that his safe-cigarette initiative was being cancelled. This came amidst reports that the average child begins smoking at 14. At home he would face questions from his kids whether or not he does kill people.
In 1992, he was summoned to the office of a senior executive. He was feared to be talking a lot and therefore difficult to work with. On March 24, Wigand was escorted out of the building and his scientific diary confiscated (Brenner 1996).
The Insider Movie
This movie is an account of events that led to Dr. Wigand's "60 Minutes" interview (Okrent 1996). Though twice set for the film Dr. Wigand did not have a say in the final script. His request for the change in actual names of his daughters was tolerated. Russell Crowe playing the role of Wigand is the prime witness to lawsuits filed against the tobacco industry by 50 states. Russell is a top scientist and an insider to go public against his former employer.
The movie addresses everything from the smear campaign to issue to do with family that was first disintegrating.
References
Allison P, (1996). When Jeffrey Wigand Talks, Tobacco's Foes Listens. Retrieved on 9th March 2009 from http://www.faqs.org/abstracts/Law/His-words-boost-tobacco-cases-when-Jeffrey-Wigand-talks-tobaccos-foes-listen.html
Brenner, M (1996). The Man Who Knew Too Much Vanity Fair Retrieved on 9th March 2009 from http://www.vanityfair.com/archives
Ernest G, (1996). Inside the Tobacco Deal, Retrieved on 9th March 2009 from file:///c:/Documents%20and%20Settings/Administrator/Desktop/fullindex.htmlhttp://www.faqs.org/abstracts/Law/His-words-boost-tobacco-cases-when-Jeffrey-Wigand-talks-tobaccos-foes-listen.htm
 Latour A, (1996). Smear campaign on Dr. Jeffrey Wigand Retrieved on 9th March 2009 from http://online.wsj.com/home-page
Okrent D, (1996). 60 Minutes Set to Interview Ex-Tobacco Executive Tonight Retrieved on 9th March 2009 from http://www.nytimes.com/pages/todayspaper/index.html
Related Topics