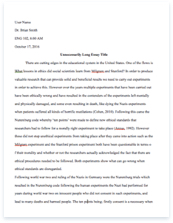 The whole doc is available only for registered users
A limited time offer! Get a custom sample essay written according to your requirements urgent 3h delivery guaranteed
Order Now
Now that you know the essential concepts about gamification and game design, it's time to use them. For this final task, we ask you to bring together creativity, technical feasibility, and business realities. You are approached by Rashmi Horenstein, the CEO of ShareAll, a prominent company in the hot collaborative consumption space. (If you aren't familiar with the concept, some good resources are CollaborativeConsumption.com and the March 9, 2013 cover story in the Economist.) She knows you are one of the top experts on gamification, which she has heard can revolutionize business. She asks you to present a proposal for a gamified system to take her business to the next level. ShareAll's mission is to make shared use of products and services as common as individual purchases. It follows the path of companies such as AirBnB, Buzzcar, and Uber, which allow sharing of particular products (cars, housing, etc).
ShareAll's patented technology makes it easy for consumers and business to share any product or service. ShareAll has also developed a global virtual currency, called Shares, which can be used to purchase access to any asset in the system. Shares can be exchanged for real money, and users can generate more Shares by sharing items or volunteering their time to complete tasks for others. ShareAll charges a small transaction fee whenever Shares are generated, traded, or spent. Therefore, the more activity, the more money ShareAll makes. Horenstein tells you that she cares about the social benefits of sustainability. However, ShareAll is a for-profit company, with investments and partnerships from some of the world's largest corporations, so profits matter. Horenstein believes gamification could significantly help ShareAll's business. She is eager to read your ideas.
Provide a detailed description of your proposal, organized according to the design framework:
1. Define business objectives
2. Delineate target behaviors
3. Describe your players
4. Devise activity loops
5. Don't forget the fun!
6. Deploy the appropriate tools
Define Business Objectives
Some of the key views shared by ShareAll are
* According to Rachel Botsman, the market for consumer peer-to-peer rental market alone is worth $26 bilion. Lot of it is waiting to be tapped. (Article – http://www.economist.com/news/leaders/21573104-internet-everything-hire-rise-sharing-economy) * Though there are social benefits like sustainability, ShareAll wants to make profit. * Shareall's strength is also the patented technology.
* Lack of awareness among people on such a model of business could be a threat * Security aspects may play a part in peer-to-peer shared consumption. By applying the principles of Gamification, Shareall can
* Attitude change: Get people to think on collaborative consumption. This would increase the customer base of ShareAll. * Financial benefit: Gamification can showcase the immense financial benefits the customers derive from shared consumption both as savings and earnings. * Feeling of contributing to society's wellness: Gamification can create a feeling of contributing to sustainable society. This could also instill pride in people's thought process. * Joy of sharing: There could be an aspect of Fun and happiness that can drive people to share and use other's goods and services. * Network is your net-worth: Gamification can help build a new network\friends for people and keep them engaged as a group. Delineate target behaviors
* Identify more\newer objects\services to share: As a famous quote goes "All of us are more intelligent than each one of us", the people who start using and understanding the concept of ShareAll could identify more objects and services that can be shared. There would also be innovative ways to share that the people can tell ShareAll. This would ultimately result in profits for ShareAll.
* Establish a rapport: People who use the ShareAll framework would finally end-up building a rapport with the fellow people and with ShareAll. Collaborative consumption could become a part of the culture of the people. * Financial effects: A side-effect of this collaborative consumption would also mean that people tend to buy less and save money, rather some would even earn money from sharing some goods that they themselves are not using. Handling of these financial effects in a transparent and effective way could encourage people to participate more in ShareAll. * Some of the metrics that can be captured and shown are
* Savings per user
* Earnings per user
* Engagement index
* Repeat users
* Reference users
* # of new ShareAll objects
* Contribution to sustainability index per user\category of object etc. Describe your players
The players possibly need to have computer knowledge on browsing the web and\or a mobile device which can internet browsing capabilities. As ShareAll has different categories of services that can be shared, the age of the customers could vary based on the object\service that is being shared. Example – Cars cannot be possibly shared by people under 18yrs. But in the context of Gamification, the age group would be 16 to 80 years. Gender and people orientation should not have an effect. These players (not always necessarily but could) have an inclination to give something back to the environment or want to have an economic association with their tasks. These could be something that any Gamification design for ShareAll needs to be considered as these motivation facets would make the players keep going. The players are the current customers of ShareAll and the whole bunch of the big untapped market or the new customers.
Devise your activity loops
ShareAll already has a concept of shares which can be leveraged to gain engagement with the people. Engagement loop: One way to keep engaged is by showing the people, what can they save or earn by sharing the assets. This would lead to their action of sharing more. The feedback to them could come from the saving. Motivation – Show what can they save\earn –> Action – People share their assets –> Feedback – They are richer by $x. The circle completes by showing if they do share more by extending more of their assets, they would be richer by $x+$y. Each time a person logins to the ShareAll system, person gets to see that he/she has saved $x…Person gets inspired. This picture of engagement loop can also be depicted in a sustainability scale…saving of trees, saving fuel, saving other natural resources, saving people time etc. Progression loop: Multiple progress loops are possible to be implemented.
* Based on the number of times the person has used ShareAll, provide a virtual savior badge. It can start from "Uncapped" and progress to "Fresher", "Associate", "Expert" and "Coach". This can also be attached to the number of newer category of assets these people have introduced to ShareAll. * To keep the loyal customers happy, based on the badge level the person is, ShareAll can grant bonus shares…more shares as people progress on badge level.
* There can be a FriendMedal reward system to provide incentives to people who refer other people to ShareAll. This can be a pictorial colorful medal. If a person gets 5 people into ShareAll, he/she gets brown medal and 20 friends would get grey medal. (the numbers and the color can be decided by the business and UI designers :-)) Appreciation from ShareAll for people who make new friends and use\share the assets of\with newer people can be a motivator. The appreciation can be in form of lesser transaction fee for collaboration between two or more people who have not worked together earlier. Don't forget the fun
Throwing up new surprises in ShareAll, like a "no transaction fee" week would get lot of people jump into the platform. People can also be allowed to create their own visualizations for themselves. Example – I can become "Goalie Gopadi" when I am sharing my football or "Driver Gopadi" when I am pooling my car. The homepage for individuals can be made customizable that could give the people their way of thinking to be highlighted. (Example – where to place the badge, where to show earnings etc can be customized by the individual users) Occasionally there could be a ShareRace within a category in ShareAll.
Who uses max Shared service in a week in a particular category? Discussion forums can be extremely fun with serious insights…This can also be linked to the badge people have. Allowing people to play with their probable financial\social contributions can also be fun. (The parameters to the predictive analysis(described in the next section) can be tweaked by individuals based on individual preferences).
Deploy the appropriate tools
The system will be put on a server on the internet. The access to this can be via PCs or any mobile device which has an internet connection. A social collaboration can also be put so that people can share their successes\badges\award information on their facebook\twitter\etc accounts. This social media integration should be available in the system. The contribution to society and the financial benefits should use predictive analysis. Predictive Analysis would fit in to give the following picture – If I continue to spend on new things at some rate of inflation, some rate of earnings increase, by 2025, I would have spent $x. But by using ShareAll if I buy only necessary things and if the communities around me use ShareAll, I would have spent $x minus something. This would also encourage people to talk about this in communities and act as advertising without cost involvement. Geo-location integration can be put in place so that local groups of ShareAll can drive community events and it's easy for search appropriate shares in the vicinity.
Related Topics