Unethical Decision Making Within Penn State University and the NCAA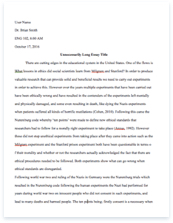 The whole doc is available only for registered users
Pages: 8
Word count: 1884
Category: Life
A limited time offer! Get a custom sample essay written according to your requirements urgent 3h delivery guaranteed
Order Now
The Penn State scandal was perhaps one of the most morally intense issues of the last decade. Throughout his 40 years of coaching, Joe Paterno was synonymous with values and morals that were considered seriously lacking in most of major college football. One of its former employees embroiled Penn State, a respected institution for its performance on the field as well as off it, in a scandalous sexual assault case. The fateful decisions that Penn State's administrative leadership chose, set the university on a course that would alter the lives of everyone involved, and ultimately changed the way people would look at the school and damaged the character of the most revered coach of our time.
To be able to understand the Penn State scandal, first one has to understand the legacy of Joe Paterno at Penn State, and the giant shadow he casted over college football. Paterno took over the football program at Penn State in 1966 and it was not long before he turned the team into a national powerhouse. Paterno, affectionately known as JoePa, led the Nittany Lions to two National Championships and he himself was awarded Sportsman of the Year in 1986, for not only his achievements on the field but for his accomplishments off it. Paterno also sent 350 of his players off to the NFL and donated more than $4 million in support of the university. In total, he coached the Penn State football team for 46 years, winning 409 games with 37 bowl appearances.
Additionally, Joe Paterno believed that his players should not only excel on the football field but also in the classroom. In 2011, the same year the school was rocked by the scandal, researchers found that the Penn State football team was top in academic performance, and Penn State graduated better than 80% of its players in six years or less.
Jerry Sandusky had been a player at Penn State from 1963 through 1965. In 1969, Joe Paterno hired him on as an assistant coach at Penn State. In 1977, Sandusky founded The Second Mile, which was his charity for troubled children. By 1998, questions were being asked about Sandusky's behavior with a child in the shower, which included a "hug". Investigators told Sandusky that he should not shower with children in the future with Sandusky replying that he would not. Sandusky also confessed to investigators that he had done the same thing with other boys in the past. Vice President Gary Schultz, who was handling most of that situation, chose to close the book on that case with a simple email to his peers. This began a troubling scenario where university leadership began a consistent pattern of acting alone without any oversight from the university Board of Trustees. At the very least, the Board should have been aware of the situation.
Sandusky was given "emeritus" status in 1999, which gives the person who holds that rank many privileges, including access to Penn State facilities. The timing of the decision seemed to be odd given the fact that Sandusky had gone through the allegation in 1998. Nonetheless, university leadership signed off on giving Sandusky the title, paving the way for future assaults. In the next two years, Sandusky assaults two different people, the second of which school janitors actually observed the assault but did not report it. The janitors were so worried that if they did report it they would be fired immediately. These particular employees were ethically aware of the dilemma, they clearly knew something was not right, however they were too afraid to come forward because they believed with the culture at Penn State the football program was more important than telling the truth.
Leadership at all levels of Penn State failed in their responsibility to report the sexual abuse. This includes Paterno, Penn State president Graham Spanier, athletic director Tim Curley and Penn State vice president Gary Schultz. These men were among the top of the food chain at Penn State and whatever they chose to say would be taken seriously. This is especially the case with Paterno, the all-time win leader in major college football, a man that brought billions to the university, and had the respect and admiration of the entire state. Joe Paterno embodied class and seemed to win the right way, in a moral and ethical way, that through the years of his tenure got himself, his program and the university out of controversies.
Graham Spanier, the president of Penn State, was sent to jail for his part in covering up the Sandusky scandal. His charges included, perjury, obstruction, endangering the welfare of children, failure to properly report suspected abuse and conspiracy for his failure to respond to complaints about Sandusky showering with children. When faced with this particular ethical dilemma, it seems that Spanier decided not only stay to silent but also to lie when he was questioned about Gerry Sandusky's prior abuse allegations. It is hard to tell what caused the barriers that facilitated Spanier's unethical decisions. Was it a simple conflict of interest? Did he feel that the football program that created so much revenue was more important to protect than the innocent was? Did he think he was protecting his staff, including Sandusky? Alternatively, was it a matter of self-preservation, his only concern was of keeping his job or was it to avoid negative publicity? Whatever his motivation Spanier helped to erode, in just a few short months, the trust and respect that Penn State took decades to cultivate.
Of course, Spanier did not act alone in his poor ethical decision-making. He had help from a staff developed from a culture that learned to look the other way and not to ask questions. Additionally, blame can be placed on the Board of Trustees as well. One of the functions of the Board is to provide oversight of the administration to be able to maintain intentional control. Granted, the Board was not aware of the Sandusky state of affairs until it was much too late, however it seems that the Board was never in a position to grant much oversight of the administration. When university employees are too afraid to come forward out of fear that they may lose their jobs, it would seem that the Board lost interest with the administration side of the university long ago.
Of course, one of the questions remaining are what actions could Joe Paterno have taken that would have been considered to be more appropriate. One of the criticisms of Paterno's mishandling of the situation was how he never followed up after reporting his knowledge of Sandusky's actions to school president Spanier and vice president Schultz. Whether or not he could have done more, remains a divisive issue and is certainly part of the Board's decision to fire him from Penn State. Lost in all this is whether Penn State and the NCAA did everything in their power to properly train their employees for a scenario such as this. The university, and certainly the NCAA, has a responsibility to protect their students, employees and the people that come onto the campus. From a university standpoint, it was an unequivocal failure on their part. Even when the evidence was mounting against Gerry Sandusky, they still saw no need to take away his access to university facilities or to alert the Board of Trustees. For an individual to behave properly or ethically, there has to be a certain level of awareness, particularly by the employees, on how to engage the proper protocols when the obvious and not so obvious ethical violations occur.
Because of their lack of concern, action and foresight, Penn State opened themselves up to possible litigation because of Gerry Sandusky's sexual assaults. Penn State had to face civil suits from 31 people, all of them men, which accused Sandusky of sexually assaulting them. Out of the 31 total suits, 25 had been settled. When the men who were deciding to cover up this situation, or Sandusky for that matter, who were probably not thinking of the disclosure rule, where you might base your decisions on the thinking "How would I feel if this got on the front page of the New York Times, or ended up on 60 minutes?" Ultimately, that is exactly what happened. After the story broke, it could be seen on every single news media outlet in the country at all hours of the day. Bloggers, pundits and average citizens weighed in on the controversy. If any of them had stopped to think, they might be worried that their actions would be plastered all over for the world to see, then perhaps much of the damage to the school and their own reputations could have been avoided.
Through the aftermath of the Sandusky sexual assault scandal, Penn State is still feeling the aftershocks. There are seven civil cases as well as criminal complaints against three former Penn State administrators pending. Former university president Graham Spanier is striking back with a defamation case against Louis Freeh, the author of the Freeh report. Included in the suit is former assistant coach Michael McQueary, who witnessed one of Sandusky's assaults and reported what he saw to Paterno. McQueary is also suing Penn State for $4 million in a whistleblower lawsuit after he was not retained in 2012. Additionally, thanks to a settlement between the NCAA and a Pennsylvania legislator, the NCAA restored 111 victories that were taken away from Joe Paterno, putting him back in first place of the all-time wins list and symbolically returning some of the lost dignity that was lost.
After everything that Penn State has gone through, it seems that Penn State has learned from their past mistakes and has made strides to be more transparent. Recently, Penn State has had more of an issue with rapes and sexual assaults on their campus. One of the fraternities on the campus, Kappa Delta Rho, has come under fire for numerous violations, such as hazing, alcohol use, and the worse charges of sexual assault and rape. It was also discovered that the fraternity started a Facebook page that showed nude and semi-nude woman that were asleep or passed-out. The situation with Kappa Delta Rho has escalated to the point that Penn State students have started to protest outside the frat house. This time, Penn State has seemed to take swifter and more meaningful action by initiating an investigation led by the police into the fraternity and into the Facebook page. Also, Penn State created a taskforce to look into dealing with new ways to deal with sexual assaults and the university's vice president, told trustees that these situations showed that the school needs to do more to address sexual assaults and misconduct.
In conclusion, the Penn State scandal not only destroyed the lives of the victims of Gerry Sandusky, but it seriously damaged the reputation of a once respected university and a renowned coach. How the situation was handled and the decisions that were made not only made the situation worse, but also cast a spotlight on the university that shown brightly when the original intention was to keep things quiet. The decision makers at Penn State showed what happens when you put more emphasis on protecting a misguided set of principles, based on protecting a culture instead of defending the people and values that matter.
Related Topics