Understanding the Past Creates an Even More In-Depth Understanding of the Future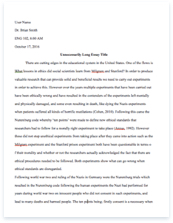 The whole doc is available only for registered users
A limited time offer! Get a custom sample essay written according to your requirements urgent 3h delivery guaranteed
Order Now
Thank you for allowing me to share with you my perspective History and why studying it. The study of world history has altered my viewpoint of the world I live in through two main ways: pattern and context. History repeats throughout it some of my concept's history, social, law, and philosophical ideas repeatedly, so understanding the past creates an even more in-depth understanding of the future. This event is the pattern that world history provides. Developing a deeper understanding of the entire world's cultures throughout History also creates knowledge of one's own culture. Likewise, I live by developing an understanding of and hope for the future through the patterns of world history and developing an understanding of and appreciation for the different cultures of the world and my own culture through the context of world history.
Hopefully, by the end of this essay, the committee members will understand why the subject of History is so important to me. I know it is cliché to say I have always known I wanted to go to college, but in my case, it is true. However, circumstances prevented me from going back to school sooner. One day I woke up, and I was a 55-year-old woman! I was forced to realize it is now or never! I have various disabilities that make learning challenging, so nobody is more surprised, or ecstatic, than me when I walk onto a college campus. I think History teaches you valuable lessons that most do not consider. I can tell you first-hand, our History shows us how we evolve. On a personal level, as a child, my life had no structure. I grew up under conditions that no child should ever have to experience.
So, understanding my past helps me to overcome barriers and respect what I have accomplished. More importantly, remembering my History has taught me not to repeat the same mistakes with my children or in life. It is inspiring to read that others have overcome economic barriers for centuries, and many of the most intelligent people in History have prospered even with learning disabilities! Thus, I feel the account should be used more as an inspirational and educational tool for disabled people. Another lesson history teaches there is compassion. When you read some of the horrible conditions humans had to endure in the past, it triggers our empathy. A world history student can look at the patterns of progress being made in the field of bigotry and hatred and feel hope for his or her own future. The victories seen across the world throughout History provide a great pattern that inspires confidence in many History shows us respect and honor. This is especially so when you understand the sacrifices that heroes have made for us to have the freedoms and privileges we enjoy today.
Additionally, I think historical events impact every academic major. This is especially so in the studies of human behavior because History influences our understanding of racial inequality, cultural diversity, and discrimination. History provides a lifetime of research and the cause and effect of these events. Likewise, every career has some features of the law and regulations they must uphold.
Thank you for letting me share my opinion on why History is important to me.
Related Topics