Understand Health And Safety In Social Care Settings Argumentative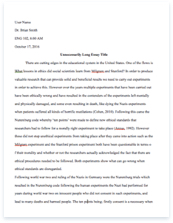 The whole doc is available only for registered users
A limited time offer! Get a custom sample essay written according to your requirements urgent 3h delivery guaranteed
Order Now
(ai) a list of key legislation are COSHH, RIDDOR, manual handling regulations, health and safety (first aid) regulations, health and safety at work act, Control of Substances Hazardous to Health, Food Safety Act 1990 and Food Hygiene Regulations (aii) All of the above mentioned legislations are crucial part of health and safety. Every piece of legislation describes not only clear guidance of responsibilities but also how should we maintain health and safety to eliminate risks for the people using social care settings. (aii)By following the health and safety policies and procedures the social care worker is following all requirements of working within the law and abiding by safer ways of working.
(aiv) social care worker
Take care of their own health and safety as well as others.
Must use personal protective equipment as necessary
Must adhere to achieve training and follow instruction
Must use personal protective equipment as necessary
To understand and comply with health and safety instructions and procedures Employer/manager
Provide a safe place of work
Provide information, instruction, training and supervision as necessary Provide personal protective equipment
Provide safe and risk free working environment
Others such as visitor's supporters, volunteers or contractors Follow the instruction and guidance as provided
Respect and obey the rules and legislation imposed by authority
(Av) someone in a wheel chair moving from his bed to his chair health and safety lies with him needs to check if brakes are on can he get hold of someone if he falls from his chair. (Avi)Use of equipment: must be used by someone with specific training if they haven't had training they wouldn't know how to operate it properly and could damage it or hurt some one. First aid: need to know different aspects of first aid as they could put someone in more danger if not trained in first aid they could cause more damage to the person receiving first aid.
Medication: need to know the different aspects and types of medication need to be trained first if not could give out wrong medication or not enough or even too much causing an overdose. Assisting moving and handling: need specific training due to where you need to stand and how to assist and lift the person in the moving and handling, could lift the person wrong resulting in hurting them or even yourself. Emergency procedures: all members of staff must be up to date with specific training due to understanding the correct fire extinguishers such as their types and what they should be used for. All social worker should know where the main switches are to isolate gas, electricity or water.
Food handling and preparation: food handling and preparation rules should be strictly adhered to for all clients such as older people as they are most vulnerable and more at risk from food poisoning, training should also be carried out due to understanding colour coding of chopping mats, what temperatures fridges should be at and the correct storage requirements of different foods. (a) ( Fire ) To prevent fires check there is no paper left lying around check that all fire alarms and smoke alarm are checked and keep a record. In the event f a fire nowhere emergency exits are also where fire extinguishers are located and how to perform fire drills and how your evacuation procedures works. (b) (gas leak) To prevent gas leak always have a safety check done on all gas appliances and have regular maintenance done. In the event of a gas leak nowhere isolation valves are, open up all windows, and do not use any naked flames.
(c) (Floods) to prevent floods check pipe work is all fine and there are no leaks, make sure sinks and toilets are not blocked and tapes are never left running, grids are free and flowing. In the event of a flood no where the stop tap is. (d) (Intruding) to prevent intruding checks of door and windows making sure they are always locked, have identity checks of people coming in to the property. I n the event know the details of local emergency services. (e) (Security breach) to prevent security breaches have secure entrances with key pads to gain entry. In the event of a security breach follow policy and procedures, inform the police and inform the individual's family.
(Aviii) The importance of having an emergency plan in place to deal with unforeseen circumstances is so everybody knows exactly what to do, where to be and there is no confusion. The plan includes emergency evacuation routes. This is crucial in health and safety as it ensures that all involved are able to find the quickest and safest way of leaving the building. Some people won't have time to read the plan during an incident or when someone is panicking in an emergency, it lays out what should be done and how things should be handled (Aix) explain to them the dangers to clients and staff if procedures or ways of working are not complied with, Such as moving and handling.
(Ax) ways you could access additional support could be from your manager or supervisors relating to health and safety your organisational policy and procedure and from websites relevant to health and safety.
Related Topics