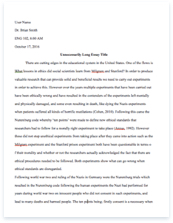 The whole doc is available only for registered users
A limited time offer! Get a custom sample essay written according to your requirements urgent 3h delivery guaranteed
Order Now
Uber is an App-Powered on-demand car service provider for smart phones. Notwithstanding its very unique name, investors have begun to take note of Uber during the past year as it has stolen market share from traditional transportation companies. We will analyze the value proposition of its technology and examine the differentiation Uber creates to stay ahead of both potential competition and the various cab laws and regulations across the United States and Europe. Based upon this analysis, we will provide detail to investors about various strategic choices the company should pursue in both the short and long-term. We will address the short-term roadblocks of government regulation as well as what future benchmarks the company should pursue to maintain its position as the leading car service app. The goal of this analysis is to provide current and potential investors with the necessary tools to assess an investment strategy in this startup. What is Uber?
über [ü-bər]- being a superlative example of its kind or class Imagine you are a MBA student at work in downtown Chicago who just got off an endless two hour conference call at 5:30pm and realize that you are most likely going to be late for a midterm which starts at 6:00pm unless you can get a cab. However, you know the chance of getting a cab will be next to impossible at rush hour, so you pull out your iPhone and order an Uber, which promises to arrive in 10 minutes or less1. It arrives; the driver welcomes you by name, and provides a peaceful ride to Kellogg for the midterm. This is an Uber experience and it's all for about 1.5 times the cost of a cab. The visionary behind the on-demand app car service is Travis Kalanick, an entrepreneur, with a computer science and math background who has spent nearly 15 years working with various start-ups since dropping out of UCLA2. Uber is a software company and does not own any of the cars which transport Uber customers. Instead, Uber has negotiated contracts with drivers and takes 25 percent of the fare3.
The initial launch city was San Francisco in 2010 and Kalanick has been busy raising capital ever since. Kalanick and co-founder Garrett Camp invested $200,000 as seed money, followed by $1.25 million in angel capital by First Round Capital, an $11 million Series A round led by Benchmark Capital, Founder Collective and First Round Capital, and finally $32 million Series B with Menlo Ventures, Jeff Bezos, Goldman Sachs and Benchmark in December 20114. As of March 2012, Uber service was available in Chicago, New York, Boston, San Francisco, Paris, Seattle and Washington D.C. The firm was also conducting test services in Los Angeles and Toronto. Upon a launch, Uber benefits from various means of social media such as Twitter and Facebook, as users share their experiences. As a result, the firm has experienced rapid user proliferation of 30-40% per month5.
Pricing & Experience
Uber has three main pricing structures; fixed airport rates, standard fees which include a per mile/minute charge, and dynamic pricing. For example, the fixed airport fee from downtown Chicago to Midway is $65 and $75 to O'Hare, slightly less than two times that of cabs6. This pricing structure does not differ much from other car services but the convenience factor provides it with a competitive edge. The standard Chicago fee is a base fare of $7.00 plus $3.50/mile when over 11mph and $0.85 when under 11 mph, all calculated using GPS7. Customers who travel short distances are subject to the firm's $15 minimum fare as well. The pricing structure is about twice the price of cabs in the city but Uber does not charge extra for additional occupants and the pricing structure is still reasonable enough to achieve scale among traditional cab customers.
The pricing structure also leads to an all electronic payment process. The tip is already included in the final fare and all the customer has to do is keep their credit card information updated with the Uber. This is very convenient for business accounts, which is preferred when entertaining customers. The final and most controversial pricing structure is Uber's use of dynamic pricing for high volume days such as New Year's or Halloween and also during inclement weather conditions. Uber notifies customers of the increased pricing structure when ordering a car in an effort to reduce demand, but because fares are computed after the service is complete, this pricing structure has become very controversial. Technology
Technology can be divided into two components, the app technology for consumers and the demand calculation technology at the firm. The app technology is available for iPhone/Android devices and uses GPS from the requested pickup destination to display a map of all available Uber cars in the area. Uber calculates the nearest driver and plots your pickup time accordingly (see right)8. Each driver is also given an iPhone with an app to manage incoming customer requests. The firm employs prediction algorithms and heat maps to predict expected demand at different times of the day. It analyzes how many times the app is open and where clusters are located to help manage taxi supply and demand. The result: "shorter waits for riders and busier, more efficient days for drivers".9 Another source of operations management is what the firm calls "God View", which displays all the active Uber drivers and pending customer requests in real time to ensure quality is maintained on the system (see above)10. Taxi Regulation and Legal Issues
Facing Uber is a long and ubiquitous history of taxi and limousine laws that heavily regulate the industry, and protect the rights of taxi and limousine owners. Taxi and limousine restrictions are largely accomplished on an international basis through use of strictly controlled taxi medallion policies that fluctuate by region. First introduced in New York City in 1937, the taxi medallion license was intended to govern the volume of taxis entering the New York boroughs while creating stability in the economics of taxi fares. The original price of a NYC taxi medallion in 1937 was $1011. Since that time, the taxi medallion value in NYC has continued to grow rapidly over the years surpassing even the Dow Jones industrial average and the cost of oil. As recently as December 2011, two medallions auctioned in New York for over $1 million, and economists predict the value will continue to rise as taxi demand remains constant12. The taxi medallion policy is far from a New York phenomenon, and today is just as common of a practice in major US taxi markets such as Chicago, Washington D.C and San Fracisco, and internationally in Paris and London.
The thrust of the controversy facing Uber is whether the legal definition of a taxi and limousine includes an operator such as Uber that provides a reservation arrangement service to customers. Kalanick defends it's business practices having announced, "Uber does not employ cars and drivers…those companies and their drivers, he says, are required by contract to have all the requisite licenses, registrations and insurance limo drivers are required to have"13. Given the investments of taxi and limousine drivers to maintain medallion, registrations and chauffeur licenses, they are inerhently threatened and in opposition to any new entrants that have the potential to absorb a share of riders. For example, in Washington D.C, where Uber has faced scrutiny against the taxi commission, the definition of a limousine is described as a "motor vehicle carrying passengers for hire in the District, designed to carry fewer than nine (9) passengers, excluding the driver, with three (3) or more doors, other than a taxicab, coach, or wheelchair accessible van, and not permitted to accept street hails from prospective passengers in the street."
Opposition to Uber will argue that this description fits into the services provided by Uber, however it may classify its fleet. To protest Uber's entry into the D.C. market, D.C. Taxi Commission Chairman Ron Linton arranged a "sting" in January 2012 to impound and ticket drivers. The effort attracted negative media attention, and resulted in an Uber driver being ticket for two offenses, 1) "incorrect hauling" in which a driver licensed in a different state is forbidden to arrange transportation for a customer in another state, unless the destination is the same where the driver is licensed, and 2) "improper charging" where the driver failed to set the fare in advance, as required by city limousine laws, and instead leveraged Uber's time and distance metering practices.
Uber has also faced challenges in its home market of San Francisco and was forced to respond to a cease-and-desist order in 2010. In this instance, Uber was scrutinized when they originally advertised their company as 'Uber Taxi', while none of Uber's drivers possess a taxi medallion required to operate as a taxi in San Francisco.16 Since this incident, Uber has modified its company name to a shortened 'Uber', and is continuing to grow in San Francisco. However, the cease-and-desist order was a reminder for the stringent regional taxi and limousine laws Uber will continue to face as it broadens its United States footprint. Current Strategy and Competitive Advantage
Before we discuss the future strategy recommendations and benchmarks for Uber management and its investors, we should review the early entry strategy for Uber and how in less than 3 years it captured a growing customer base that spend around $100 user/month, which is an "astonishing figure for an app company"17. Uber's business strategies mimic successful technology firms much more than transportation firms. From the beginning, Kalanick did not want Uber to be viewed as a typical cab or car service company.18 He saw a largely unperceived opportunity to revolutionize a technologically stagnant industry. Kalanick uncovered a way to use his employees' technological abilities and innovativeness to challenge the way the transportation industry works, which has left established firms vulnerable to the Uber experience.
The Washington Times posted a story that highlights the technological differences of Uber and its competition: "Taxis, whose business model has hardly changed since the invention of the tax meter in the 1940s, have a lot to worry about. A taxicab company's technology and business model compare to Uber's like a Model T does to a Chevy Volt."19 Taxi cabs, limo services, and personal car transportation services make-up the seventh most popular mode of transportation in the United States20 and it is an industry with established firms that are heavily governed by local statutes. Firms in this transportation industry focus on the impact government regulations and fuel surcharges. These firms yield returns that are regulated by the government, and as a result, there is very little incentive to invest company dollars to improve the riding experience. These companies do not invest in innovation and have assumed the industry will not change. Uber quickly exposed the vulnerability of this stagnant industry and has produced a business strategy that appeals to new and existing customers of the incumbent firms21. Uber used a "noisy entry strategy" and technological discontinuity to find a niche in this billion dollar market.
Uber recognized a growing frustration that many customers have with the cab industry and realized the technical incompetence, or cognitive gap, of incumbent firms. Uber understood the growing market of consumers that use smart phones, which is now estimated to be 50% of the United States22, and the fact that early adopters are willing to pay a premium price for convenience, professionalism, and cleanliness. App technology is straightforward and there is a very small learning curve for early adopters to understand the Uber product. Even with a niche customer base of upper class professionals, Uber has been able to grow its installed base 30-40% per month23 and our future growth section will highlight plans for that growth to continue throughout the World. As Uber releases its product in new cities, it has also taken a "noisy" marketing strategy to get the brand recognized.
Kalanick is the face of the company and is heavily involved in the launch parties. The company successfully uses mass media including Twitter and Facebook to showcase its product and technology websites and blogs have shown an interest in the transportation industry. Kalanick has also publicly fought the legal issues facing the company and uses each opportunity to showcase the Uber brand to the public. Kalanick is a confident businessman who knows the value of early adoption and provides one free credit to individuals attending a launch party24. In addition, Uber has received numerous celebrity endorsements,25 which will help build the appeal of an "on-demand private driver"26 to the masses. Based on the fact that the initial launch city San Francisco had 10,000 new users within 10 months27, the noisy entry strategy has quickly captured early adopters to the Uber brand. Beyond the marketing strategies, Kalanick has assembled a very capable management team that values the importance of measuring as many inputs and outputs that they can capture.
Obtaining all this information is a major reason why Uber has beat even its own ridership and revenue forecasts28. Uber management uses sophisticated technology to measure service metrics related to all levels of customer service, such as speed and product quality. A recent Washington Times article highlights the importance of measurements, "The company created a brain trust comprising a nuclear physicist, a computational neurosurgeon and a machine-learning expert to predict the demand for drivers, match the supply with the demand, and then position the cars where the demand will be. "The whole point of the math department is to minimize pickup times and maximize utilization. It's happening all the time, real time," says Uber's Washington General Manager, Rachel Holt. "There's literally information coming in every second of the day. We're using that information to make better, smarter decisions." Uber's success can also be linked to its relationship with limo companies.
Uber's strategy is to setup limo companies, and its drivers, with a lucrative revenue sharing contract. The limo service receives 75% of the fare, Uber receives 25% of the fare, and, maybe more importantly for Uber's success, it does not have to incur the expenses involved with car ownership, licenses, insurance, and day-to-day operational costs.29 Since Uber's reputation, and its ability to charge about 50% more than cabs, will be impacted by poor service from these drivers, the company measures driver performance through a successful driver monitoring program. Uber users can see driver rankings and make decisions about different drivers for their commute. This ranking system motivates the drivers and sets high standards for the Uber experience. Drivers will be expected to be on-time, have a clean car, and offer professional services if they want to continue to be a part of this growing business model. Uber is a technology firm that has captured a growing niche market and its early success has "been like a rocket ship"30. The financial figures are private, but the fact that Uber is already profitable in five out of six U.S. cities is a strong indication of its success.31 Future Strategy and Growth
As Uber looks to the future, it should focus its growth in two different markets. Uber should first dedicate its resources to saturate its current target market and reach early and late majority of upper-class business professionals in the next five years. Uber already has plans to expand to 18 new cities by the end of 2012 in the United States, Canada, and Europe32. After these markets are saturated, Uber should focus on Asia and establish business in major business hubs such as Hong Kong, Singapore, Beijing and Tokyo. In a recent statement, Uber plans to have a presence in Asia by the end of 2012 but the Kalanick declined to state which cities it was going to launch Uber 33.
With this fast-pace growth, Uber should expect the early and late majority within this market to regularly use Uber's service within the next five years. We recommend that Uber also enter a new urban middle-class market, providing a similar service using non-luxury cars at a lower price point. Similar to its luxury-car service, Uber can contract drivers and services that use mid-size sedans and similar technology. Entering into this market will not require much of an initial investment since the technology and network will already be established. Uber should start this service domestically in New York, San Francisco, Boston, DC, Chicago, Seattle and Los Angeles. After this service is established domestically, it should continue to grow in Canada, Europe, and Asia. Growth in this market should occur quickly and will reach innovators and early adopters within a few years. We expect that Uber will become a competitive taxi-service provider, used by the early and late majority in all domestic cities within five years of launching.
Potential Roadblocks and Challenges
There are several challenges that Uber faces today that it will have to overcome as it continues to grow. Most importantly, Uber will need to address the negative attention it has received in the media regarding legal issues and the use of dynamic pricing. Since Uber chose to take a "noisy" approach, it will have to continue to defend and adjust its strategy using social media outlets. As Uber broadens its footprint in North America, it will continue to encounter opposition from taxi and limousine constituents that are threatened by Uber's growing customer base. Uber will be best served by coordinating entry into new markets in concert with local regulatory officials to ensure the firm is in compliance and not creating a negative perception of their business practices. The relatively covert entry in the D.C. market created uproar from the Taxi Commission, and much of the issue could have been prevented if Uber maintained closer coordination with the commission prior to their launch34.
Now that Uber has a precedence in San Francisco, Chicago and Washington D.C., it can reference its success in these markets to government stakeholders as they continue to launch in new areas. In some jurisdictions, Uber may need to have drivers obtain chauffeur licenses. Ultimately, it will be in Uber's best interests to comply with local regulations to avoid unwanted media attention and legal distractions. The negative implications of its use of dynamic pricing are also amplified because the firm relies so heavily on social media and word of mouth to promote its app. One regular customer in Seattle had a negative experience on New Year's Eve when he was charged an extra $115 on a $30 fare (see right).35 He wasn't happy and went online to vent his displeasure with the service. Uber should institute "Uber Premium Days" for high-demand holidays.
The firm already has spending data available on its customers and if Uber is concerned about demand outpacing supply, it could reward its best customers by providing blackout dates on New Year's, Halloween, and St. Patrick's Day to non-premium members. To appease other members, it could allow users to purchase premium membership in advance. This would reduce complaints during high congestion and also provide an incentive to customers to use Uber more frequently, similar to the airline industry's use of loyalty programs. Growth of Technology and Avoid Attacker's Advantage
While Uber has already taken advantage of technological discontinuity as it entered the car service market, it needs to be cautious of cognitive holes and diseconomies of scope going forward36. Uber needs to be aware of any "blind spots". Uber should continue to hire new talent with creative and technological expertise to make sure that it doesn't miss out on any opportunities. It is likely that other companies will imitate Uber's technology and will also be looking for the next best way to use apps and smart phones to gain an advantage in the transportation industry. Uber needs to be one step ahead and make sure that it does not miss any major growth opportunities. Investors should also make sure they do not allow the strong-willed style of Travis Kalanick to impede future growth. Kalanick needs to be careful not to be overly-confident in his approach.
He has gone on the record in interviews making aggressive remarks and stating that he likes to "piss people off" 37. With this attitude, he is prone to resist new ideas, discount the impact of potential litigation, and dismiss future change suggested by his team. While Kalanick has developed a strong business model, he needs to remain open-minded and listen to alternative ideas in order to avoid a problem with diseconomies of scope. Uber should continue to think about what improvements it can make to its core service and experiment with adding additional options for riders. For example, Uber could let riders store common destinations, request a regularly scheduled pick-up time, and provide beverage or music preferences. Conclusion
Uber's app is nearing adoption by an early majority of smart phone users, thus providing potential benefits and pitfalls. We believe its lucrative revenue sharing agreements will lead to future earnings growth, but Uber must also confront outstanding legal issues, consumer dissatisfaction with dynamic pricing, potential imitation from competition, as well as a controversial CEO. We have described new city growth benchmarks, future collaboration with regulatory bodies, and provided recommendations to avoid an attacker's advantage in an effort to guide investors' influence in the company.
Related Topics